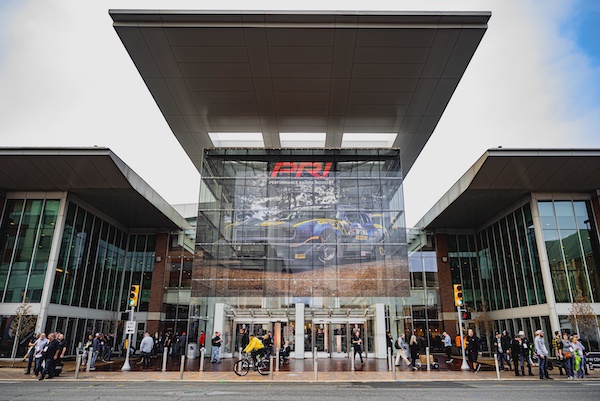 The Performance Racing Industry trade show visits Indianapolis annually. (IBJ photo/Mickey Shuey)
One of Indianapolis' largest annual trade shows is revving up its political arm, working to generate more money for its political action committee and pushing for legislation aimed at curbing environmental restrictions on converting street-legal vehicles to competitive race cars.
The Performance Racing Industry quietly launched its PAC in July 2021, with a focus on making direct financial contributions to candidates and lawmakers who support legislation backed by the motorsports and automotive industries.
But a membership drive at its trade show earlier this month at the Indiana Convention Center promises to help the organization's PAC find more potential political donors.
The organization sought $40 membership dues from attendees at the Indianapolis show, which draws about 50,000 people to the city annually. The dues don't go to the PAC, but the growing membership rolls provide a list for political solicitations.
"From a [broad] standpoint, a PAC is effective in terms of things that we are challenged with, both on a local and regional level as well as on a national level," Jim Liaw, managing director of PRI, told IBJ. "The ability to use PAC funding to support efforts on policy, regulations, legislation, and those who support industry-friendly policies, adds to our voice and our leverage."
Liaw pointed to the National Rifle Association as a model, both for political efforts and drawing new members.
PRI is based in southern California, but it established a six-person membership headquarters in Speedway earlier this year.
Since its creation, the PRI's PAC has raised a modest $65,400, with most of those funds coming from out-of-state racing teams and motorsports parts suppliers. Nearly 10%—$6,400—has come from officials within the PRI group or its parent organization, the Specialty Equipment Marketing Association, also known as SEMA.
The PRI PAC hasn't doled out much of its cash to candidates, save for a single $2,000 to U.S. Sen. Mike Braun's Hoosier PAC.
PRI has been a driving force behind the so-called RPM Act that was introduced in Congress in 2021 with a focus on curbing regulations on the sale and use of motorsports parts for converting street vehicles to race cars that could only be used for competitive purposes.
Key negotiators failed to reach an agreement on the legislation this year, but PRI and SEMA have pledged to continue to work for the legislative solutions.
"SEMA and PRI will leverage the momentum we built during this congressional session, assess the current challenges the industry faces, and chart a new path forward for the industry's advocacy efforts at both the federal and state levels," SEMA President and CEO Mike Spagnola said in written remarks.
The RPM Act had bipartisan support. In the U.S. House, the bill was co-sponsored by 103 Republicans (including Reps. Jim Banks, Larry Bucshon, Greg Pence and Victoria Spartz from Indiana) and 30 Democrats. U.S. Sens. Mike Braun and Todd Young of Indiana were among 21 GOP Senate co-sponsors on the bill, along with 12 Democrats.
SEMA, which represents members of an industry that generates $51 billion annually, recently hired Karen Bailey-Chapman to oversee its and PRI's government affairs efforts. And officials say the PAC is part of the new direction for PRI, although it is expected those efforts will be in something of a holding pattern until the organization finds a new president.
The racing industry has had a voice in politics for a while, albeit not a loud one. SEMA has a separate PAC  that was formed in 2003 and has given an estimated $900,000 to dozens of candidates and PACs over the years, according to IBJ research.
In the past two years, SEMA's PAC has raised $218,000 and distributed $159,000. Greg Pence has received $4,000 from the committee, $2,000 each in 2021 and 2022. In 2021, Braun's Hoosier PAC received $5,000 from SEMA.
PRI has bigger goals for the future.
"Our organization is quite committed to growing the PAC and growing and leveraging our voice on things to protect the industry," Liaw said.