In the decade since The New York Times christened Nashville "the nation's 'it' city," there has been no shortage of profiles and travel pieces about our town. There have been drop-ins from coastal publications and television programs, all clamoring for a look at a city that has seen enormous growth in the 21st century.
But this story isn't about that Nashville.
This is a story about the Nashville of the late 1990s. Before the internet, before 9/11, before the bachelorettes descended on Lower Broadway and Nashville found itself a tourist destination for live music and partying. Back then, the biggest tourist attraction in the area was a music-centric theme park called Opryland USA.
Opened in 1972, Opryland was a popular destination that featured roller coasters and other rides, along with a plethora of live shows that highlighted Nashville's unique performing arts talent. For a time, the park accompanied both the Grand Ole Opry House — home of Nashville's iconic Grand Ole Opry radio program since 1974 — and the Opryland Hotel, an architectural marvel featuring an indoor jungle and a river flowing through it. If you find a Nashville native and ask one of us about Opryland, you'll probably hear us wax poetic with nostalgia for a park that now lives only in our collective memory. What few seem to remember is the clumsy nature of its rushed closure by ownership group Gaylord Entertainment 25 years ago this month.
This is the story of a bad — and very unpopular — business decision. Old newspaper reporting and Gaylord's financial filings reinforce current company executives' call that the decision was a "mistake."
This is the story of how a beloved local landmark was sold out from under the city that made it. 
---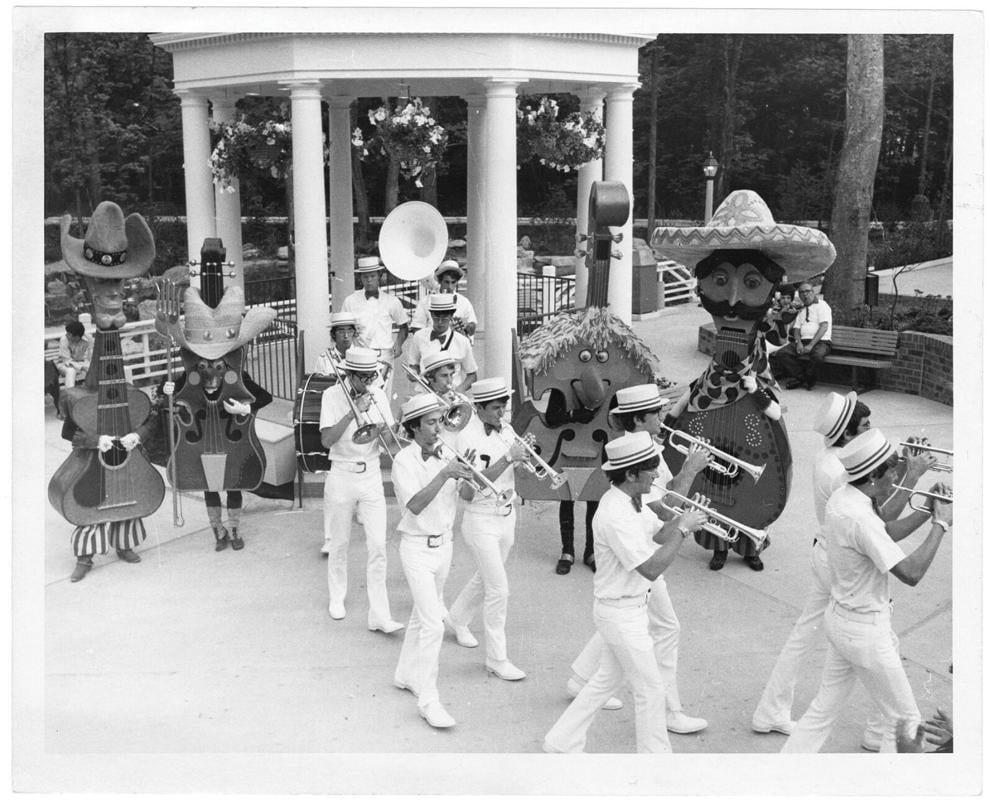 Opryland USA opened just eight months after Disney World. It continuously added attractions and rides for the next three decades, and for every year it was open except one, it was Nashville's top tourist attraction. It had an average of 2 million visitors a year, and employed approximately 2,500 people per season, many of them foreign exchange students and high school students. It was a huge source of job training and career prep for local teenagers.
"Opryland put Nashville on the map," says Butch Spyridon, who has served as the head of the Nashville Convention & Visitors Corp since 1991. "With conventions, bus tours and family vacations, they built all of it in the very beginning. They had a rightful seat at the table, and Nashville was doing pretty good at that particular point in time. But everything happened out there off Briley. Our whole industry was on that campus." 
By 1995, Opryland ownership group Gaylord Entertainment, amusement-park trade press and others were positively glowing about the park's success and profitability. 
"To say officials at the Opryland theme park are delighted with how the park has developed over the years would probably be an understatement," reported the Nashville Banner in 1995.
Opryland had an incredible lineup of unique roller coasters and other rides. There was the Screamin' Delta Demon, a bobsled coaster that was the only one of its kind. Chaos was a psychedelic indoor roller coaster that involved a spectacular light show and clever design. It has a twin, a ride called Revolution at Belgian theme park Bobbejaanland, which is still in operation and experimenting with modern technological innovations like virtual reality headsets worn while on the ride.
Then there were the water rides. The Grizzly River Rampage was a whitewater-rafting ride realistic enough that it was used as the course for qualifying rounds ahead of the 1996 Olympics in Atlanta.
There was the Hangman, a huge, inverted steel coaster that launched in 1995 and cost Gaylord $8.5 million to build. When it opened, its first ride was broadcast on morning TV. I remember stuffing my shoes with extra socks so I would appear tall enough to ride it, but I was tall enough only once — the last time I went to Opryland, in the summer of 1997, when I was 9. Hangman was open for only two summers at the park.
The railroad that looped around the park had three beautifully restored antique coal-burning locomotives that carried people through the park's patches of trees. The three engines were so beloved that they had names: Beatrice, Rachel and Elizabeth.
It was all brought together by an antique carousel that was hand-carved in Germany, the centerpiece for Opryland's suite of kids' rides.
But what really made Opryland special was its unwavering dedication to music. The theme park featured several daily shows and hosted frequent concerts, all featuring members of Nashville's incredible and growing cast of local musicians. Occasionally, a country music star would make a cameo. Legend Roy Acuff was one frequent celebrity sighting — park patrons would often find him sitting on a park bench signing autographs. The Grand Ole Opry House — which was completed in 1974 and is to this day the home of the Grand Ole Opry — was adjacent to the park.
In 1996, Opryland was the top tourist attraction in Nashville. According to Spyridon, the park was the catalyst that launched Nashville's growth as a big city. "Prior to the park, the only reason to come to Nashville was to go to the Grand Ole Opry,'' he told the Nashville Banner at the time. "What the park began to do was create a destination attraction that we needed."
Which is why the park's closure came as such a shock.
On Dec. 31, 1997, Opryland closed its doors forever. It was ultimately razed by Gaylord Entertainment and turned into the multimillion-dollar Opry Mills shopping mall, a gargantuan shrine to capitalism. My family had been Opryland season ticketholders, and we went to the park after church multiple times a month for most of my early childhood. I had just turned 10 when Opryland closed. Its closure was my first broken heart.
Gaylord executives say Opryland was profitable up until the end.
The deal happened so fast it gave the community whiplash. In late August 1997, at the end of the summer season, Gaylord executives were denying a rumor that had caught fire among park staff and visitors. "That's a ridiculous idea," Gaylord VP Alan Hall told the Nashville Banner on Aug. 30, 1997. "We're not going to level the park."
Maybe not so ridiculous. On Halloween 1997, news broke to the Nashville community that Opryland had only two months left to live. Gaylord partnered with the Mills Corp. on the build of the new property. Details of the deal between Gaylord and Mills are sparse in public documents, but Mills invested more than $225 million in capital to build Opry Mills, and Gaylord maintained a 33 percent ownership stake in the new venture. The Opryland Hotel and the Grand Ole Opry House would be unaffected by the deal, and the new complex would be built around them. It would have an IMAX theater, a bowling alley, an ice skating rink and more than a million feet of retail space.
"Reporters this week ferreted out news that the 25-year-old Opryland theme park, once the brightest star in the Gaylord constellation, is being converted into a retail shopping-entertainment complex that will include specialty stores, live music, amusement rides, perhaps movie screens and skating rinks," reported the Nashville Banner on Oct. 31, 1997. "It's a $225 million investment in the belief that a fresh approach can tap a massive new customer base. Further details are scheduled to be made public Tuesday morning at a function at the Grand Ole Opry House, an appropriate forum for the announcement."
The reasons given at the time seemed reasonable enough, even though there wasn't a lot of strategy or analysis to back them up. Attendance at Opryland USA declined slightly in 1997, which was partially due to an uptick in visitation for the 1996 season, the park's 25th year. The park didn't have nearby land available for expansion, and it sat unopened during the winter months — a mall would be more valuable year-round.
"The real dilemma was that theme parks have to add something significant every three to five years," says Spyridon. "Opryland wasn't losing money, but it wasn't growing revenue. It was very static, and Gaylord knew they would have to commit a capital investment every three to five years to keep it up-to-date. Roller coasters are 10 to 20 million-dollar investments." 
This was of course before the e-commerce boom, and Gaylord executives, without proper due diligence, decided a giant shopping mall would be more lucrative than a longtime theme park. (It should also be noted that the plan was to build this megamall in a known flood zone, something that would come back to haunt it a little more than a decade later.)
"The public was shocked," says Spyridon. "The sentiment was absolutely, 'Don't take our park away.' But the decision was done, and obviously Gaylord is a private company. The political conversation was similar — 'We don't want to lose the park.' I think Gaylord tried to soften the news by saying they were going to develop this mall, and it was going to have park elements. They did a pretty good job of convincing people that there would be theme-park-type elements that didn't come to fruition."
Spyridon says initial drafts of Opry Mills seemed inspired by the Mall of America in Minnesota. "I looked at massive renderings that showed rides in parking lots and rides in the mall, but the idea was never fully baked." 
Within two weeks of the closure announcement, a chorus of outraged Nashvillians called for the city to purchase and save the park, prompting Mayor Phil Bredesen's office to issue a statement that read like a death notice: "To preserve the park in its current form seems to be virtually impossible." Gaylord VP Hall told the Nashville Banner that no, there was no way they would donate any of the rides to the city. No amount of crying from residents or politicians would change that.
Within three weeks of announcing it would close, Opryland had sold most of its major rides to Premier Parks, the Oklahoma City-based company that operates Six Flags, for around $10 million. A few of them would be repurposed as other rides in other theme parks around the country. Hangman was repurposed and is now a ride called Kong at Six Flags Discovery Kingdom in California. Most of the roller coasters, including the Screamin' Delta Demon and Chaos, were left to languish in an overgrown field in Indiana before being sold for scrap metal.
In later SEC filings, Gaylord reported costs of $40.2 million related to the closing of the park, including costs to scrap the rides. 
---
The rushed closure of Opryland had a significant impact on both the local economy and the future of tourism in Nashville. The park was Nashville's top tourist attraction for the 26 years it was in operation, and its closure led to a decline in tourism to Nashville for the rest of the 1990s.
The tourism industry in Nashville was nowhere near what it has grown to now, and after the park shuttered, it went into panic mode.
"It was, 'What are we gonna do? We're dead,' " says Spyridon. "We probably lost about 40 percent of our summer business, and it took us down over the course of a year. We were down about 20 percent overall in terms of lost business, which was, fortunately, because the convention business was good. It took a giant chunk out of summer and it forced us to regroup. NCVC put together a campaign called Strength in Numbers, which raised $1.5 million to launch a rebranded marketing effort to position Nashville as a year-round destination. We didn't have the luxury of lamenting the loss. We had to take the cards we were handed and turn it into something. So we tried to focus on digging our way out. It took us three years to get back to 1998 numbers. Then 9/11 happened, and it took us another three years. I remember talking to the downtown bars — and there weren't very many then — and I said, 'We have to look at downtown as a museum by day and a theme park by night.' We had to use our history and legacy and tell Nashville's story differently to overcome the impact of the Opryland decision. But Nashville is a stronger, better, bigger destination today. It forced us to become a citywide destination instead of an Opryland destination." 
The community fretted over the loss of the park, not to mention the rushed manner of its closure — which left no time for locals to provide input or react to the loss of such a large economic driver and local employer. City officials decried the fact that the emotional attachment of the community to Opryland was not weighed heavily enough in Gaylord's decision.
"We've been very happy with the children working at Opryland,'' a local parent told the Nashville Banner after the closure. "It was a safe environment, and the people they worked with and for were always really good. I never worried about them walking to their cars. There was just something really special about Opryland. I can't put my finger on it. They were outside a lot — they were outside where they couldn't be constantly thinking about what they could spend their money on."
A scathing letter to the editor ran in the Nashville Banner in January 1998, ripping Gaylord for "placing profits ahead of pleasing the public."
"As I come home to Nashville on holiday from Memphis, it comes as no surprise to me that the Opryland show park is closing down," the letter read. "Gaylord Entertainment Company has no desire to touch us citizens in a way that will have a positive, everlasting impression on our lives. It has one interest: MONEY! PROFIT!"
A few years later, buried at the bottom of a 2004 Tennessean article, Gaylord executives admitted that the decision to close the park had been made without due diligence — that no strategic analysis or business planning had actually taken place. As reported by Barron's in 2000, the country music business was "flat as a raccoon in the middle of a highway," and Gaylord's low stock price at the time reflected "the slump in country."
"Current Gaylord Entertainment Co. executives say they've found no evidence that former decision-makers even had a business plan for Opryland USA theme park, let alone any strategic analysis that led to closing it," read the 2004 Tennessean piece. " 'It's clear that the closing of the park negatively affected the number of tourists that visited Nashville in the summer,' Gaylord spokesman Greg Rossiter said, noting that it affected the number of leisure travelers staying at its Opryland Hotel, as well as every other hotel nearby. 'The current management team has found no compelling reasons why the decision to close the park was taken in the first place.' "
Former Gaylord CEO Bud Wendell, who ran the company from 1991 to 1997, did not mince words over his opinion. Management's decision to close Opryland was the "dumbest thing I've ever seen," he told WPLN in 2018. "And the people that were responsible for it, I would think today would look back on it and say, 'Yeah, it was a dumb, dumb decision.' But they felt they could get a greater return on that piece of acreage out there if it were a mall as opposed to a theme park — America's only musical theme park." 
On Nov. 12, 1997, just days after news of the park's imminent closure was announced, the Nashville Banner ran an anonymous letter that proved to be prescient. "The public must wake up to stop this kind of destruction of our children's dream place," it read. "I urge the management of Gaylord to find an alternative way to increase its corporate profit without disturbing the operation of Opryland theme park. Failure is certain if you choose any other path."
Opry Mills opened on May 11, 2000. The timing was terrible. The dot-com bubble had just popped, leading to a mild recession. And consumers were slowly beginning to shift their shopping habits away from department stores and toward e-commerce. Gaylord's business found itself in dire financial straits thanks to mismanagement of its hospitality profile, and oddly, an over-investment in Christian music dot-coms. By the end of 2000, Gaylord CEO Terry London had resigned, and its board of directors mulled over discontinuing operations of the business entirely.
"There was no vision, direction or consistent leadership in that era of Gaylord until [current Ryman Hospitality CEO] Colin Reed came along," says Spyridon. "They were going to be a hotel company, or they were going to be a tech company — they literally had no definitive direction." 
At the end of 2002, Gaylord sold the rest of its 33 percent stake in Opry Mills to Mills Corp. for $30.8 million, less than the $40.2 million it spent closing and dismantling Opryland USA — though Gaylord also offloaded more than $50 million in debt in the transaction. Within five years, Gaylord was completely divested from a property that had previously been turning a consistent profit.
By 2007, Mills Corp. was desperate to dump its share in Opry Mills as well. Mills reported significant accounting errors from 2001 to 2004 due to misconduct of executives and accounting professionals. At the time, public relations officials for Mills would claim that most of the errors were made in "good faith."
Ultimately, Simon Property Group — a massive real estate trust that invests primarily in shopping malls and outlet centers — ended up with full ownership of Opry Mills by 2007, less than a decade after Opryland USA closed. The 2008 financial crisis hit soon after, accelerating the economic conditions that turned consumers away from malls. Between 2007 and 2009, 20 percent of the malls in America were forced to close.
In 2010, historic flooding in Nashville inundated the mall with 10 feet of standing water, and the entire property had to be remediated. A rumor went around at the time that Opry Mills' Aquarium Restaurant had flooded, sending sea life out into the flooded concourse of the mall. This rumor of course wasn't true. But the flood didn't just damage the mall. The Opryland USA video archives were also damaged in the 2010 flood. Nashville videographer Brandon Vestal has been collecting interviews and footage to replace what was lost in the flood. He is currently working on a documentary — which he calls a "love letter" to the park.
"I want to highlight the everyday aspect of the park and re-create the sights and sounds for those who remember," says Vestal. "As far as reliving Opryland, the documentary also follows Ryan Crowder, who is rebuilding Opryland in virtual reality. Between the documentary and VR, we want to provide a glimpse of Opryland to a new generation."
(Vestal is seeking home videos and photos of the park to rebuild the archives. If you have anything to share, reach out to him at brandon@oprylanddoc.com.)
After the flood, Opry Mills closed for almost two years as it fought with its insurers over its claim to rebuild. In the end, the Tennessee Court of Appeals ruled that Simon could take only $50 million on a $200 million policy because the mall had been built in a known flood zone.
---
Butch Spyridon doesn't like to look backward, instead choosing to focus on building Nashville tourism for the future. But he agrees with Gaylord executives that the decision to close the park was a mistake.
"I thought it was a mistake then and still think so now, but Gaylord didn't ask our opinion or advice," he says. "We had to pick ourselves up and pick the industry up, and I feel good about our recovery. But it would have been more fun to do with the theme park." 
"Opryland USA is gone, but Opryland is actually still here," says Vestal, who goes on to quote something Opryland Hotel visionary Jack Vaughn once said in an Opryland employee video.
" 'It's the people. It's you. You are Opryland, and don't you forget it.' I've been amazed by how deep Opryland runs in the veins of those who made it happen. I've had the opportunity to speak with the original leadership, the entertainers, the train conductors — everyone carries the park forward with them. It's a huge family that extends to the kids who spent their summers there, like me. … If you're wondering why Nashville boomed, look no further than Opryland USA."
I like to imagine what Opryland might be like today. I imagine the park as leaning heavily into the tourism renaissance that Nashville has seen over the past decade, growing as much as the honky-tonks of Lower Broad. I like to imagine the park as a linchpin in a more family-friendly Nashville tourism experience. Similar to how Dollywood has evolved in East Tennessee, Opryland could have been a huge driver of economic development here in Nashville.
I imagine Opryland as a place constantly evolving in its dedication to art. I imagine riding Chaos and experiencing a custom laser light show with a soundtrack created by locals. I imagine pop-up concerts by country stars at one of Opryland's pavilions.
Instead we got a mall. They paved paradise and put up a parking lot.