August was volatile for stocks and after a short rally, the S&P 500 dropped some 4% from July. This year's general downtrend continues with short outbursts of rallies. However, it has been almost two months since the market posted a record low, and investors are starting to show signs of optimism even with all the instability.
Key Takeaways:
Karuna Therapeutics was the largest gainer as it posted positive results for their schizophrenia treatment.
The Trade Desk has reaffirmed its growth story in their latest earnings and investors seem to be more confident of their business potential.
Plug Power had no apparent catalyst, but stands to benefit from the wave of clean energy tax cuts and state investments.
The biggest pressure on stocks continues to be inflation, and the market is closely watching the direction of the FED for signs of slowing interest rates. While August saw some optimism, just this week, the FED reaffirmed the .75% rate hike. 
Since markets can be hard to make sense of, we prepare a weekly rundown of the key events that shaped stock movements. The most notable August analyses were: How the FED sees future rate hikes , and an analysis into China's 2022 crisis .
August also saw some substantial gainers, returning anywhere from 30% to 95%. In our analysis, we will re-cap key companies that saw price increases and have a market cap higher than $5b.
Top 10 Performing Stocks in August
| | | |
| --- | --- | --- |
| Company | End of Month Price | Monthly Return |
| Karuna Therapeutics (NASDAQ: KRTX ) | $255.06 | 95.82% |
| Signify Health (NYSE: SGFY ) | $27.9 | 63.06% |
| Alnylam Pharmaceuticals (NASDAQ: ALNY ) | $206.67 | 45.5% |
| Pinduoduo (NASDAQ: PDD ) | $71.3 | 45.48% |
| PagSeguro Digital (NASDAQ: PAGS ) | $15.54 | 43.23% |
| ShockWave Medical (NASDAQ: SWAV ) | $296.86 | 40.74% |
| Trade Desk (NASDAQ: TTD ) | $62.7 | 39.33% |
| Global-e Online (NASDAQ: GLBE ) | $31.59 | 38.8% |
| Wolfspeed (NYSE: WOLF ) | $113.47 | 36.22% |
| Plug Power (NASDAQ: PLUG ) | $28.4 | 31.4% |
| Dillard's (NYSE: DDS ) | $296.24 | 30.3% |
Karuna Therapeutics (NASDAQ:KRTX) Moves Closer to FDA Approval
Karuna Therapeutics ( KRTX ), is the definite top gainer for August. Karuna is a biotech company that is developing treatment for psychiatric & neurological conditions. The company gained 95.82% in August, primarily on the news of a successful phase-3 clinical trial for their Schizophrenia treatment – KarXT. The results from the trial will be used to support a submission for approval of a new drug with the U.S. FDA, which is expected to happen in mid-2023.
The results of the study were statistically significant and exhibited a medium effect in treating symptoms of patients with schizophrenia, as measured with the PANSS assessment against a placebo control group. For investors, this means that the likelihood of putting forward a new drug on the market has increased and Karuna now has a market value of $8.1b because of this.
The chart below shows it jumps in investor sentiment immediately after the event:
Investors can use our dot markers on historical price charts to get valuable context of what has driven the increase in value. In the case of Karuna, we clearly see that the news on the 8th of August influenced the stock. The previous catalyst happened on the 18th of November 2019 from the results of the previous phase-2 trial, where the stock saw another large jump and appeared on the radar for more investors.
Karuna Therapeutics Cash Runway
Companies in this sphere have one key risk factor besides the success of their clinical trials – their cash runway. While doing research, biotech companies are constantly losing cash, and investors need to evaluate if a company can survive long enough to get the product to market. This is quite risky as trials get delayed, results come in below the threshold, and even if everything is done right, the FDA may still decline a drug approval because of the safety profile or other factors. That is why, we stress that while the company may have an increased likelihood of getting the treatment approved after the recent results, this is not "a given" and investors will see the price fluctuate as the expectations of approval change.
In order to survive the process, a company needs cash, and here is Karuna's cash balance for the past 4 years :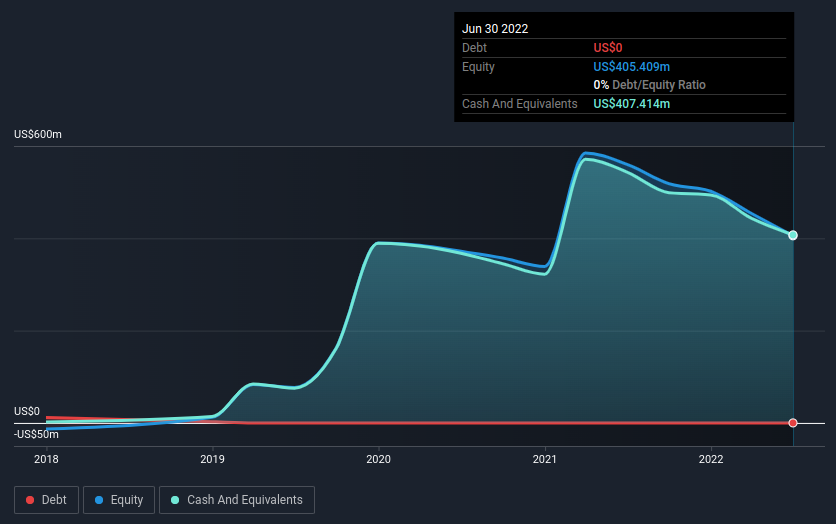 From Q1 2021 to Q2 2022 the company went from $571.3m to $407.4m in cash equivalents. This means that the company spent $163.9m, or an average of $32.8m per quarter. Holding all else constant, this would give the company some 3 full years of liquidity. However, right after the positive results, the company announced a common stock equity offering in the amount of $600m, which would dilute shareholders by around 6.5%. After the jump, the stock started drifting downwards, which could be partly due to the new equity offering.
In conclusion, pre-approval biotech stocks are for investors that have a longer time-horizon, since they need to tag along for multiple years of drug trials, FDA approval and finally market adoption. Alternatively, biotech companies are interesting for short term quants that like creating probability models around key events.
Investors may keep an eye out for mid-2023 as the company is expected to move forward with the drug approval process, and investors can track important updates via notifications from our stock's report or adding it to your watchlist.
Moving on from the lab, our next recap will be for a company that has a more conventional, yet still innovative business.
Trade Desk (NASDAQ: TTD ) is Affirming Its Growth Story
Trade Desk, Inc. operates as an ad buying platform in the U.S. and internationally. The stock rose 39% in August on earnings day. It seems investors were satisfied with the 34.6% QoQ revenue growth, as well as the forward guidance of $385m for Q3. The company estimates that the business has a $750b total addressable market (TAM), of which $230b represent ads for linear TV – which is the company's current primary target. The chart below shows the jump as well as the sustained price level above $60 per share: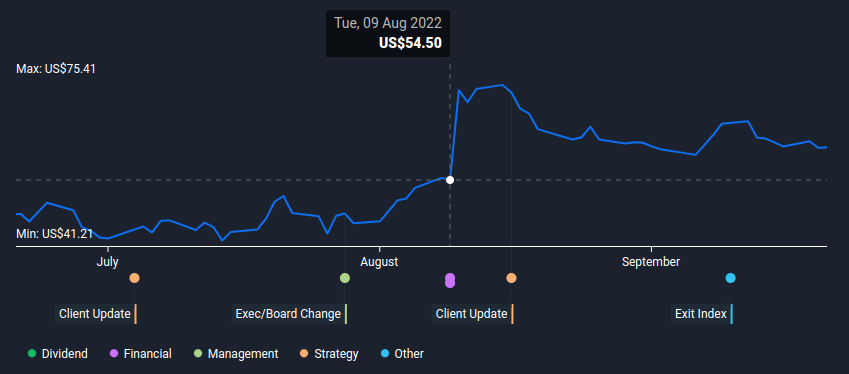 Trade Desk Price Targets
The 15 Analysts covering Trade Desk have upgraded the stock after earnings to an average target of $78.9 per share, representing a 28% potential upside. The upgrade is significant because most stocks are struggling to maintain their price targets in the current macro environment. We must also note that the range of analysts price targets is high, which means that analysts are a bit divided on the business's future. On the risk side, there are many small competitors starting to enter the market, and larger companies may find it viable to develop their internal solutions.
The chart below shows the relationship between the stock's historical price and analysts' price targets: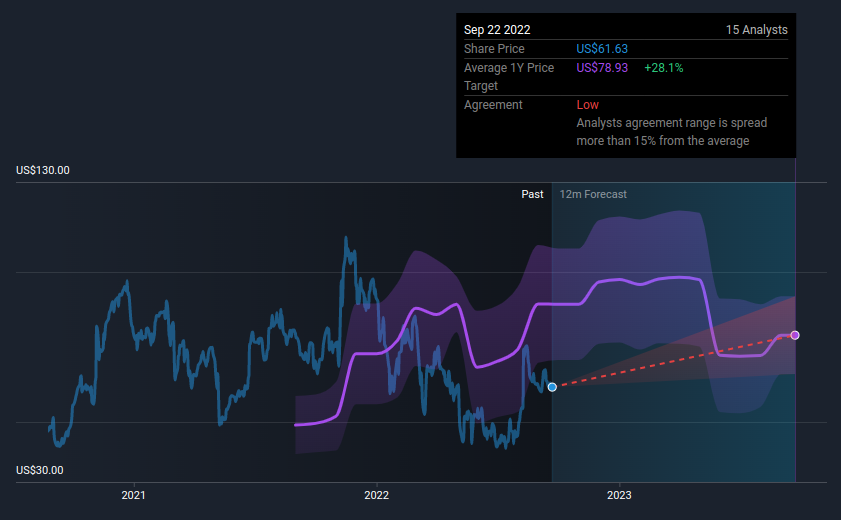 Trade Desk Future Revenue Growth
Trade Desk made their first noticeable income in 2011, gained the first $1m per month just two years later, and in 2014 it made its first $1m per day. Since 2015, the company has grown from an annual revenue of $114m to the first billion in 2021. The company is expected to have substantial growth, considering investors are willing to pay 20.3x sales for TTD, compared to 4.6x sales for the US software industry .
The company has a proven track record of fast growth, and it seems that analysts are onboard with the potential of Trade Desk's business model. Investors can be on the lookout for future deals with large media companies such as the one they struck with Walt Disney ( NYSE:DIS ) for allowing brands to buy ads on Disney's properties (ABC, Hulu, ESPN, ESPN+, National Geographic, Freeform, FX) via Trade Desk. While Disney+ isn't included in the deal, investors are hoping that Trade Desk will strike another deal once Disney+ becomes open to advertisers. In the future, investors can monitor both Trade Desk updates, as well as updates from the media & entertainment industry for hints on implementing ad-supported business models. Or simply add Trade Desk to your watchlist to be notified by us of any important changes. 
Finally, we will analyze Plug Power, a company that is riding the clean energy wave and poised to benefit from organic expansion and state subsidies.
Investors are Riding the Clean Energy Wave with Plug Power (NASDAQ: PLUG )
Plug Power Inc. develops, manufactures, and sells hydrogen fuel cells. The company offers GenDrive, a fuel cell system that is used to power electric forklifts, airport ground support equipment, and other industrial vehicles.
The stock gained 31% in August, marking the first significant rally after the November decline. While there is no one catalyst event, it seems that the stock continued a rally that started shortly before August and culminated mid-month. The gain came close to the Q2 results, which were:
Revenue of $151.27m, up 21.4% YoY,
Net loss was $173.3m, up 74% YoY.
Diluted EPS was $-0.3, up 67% YoY, underperforming the $-0.21 estimates.
Plug Power Inc. Reaffirmed revenue guidance for the full year 2022, targeting revenue of $900m to $925m with 80% growth YoY.
Clean Energy Tax Credits
Looking at the longer-term prospects for the company, it seems that Plug Power stands to benefit from the clean energy tax credits and investments by the U.S. government . This comes from the Inflation Reduction Act (IRA), which was signed in 2022 and has $369b provisioned for Energy Security and Climate Change. One of the hallmarks of the act is the aim to reduce greenhouse gas emissions by incentivizing clean energy solutions which include hydrogen. This will make it less costly for future clients to sign up to Plug Power's fuel cells and boost the company's top line.
Revenue Forecasts
Revenue growth is the first thing we look at when evaluating a young company like Plug Power and it seems that the business has both organic and government incentivised reasons it could grow in the future. One way to see how much the company is expected to grow, is to use analysts' estimates . In the chart below, it is clear that analysts have marked the company as a high-growth stock and expect revenues to reach $2.135b by 2025: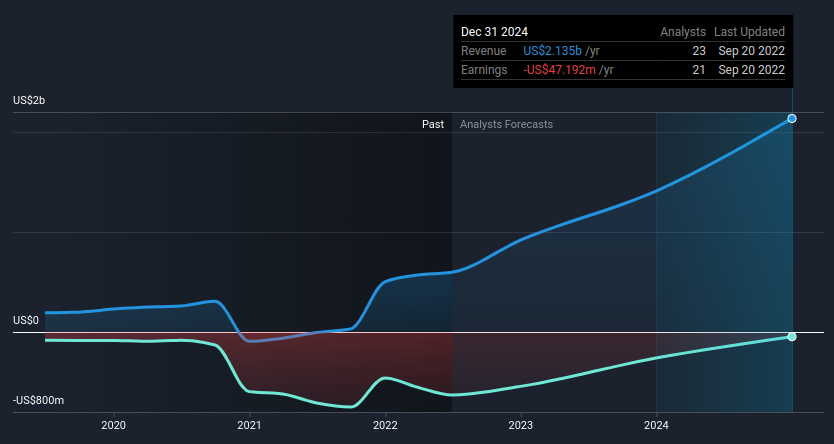 We can see that the company is expected to grow revenue 35.6% to $1.490b by 2024, and another 51.5% by 2025. This is also estimated to be the breakeven point of the company, which is an important milestone that validates a business model. Becoming profitable also grants the company more attention, as it starts showing up as a less risky stock and likely gets included into more ETFs.
Plug Power Clients
The company has signed on multiple clients that may expand their order commitments after using the product for an initial trial period. Some of the names that have been onboarded to Plug Power's products include: Amazon (NASDAQ: AMZN ), The Home Depot (NYSE: HD ), Walmart (NYSE: WMT ), Boeing (NYSE: BA ), FedEx (NYSE: FDX ), and others .
The primary incentive here seems to be the tax benefits and state investments that are expected to come from the IRA. Investors that believe the company will accelerate based on the state's support may be inclined to delve deeper into the company's risk and opportunity profile. For example, the balance sheet indicates that the company may be struggling with cash by 2025 and may need to raise further funds to continue its operations.
Conclusion
In today's analysis, we covered three top performers for August with a range of different characteristics. Investors that seek the highest risk to return may opt to dig deeper on Karuna, since drug companies can fail on multiple steps without seeing even a single dollar in profit.
Investors who want to explore more biotech companies that are forecasted to become profitable can view our curated list of "biotech breakthroughs" .
On the other hand, we have an enabler in the advertising space that has a demonstrated growth story, and is settled within the $750b display ad industry. Trade Desk is the most promising company we analyzed today, but that does not make it a good stock, so investors should continue their research on our company report for TTD .
Finally, we have a pre-profit company that is rising on the back of state incentives for clean energy. Investors that view this industry developing in the long term may want to explore if Plug Power fits their portfolio.
Finding high performers in a period where markets are stagnating may allow investors to see "who is swimming naked". In other words, companies that demonstrate success now, may have a more robust business than those that were winners when credit was cheap in 2021.
If you want to know which stocks other investors are most excited about, take a look at our trending stocks list .
Our "Best Performers" are selected based on those US-listed companies that are over $5bn in market cap, and have the biggest percentage gain for the prior month. All our data is from S&P Capital IQ, the world's premier provider of financial data.
Have feedback on this article? Concerned about the content? Get in touch with us directly. Alternatively, email editorial-team@simplywallst.com
Simply Wall St analyst Goran Damchevski and Simply Wall St have no position in any of the companies mentioned. This article is general in nature. We provide commentary based on historical data and analyst forecasts only using an unbiased methodology and our articles are not intended to be financial advice. It does not constitute a recommendation to buy or sell any stock and does not take account of your objectives, or your financial situation. We aim to bring you long-term focused analysis driven by fundamental data. Note that our analysis may not factor in the latest price-sensitive company announcements or qualitative material.
Valuation is complex, but we're helping make it simple.
Find out whether Karuna Therapeutics is potentially over or undervalued by checking out our comprehensive analysis, which includes fair value estimates, risks and warnings, dividends, insider transactions and financial health.