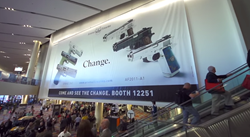 Attendees can get the feel of the brand exhibiting right off the bat, even from all the way across the expo hall, because our designs are so focused

LAS VEGAS (PRWEB)
January 05, 2018
The 2018 Shot Show is right around the corner, and this year's event marks the 40th anniversary of the biggest tactical self-defense trade show on the planet.
The show opens on Tuesday, January 23, at the Sands Expo Center in Las Vegas, Nevada. Last year's event surpassed 65,000 attendees, and this show could be even bigger as it marks the 40th anniversary of the expo's founding in 1978. Former congressman and retired U.S. Army Lt. Col. Allen West will be a keynote speaker.
Companies of nearly every size in the industry flock to the Shot Show because of the huge exposure, passionate attendees, and the general excitement the event offers. They look to custom trade show booth builders as well as modular trade show booth rental companies to help them stand out on the busy show floor.
Xibit Solutions, which offers both services in addition to custom graphics and install/dismantle services, looks forward to helping businesses of all sizes and scopes make an impact at an event that can lead to significant sales and lucrative contracts.
Brands like Norma, FAB Defense, the Mako Group, WPA, and Fausti have procured custom and modular trade show exhibits from Xibit Solutions that draw attention while representing the unique values of the brand. Fausti's booth, for instance, took the form of a simulated wood display featuring their heirloom-style vintage inspired product line on elegant racks. FAB defense booths instead highlighted the tactical side of the industry, boasting the brand's ties with the Israeli Defense Force and advanced technologies.
"Our favorite thing is to approach each brand as a unique challenge," says Xibit Solutions owner Richard Spinella. "We envision a booth that helps encapsulate the feel of the brand while trying to meet the exhibitor's budget and their unique goals behind attendance."
Spinella says that one of the most surprising aspects of trade show booth design is how modular and portable designs can come together to create something that feels custom-made.
"Attendees can get the feel of the brand exhibiting right off the bat, even from all the way across the expo hall, because our designs are so focused," explains Spinella.
His company will represent X tactical defense brands at this year's Shot Show, and he says he is more excited than ever to see the results.
"40 is a big number, and many of these companies have been coming here for years. You're usually able to feel the excitement coming through the building, but I'm getting jitters just thinking about it now."
Companies interested in exhibiting at next year's Shot Show or any trade event exhibition in Las Vegas can learn more about Xibit Solutions' services by visiting: http://www.xibitsolutions.com.
About Xibit Solutions

Richard Spinella founded Xibit Solutions in 2001 after working for 14 years as a sales leader in the biggest trade show contracting company in the world. Spinella learned to construct his own booths for clients using mastery techniques which are now utilized by skilled personnel within the company. Since that time, Xibit Solutions has grown to become a market leader in the trade show industry both in terms of volume and quality of achievement.
Share article on social media or email: