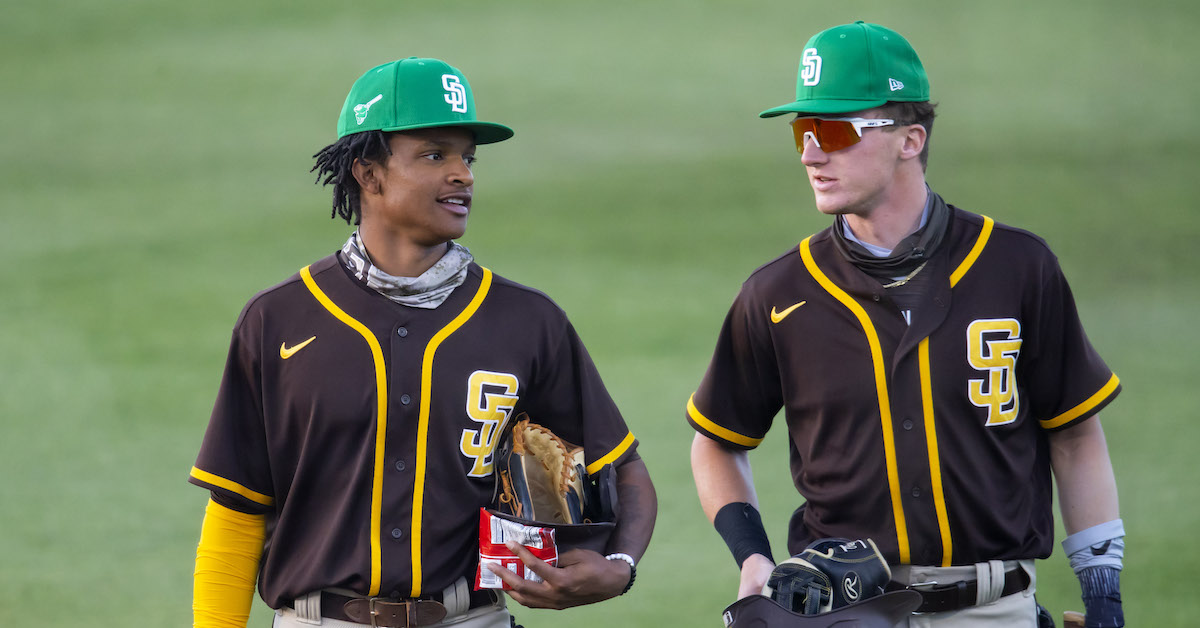 Over the last two and a half years, the Nationals' World Series championship roster has deteriorated around Juan Soto, hollowed out by trades and underperformance. After rejecting a 15-year, $440 million extension offer, the club realized Soto's camp was hellbent on him hitting free agency, an eventuality that put Washington at risk of only receiving draft pick compensation for him, and not until a few years from now. With new ownership looming, the Nationals were unlikely (and the team's current owners seemingly unwilling) to build a contender around Soto before he hit the market; every passing day, arbitration year, and postseason spent in Washington diminished his trade value. Once the team decided to move on, it made sense to deal Soto now, while the club trading for him could enjoy him for three postseasons instead of two. Still, it's a painful parting, just as it's painful for it to have unfolded in public the way that it did, with information leaked to prime fans with the logic I outlined above in the hopes of avoiding blowback.
The Padres, meanwhile, obviously coveted Soto. A.J. Preller tends to press the gas pedal a little harder than other folks in the industry, both in terms of the players he asks for and what he's willing to give up in return. There are alternate timelines in which this deal doesn't get done. There are iterations of a Bryan Reynolds trade that could have occurred this past winter that would have put Soto out of reach; there's a version of the 2020-21 offseason where Nolan Arenado becomes a Padre instead of a Cardinal. But because those (and other deals) didn't happen, and thanks to James Wood's emergence, the Padres still had enough at the top of their farm system to trade for a 23-year-old future Hall of Famer and carry several of the most exciting and talented players of this century on their roster at the same time while they're at it. Soto, Fernando Tatis Jr., Manny Machado, and Yu Darvish all have enduring baseball significance. The Padres are no-doubt contenders and among the most exciting teams in pro sports.
That comes at a great cost. There are many talented players headed to Washington in this trade: MacKenzie Gore, C.J. Abrams, Robert Hassell III, and Wood are all current or recent Top 100 prospects, while Jarlin Susana might have the nastiest stuff of any pitcher his age in pro baseball.
Gore and Abrams have both had developmental speed bumps in their young big league careers. Gore's troubles began in 2020 when he lost feel for his stuff at the Padres alternate site, an issue that persisted all the way through '21, prompting the Padres to make changes to his delivery in the middle of the year. While he came to 2022 camp with something more closely resembling his original delivery, Gore had found a better slider and enough release consistency to crack the Padres rotation almost immediately. He was great for the first month and a half of the season, posting a 1.50 ERA in his first eight starts while walking just 18 in 48 IP. Then Gore began to struggle again, had a handful of dreadful starts in June and July while his velocity dropped, and was put on the IL with elbow inflammation on July 26.
For his part, Abrams was rushed. He made the Padres big club out of spring training after having played in just 76 pro games, a result of both the pandemic and a 2021 campaign during which he dealt with multiple injuries. He is still just 21 years old, the age of the college prospects from the most recent draft class. While he has looked haphazard and undiscerning at the plate in the majors so far, the context for his struggles is comforting. It's not reasonable to expect a 21-year-old with about 100 minor league games under his belt to immediately look comfortable against big-league pitching, unless he's, you know, Juan Soto.
Gore and Abrams still have big long-term ceilings. A healthy Gore has an overpowering mid-90s fastball, and as I mentioned, he found a better slider during the offseason. For Gore to become the front-end arm most of the industry once thought he could be, he'll need to find more precise command, as his secondaries aren't nasty enough to miss bats when he misses his spot. There's still enough here for him to be a mid-rotation stalwart even if that doesn't happen, and if Gore's reputation as a high-motor competitor and worker are true, then I consider it more likely that he finds a way to max himself out.
As for Abrams, as he has looked in the big leagues, he's done nothing but rake in the minors (he hit .296/.363/.420 as a 20-year-old at Double-A in 2021 and .314/.364/.507 at Triple-A during his brief demotion this season), and he remains physically projectable and likely to add significant raw power as his body matures. His issues with chase are a little scary; I didn't realize they were as severe as they've been (just a 3% walk rate in the big leagues) because Abrams had played so few games and we had so little data from which to evaluate that part of his game. He remains a high-probability up-the-middle defender with advanced feel for contact for his age, blazing speed, and what I expect will eventually be meaningful power, the tools of a dangerous, star-level leadoff man. I do not envy the Nationals for having to decide how best to go about developing him (he was optioned to Triple-A Rochester following the trade). It sure looks like he could use more time in the minors, but there were times when a struggling Abrams appeared sullen and discouraged in San Diego, and you don't want that to snowball on him via demotion.
While Gore and Abrams remain promising young players despite their occasional struggles, Hassell and Wood haven't had so much as a hiccup in the lower levels of the minor leagues. Hassell is back to utilizing a precocious all-fields approach that lets his power play more in the gaps. While I think you'd ideally want a superior on-roster center field defender than I think Hassell will be, he could probably play there in a pinch. If you look around contending rosters, lots of them feel this pinch, so the Nationals should give him every opportunity to play center. It's not going to matter where he ends up in the field, though, because Hassell's contact/power blend is going to play anywhere. He's done nothing but hit against high-level peers since his junior year of high school and is the most stable prospect in this entire trade, very likely to be an average everyday player or better.
Wood is the freakiest prospect in the deal and joined the top 100 prospect list earlier this year. He was a divisive amateur player, with some scouts seeing him as a center field prospect with 70 raw power projection and others seeing him as an eventual first baseman with hit tool risk. So far in pro ball, Wood has looked like the former. He was hitting .337/.453/.601 at Low-A Lake Elsinore as of the trade. After initially showing feel for opposite-field-only contact on the complex, he began to turn on balls more frequently this spring and has been hitting line drive lasers to all fields, with his peak exit velocity topping out at 112 mph off the bat. That's a plus metric for a big leaguer and is ridiculous for a 19-year-old who hasn't totally grown into his body. Even though Wood is so big (he stands in at 6-foot-7), he has feel for tucking his hands in and getting the barrel to pitches on the inner half of the plate (he sometimes struggles to cover the outer third), often staying inside them and driving them to the opposite gap. While there's definitely some swing-and-miss risk here, it's due more to pitch recognition than Wood's lever length, which is extraordinary for a prospect his size. Wood has a real chance to both hit and hit for power (like, all-world power), and while his swing isn't geared for consistent lift at this point, he has the raw strength to do damage anyway; this might be an "if it ain't broke" situation that doesn't merit proactive mechanical intervention.
It's tough to gauge where Wood's eventual defensive home will be. He takes a little while to get his legs churning but once he's moving, he's a plus runner and has generated some home-to-first times in the neighborhood of 4.1 to 4.2 seconds. His huge strides enable him to cover a ton of ground in center field and he is a not only a viable defender out there right now, but looks like a future plus glove. Still, this is a 6-foot-7, 240-pound teenager who might add weight commensurate with his frame as he matures, and the way that shakes out will have a significant impact on his defensive future. That said, Wood is already defying convention by looking as good as he does out there at his current size. The broad strokes of this report read a lot like that of Adam Dunn at the same age: an XXL frame with unusual top-end speed and athleticism for his size and a chance to fill out in a way that causes him to tumble down the defensive spectrum, but enough power to support such a fall.
The package in its totality moved the Nationals farm system from 24th in our live rankings the moment before the trade to eighth immediately after. Abrams is just a few at-bats from being pulled off the list, but the specific ranking is less important than trying to contextualize just how much talent the Nationals added here. They basically doubled the numerical value of their farm system, which now has as many exciting high-upside prospects under 20 as any organization, in this case led by Wood, top recent international signee Cristhian Vaquero, Brady House, Elijah Greene, Jeremy De La Rosa, and Susana.
Oh my, I almost forgot about Susana! The track record of teenage pitchers who are already this size and who throw this hard isn't great. Past draft rankings are like elephant graveyard filled with the remains of Tyler Koleks and those like him. Susana comes with this element of risk but he sure looks incredible right now.
In my three looks this year, he has been 97-102 mph with a hammer slider in the 87-94 mph range. His stuff is so overpowering on the complex that he could use a promotion if only to challenge him and help him grow as a pitcher. This is an area where it's important to note that "evaluation" and "valuation" are different things. I acknowledge the upside here, but Susana's distance from the big leagues and the attrition rate of young pitchers lost to injury or unforeseen physical regression is high, and that impacts the way I think about him (and teenage pitching prospects generally) compared to the rest of the prospect population. There's a gap between his FV and what his future role might be that reflects this risk.
This trade on its own will not make the Nationals contenders again. They need to draft, sign and develop pitching at a rate closer to that of the juggernaut teams that can create depth from within, ensuring there is a bedrock of pitching in the org at all times to make up the meat of a pitching staff and offer key injury buffer. The National's inability to do so is a big part of how they got to the point where they felt compelled to move Soto.