We have gathered for you the major trade fairs and exhibitions mainly in Europe and USA. They are separated by sourcing and selling fairs.
At the sourcing fairs you can source fabrics and trims, attend business seminars, meet factories, sample makers, printing companies, and all kinds of production-focused industry professionals.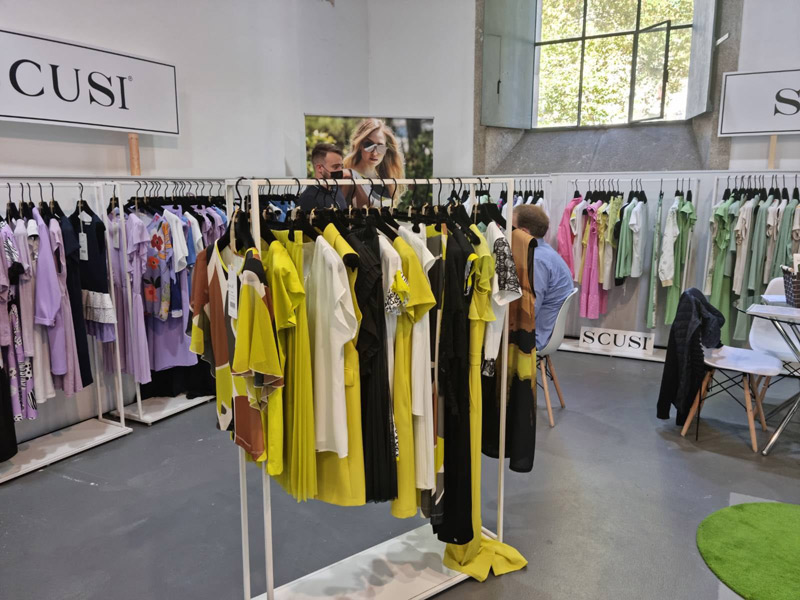 At the selling fairs are prsented ready-to-wear clothes, accessories and other goods. Get new wholesale accounts, attend networking events, meet fellow designers, press, boutique owners, and all kinds of sales and marketing-focused industry professionals.
Fashion Trade Shows 2022/2023 – Sourcing
International Apparel and Textile Fair: The UAE's exclusive sourcing and textile fair will be held in Dubai, on May 9th-11th 2022.
Dallas Fabric Show: Dallas Facric Show offers a fabric and trimmings exhibit for designers, manufacturers, retailers, and more. The expo features American & European mills, converters, and importers. In 2022, the show is scheduled for Wednesday, May 11 & Thursday, May 12 2022
Texprocess: This event is for new technologys, sofwares and innovative machines for the Fashion Sector. It will take place in Germany on 21 June 2022 – 24 June 2022

Heimtextil: Exhibitors and buyers will benefit from valuable synergy effects between the three international trade fair formats. The Heimtextil Summer Special will also be a valuable profit-making event for volume-oriented suppliers and buyers from Europe and overseas. In Germany 21 – 24 June 2022
Future fabrics expo: Source from thousands of textiles with a low environmental impact and discover sustainable solutions for a responsible fashion future. 2200+ sustainable textiles. Will take place in London 28-29th June 2022

Premierevision Paris: The new edition for the international trade show for fashion professionals will take place on July, 5, 6, 7 2022.

Milano Unica: Milano unica is dedicated to Textiles. Innovative fabrics, accessories and technologies. Take place in Milan 12 July 2022 – 14 July 2022.
Pure London: Pure Origin London unites manufacturers and buyers at the iconic Kensington Olympia in London. The next show takes place 17-19 July 2022.
Indigo/ Premiere Vision: This show brings together more than 100 exhibitors including experts in fabrics, leather, manufacturing, accessories, and more. Indigo New York will take place on July 19th and 20th this year.

Functional Fabric Fair: This is a trade-exclusive event showcasing the latest trends in fabric development for the functional textile industry. The next Functional Fabric Fairs will be held on July 19-20, 2022 at the Javits Center in New York.
Texworld USA: Texworld USA is North America's largest sourcing event for designers, fabric buyers, and merchandisers consisting of products ranging across the entire spectrum of fabrics. The next Texworld USA is scheduled for Tuesday, July 19 Wednesday, July 20 and Thursday, July 21 2022.
Innatex: INNATEX is the only international trade fair for sustainable textiles in the world that offers a unique sales and communication platform not only to the traditional clothing sector but also to countless other textile product groups, including accessories, home textiles, fabrics, toys and many more. 29–31 July 2022
Sourcing at Magic: Sourcing at Magic is a fashion-sourcing event where attendees have access to global resources and receive insight into trends and information regarding inventive technology and the industry. 2022 sessions are being held in Las Vegas, August 7-10, 2022.
MUNICH FABRIC START: A dedicated trade show for members of the fashion industry, manufacturers, and suppliers.  Each season large numbers of fashion professionals from across Europe head to Munich to research and source for their new collections.  The next show is August 30th- September 1st 2022.
London Textile Fair: The London Textile Fair is the biggest textile fair in London and is described as "a well-organized and friendly show." The next show takes place September 5-6 2022.
Modtissimo – The only Potruguese Textile trade fair. The next show takes place September 6-7 2022.
Source Africa: Source Africa is the leading industry event of its kind that brings together suppliers, manufacturers, service providers, and buyers all under one roof and takes place in Cape Town, South Africa, September 26th-28th 2022.
L.A. Textile Show:  This show is the fashion industry's premier West Coast destination for textile, design, and production resources. Showcasing hundreds of international fabric collections and design services, the show is presented with the West Coast's contemporary and lifestyle designers in mind. They also have a sourcing pavilion for finding factories and other production-related services. This show takes place September 28-30 2022.
Textile Forum The Fashion Fabric Show London:  Textile Forum has cemented itself as London's premier sourcing event for luxury fashion fabrics. The show attracts fabric buyers from major fashion retailers and brands, established independent design businesses and start-ups, tailors, craft shops, seamstresses, and costumiers.  This show takes place in London, October, 12-13 2022. 
International Sourcing Expo Australia: Australia's premier international sourcing show for apparel, accessories, and textiles. This year's event takes Tuesday 15 – Thursday 17 November 2022 in Melbourne Australia.

Fashion-tokyo: Japan's first specialized show for items and materials, which focused on "sustainability" such as Ethical, Recycled, Eco-Friendly are showcased from around the world! This show collects attention from visitors who look for innovative sustainable items and materials, and new business partners. It will take place in Tokyo 5th april – 7th april 2023.
Kingpins: Kingpins offers a carefully selected list of vendors including denim and sportswear fabric from all over the world. The show happens in various cities.
Fashion Trade Shows 2022/2023 – Selling
NY NOW: This show will showcase a broad spectrum of merchandise categories, including giftware, personal care, stationery, fashion accessories, and children's products. This year NY Now is holding a winter market in San Francisco, April 28th-29th 2022.
Magic: The Magic tradeshow is focused on young contemporary apparel, footwear, and accessories. This show takes place in Nashville May 16th-18th, Las Vegas August, 8th-11th and New York September, 18th-20th 2022.
Outdoor Retailer: Outdoor Retailer is North America's largest trade show in the outdoor clothing industry and takes place in Denver. The Summer Show is scheduled for June 9th -11th 2022 and the Summer Show is January 10th -12th 2023 in Salt Lake.
Pitti Uomo : Menswear, Clothes, Urban fashion, Fashion Complements, Fashion designers, Sport fashion, Sustainability. 14 – 17 June 2022
The Lingerie Selection: This show is dedicated to promoting independent brands in the fast-growing lingerie segment. The show connects brands and buyers and forms a community of lingerie professionals, all seeking to provide their customers with exactly what they desire. Salon International de la Lingerie is all about. It takes place in Paris on June 18-19-20 2022.
KnowShow is Canada's premier lifestyle trade show and takes place June 21th-22th 2022 and January, 11th -12th 2023 in Vancouver.
TRANOÏ: This show is an artistic platform with a curated selection of international premium designers. In addition to fashion tradeshows, TRANOÏ also brings together artistic installations, designers' exhibitions, catwalk shows, parties, and all sorts of events. The show comes to Paris June, 23-26 2022.
Neonyt: Joining forces to drive long-term change in the fashion sector: authentically, directly and transparently. Neonyt and its cross-sector community stand for fashion and lifestyle, curiosity and future orientation, an affinity for technology and sustainable awareness. It will take place in Germany on 24 June 2022 – 26 June 2022.

Man / Woman Shows: The Man and Woman shows are dedicated to bringing together a select community of brands from around the world and offering brands an introduction to the right buyers. Man/Woman Paris takes place June 24-26 , and Man/Woman New York takes place July 18th-20th 2022.

Seek: Seek is a progressive contemporary fashion trade show held in Germany. July 7th – 9th 2022.
Modefabriek: Modefabriek is a mash-up of brand presentations, fashion shows, expos, stores, talks, masterclasses, food & drinks, music – and more. In Amsterdam 10 July 2022 – 11 July 2022.

Ciff: The CIFF platform welcomes nearly 2000 brands, sustanable materials and innovative productions in Copenhagen 10 July 2022 – 11 July 2022
SwimShow: The world's largest swim show takes place in Miami, July 16th-18th.
Coterie: Coterie is the premier global event that connects women's apparel, accessories, and footwear designers with the international "who's who" of retailers. Coterie builds exclusive shopping experiences from the ground up so that brands and buyers can create synergies that fuel their businesses. This year's shows take place July 16th- July 18 2022 in Miami.
Scoop X Pure: Scoop is a designer menswear trade show held at Olympia West, London July 17th – 19th 2022.
Pure London: Be sure to take your place at the UK's most unmissable fashion retail event. The next event is in London July 17th-19th 2022.
Fashionweek: Fashion event, presenting fashion designers and brands in Malta 20 July – 22 July 2022.

phygital sustainability expo: the first and only event in italy exclusively dedicated to the eco-sustainable transition of fashion and design. In Italy, July 2022

Lingeriepro: Trade fair oriented to fashion stores, specialized in lingerie. It will take place in Belgium 30 July – 01 August 2022
Agenda: With a portfolio of over 1,000 brands, Agenda is the most diverse fashion trade show in the world. It comes to Las Vegas on August 9th-10th.

CPM: CPM brings together 500 producing companies, presenting 650 fashion brands from 20 countries, as well as over 12k visitors – buyers, producers, designers, and other players of the fashion industry. In Russia, 30 August – 2 September 2022.

Oslodesignfair : Oslo Design Fair is the most important and attractive meeting place for design, architecture and craftsmanship for participants all across the globe. 31 August – 2 September 2022.

Who's Next: Who's Next is the leading international fashion trade show for women in Europe. The next show takes place September 2nd -5th 2022, in Paris.

Produrable : PRODURABLE is the largest European meeting of actors and solutions in favor of the sustainable economy. Organized under the dual patronage of the Ministry of Ecological and Solidarity Transition and Territorial Cohesion, the 15th edition will be held on September 13 and 14 2022.
COAST: COAST shows come to New York on September 16th and 18th 2022.  COAST offers the latest trends and bridges the gap between designers and retailers while becoming a global trade show.
EU Water tech week: Congress and trade fair on innovative water solutions. 19, 20, 21, 22 September 2022.

Transition-forum: The 5th edition for Transition Forum committed to an ecological transition will take place in Nice September, 29th – 30th 2022

Ecomondo: fair on circular economy as a whole, focus on industry, water, waste. 8-11 November 2022 in Italy, Rimini.

Mifexpo: More than 800 exhibitors invite you to attend the biggest event celebrating French manufacturing. The Parisian edition will be held for its 10th edition at the Porte de Versailles Exhibition Center for 4 days: from November 10 to 13, 2022.

International Jewelry London: This is the largest global meeting place for the jewelry industry and typically takes place in London. 2022 dates have not been announced.
Accessories The Show: NEW YORK Accessories The Show creates the world's largest and most vibrant marketplace for juried accessories each and every season. This event takes place in NYC Feb 2023.
Designers and Agents: The Designers & Agents show identifies emerging talent and creates connections with designers and buyers. D&A features brands from around the world that are the influencers of the market. This year the event takes place in New York, February 25th-27th, and in Los Angeles, March 7th-9th. 2023.

American Handcrafted: This is the largest North American handmade wholesale show in the northeast. It will take place in the Pennsylvania Convention Center February 25-27, 2023.
Pollutec: Nearly 2,200 exhibitors take part in each edition to showcase their products and innovations, to close new deals and exchange on the market's evolutions. They each contribute to making Pollutec the premier platform for professionals looking for environmental solutions. It will take place in Lyon October, 10th – 13th 2023.

Hits: 637 | Leave a comment