STERLING — A lemonade stand.
Doesn't every budding entrepreneur start out as a child hawking small cups of lemonade from a sidewalk card table on a hot summer day?
"Oh yeah!" said Kelsey Woolard, smiling as she served customers from her Lady Lemonade kiosk.
Hers was one of 31 popup businesses run by high school students that showcased their involvement with the Whiteside Area Career Center CEO program during a trade show held Wednesday and Thursday at Northland Mall.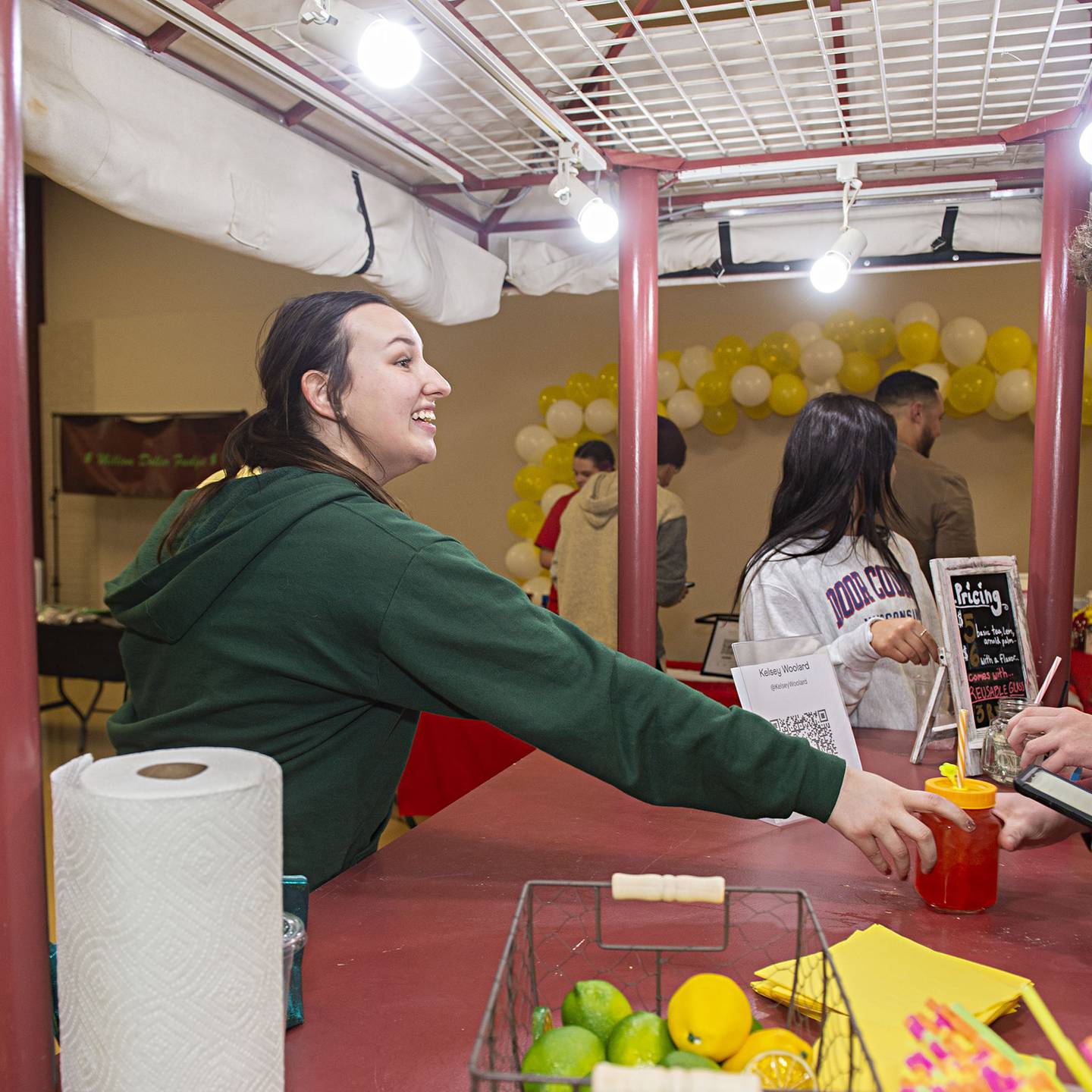 CEO stands for Creating Entrepreneurial Opportunities. Since 2014 the program has equipped business students with the skills and leadership tools they need to contribute to the region's economic growth with their own enterprises. Participants earn three hours college credit through Sauk Valley Community College.
Woolard is a senior at Dixon High School who shared her story, growing up in unincorporated Lost Nation.
"Every year we'd have our Lost Nation garage sale," she said. "I was always the lemonade girl in the corner. I sold lemonade and cookies."
Now, she has a proper stand, painted mauve with a banner. The lemonade goes for $4 a serving, though these freshly-made concoctions come in a variety of flavors. Business is brisk. She's also selling reusable cups for $3.
"I want people to have a keepsake for my business," she said.
Some of the student-run businesses are the foundation for something they hope will be a going concern. Others are intended to be short-lived.
Lady Lemonade might make an appearance during the Petunia Fest, but Woolard said she was in it for the experience.
"We actually had to take out a loan and talk to real bankers and make real business plans," she said. "So I had to learn the real side of business before I go to college."
If a lemonade stand is the ubiquitous starting point, then Tate Downs is exploring an emerging, though potentially highly lucrative, digital landscape with his MDT NFTs.
NFT stands for non-fungible tokens, which Forbes Advisor describes as digital assets that represent real-world objects. They are bought and sold online, often sold and encoded alongside cryptocurrency. They've been around since 2014 — the market last year was worth $41 billion — most newsworthy for its use in buying and selling digital artwork.
"Anything that you need to prove you purchased something, you can use an NFT instead of (a receipt or ticket)," said Downs, a Newman student from Rock Falls.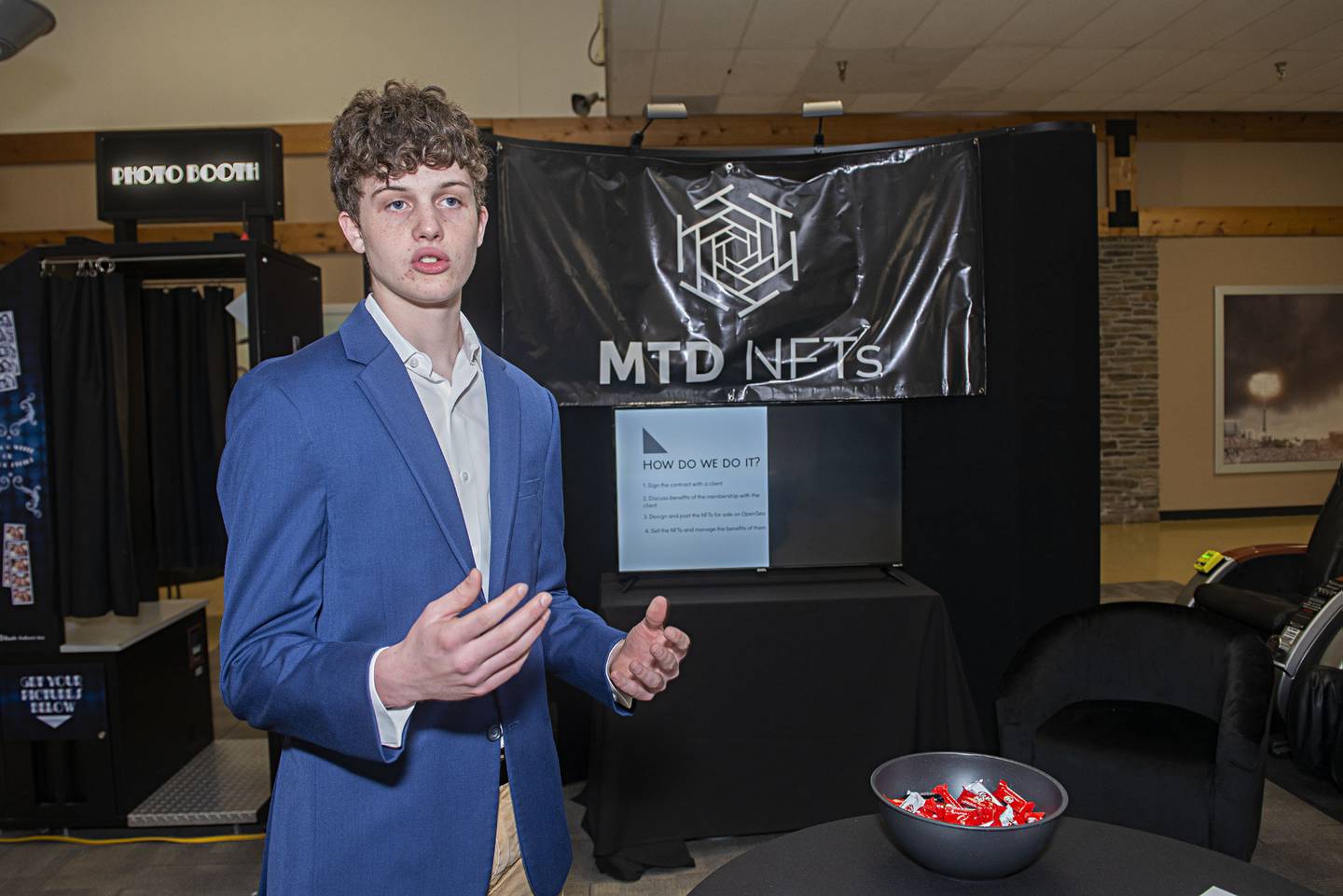 For MDT NFTs, the goal is to create an exclusive membership club for influencers and businesses. The technology makes membership trackable and tradeable. Using NFTs to verify the ownership of something is where it's at, Towns said.
"The NFTs currently being sold for millions, tens of thousands of dollars, are risky," he says. "There's no value behind those. … Once utility NFTs pick up speed, they'll have a real place in today's society."
Claire Crisham is a student at Newman who is selling hair clips and hair scarves at Flair. She models the items for customers herself.
She reached out to alumni of the CEO program for their help in setting up her business.
Crisham wants to study business and political science in college, perhaps to get a law degree. But what she's learned through CEO is transferable.
"I took the class to build communication skills, and just to get to know more people outside my school," she said. "It was really for the soft skills."
At the next booth over, Lilianna Smith of Milledgeville is selling bird-seed ornaments at For the Birds. Providing an eco-friendly product — bird seed, twine and the sachet bags — was important to her.
After her first batch failed, however, she says she learned an important lesson: "You can't take shortcuts in business."
After that, she rolled up her sleeves, determined exact measurements for everything, then converted a spare room into a manufacturing and packaging facility. The streamline operation produced 410 items in three weeks.
For some of the participants, it's about family.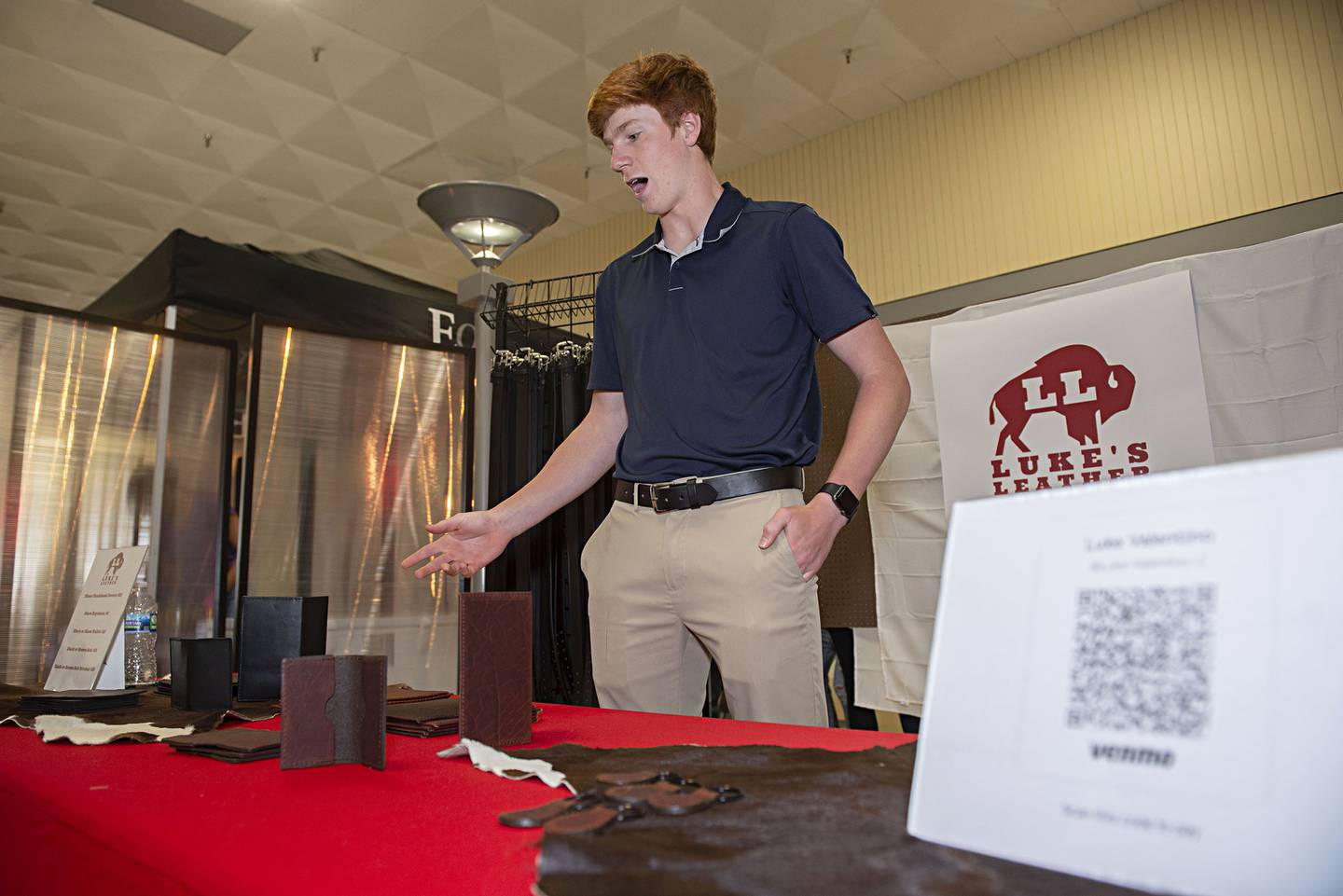 Luke Valentino's Luke's Leather is building on the expertise of the family business, Boston Leather in Sterling. Luke is offering his own creations, bison and cowhide checkbook covers, wallets, keychains and belts. "All-American sources of leather," he said. And he's priced them to compete with the big boxes.
Then there's Zachary Pauley of Milledgeville, who is selling Judy's Jumble. These are packages of a snack mix based on what his grandmother used to make for the family. "It's pretty cool to sell something my family has enjoyed for so long," he said.
The parking lot at Northland Mall was filled on Wednesday. Inside, foot traffic was pretty heavy. The mall is undergoing a revitalization — and several CEO students said it's helped make the trade show more lively this year.
At the west end of the main concourse, there's a line of customers at Zeek's Zones, where Isaak Toms-Smith is pulling fist-sized homemade calzones from a portable pizza oven. He and his father, Rod Smith, have been prepping the pastries. His mom came up with the name.
"It's going great, way better than I expected," he said. "We're about to sell out. Good news-bad news, I should've made more."
That puts the Milledgeville senior's daily sales at a little over 100 calzones. The tip jar is stuffed full with bills.
The best part of the experience, he says, has been getting out, seeing people gathering together, seeing faces, seeing smiling children.
As part of the CEO program, Toms-Smith enjoyed the visits to area businesses.
"You'll go on tours and see your community in a completely different way," he said. "It's actually a life changer."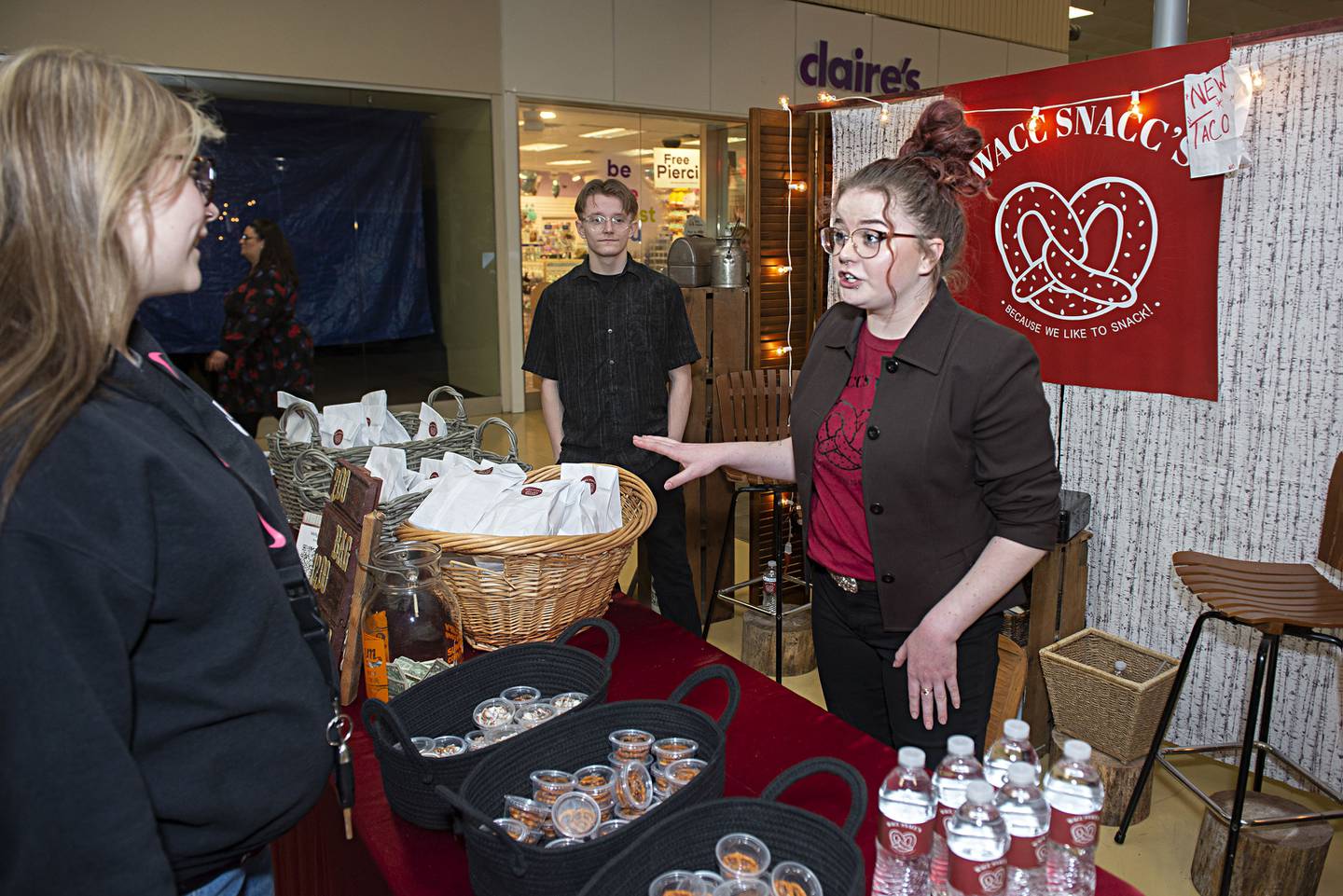 Whiteside Area Career Center CEO program
East Class
Chloe Coil, Dixon
Alex Georgiev, Dixon
Sarah-Elizabeth Haenitsch, Faith Christian
Morgan McBride, Polo
Bridget McCrory, Dixon
Logan Moeller, Dixon
Kaden Mulligan, Dixon
Marlee Oros, Dixon
Mason Randick, Dixon
Hayden Steinmeyer, Dixon
Kelsey Woolard, Dixon
West Class
Kenny Boesen, Newman
Lucas Clark, Sterling
Ally Clevenger, Newman
Claire Crisham, Newman
Matthew Tate Downs, Newman
Alexsia Funderberg, Sterling
Carlos Garcia, Sterling
Alexandria Lexi Headrick, Sterling
Kate Henson, Morrison
Kacen Johnson, Milledgeville
Grant Koerner, Newman
Kierra Magana, Sterling
Matthew Megli, Rock Falls
Kory Mullen, Newman
Rhett Oetting, Newman
Zachary Pauley, Milledgeville
Molly Riffle, Morrison
Braeden Ruiz, Sterling
Lilianna Smith, Milledgeville
Izaac Toms-Smith, Milledgeville
Luke Valentino, Sterling