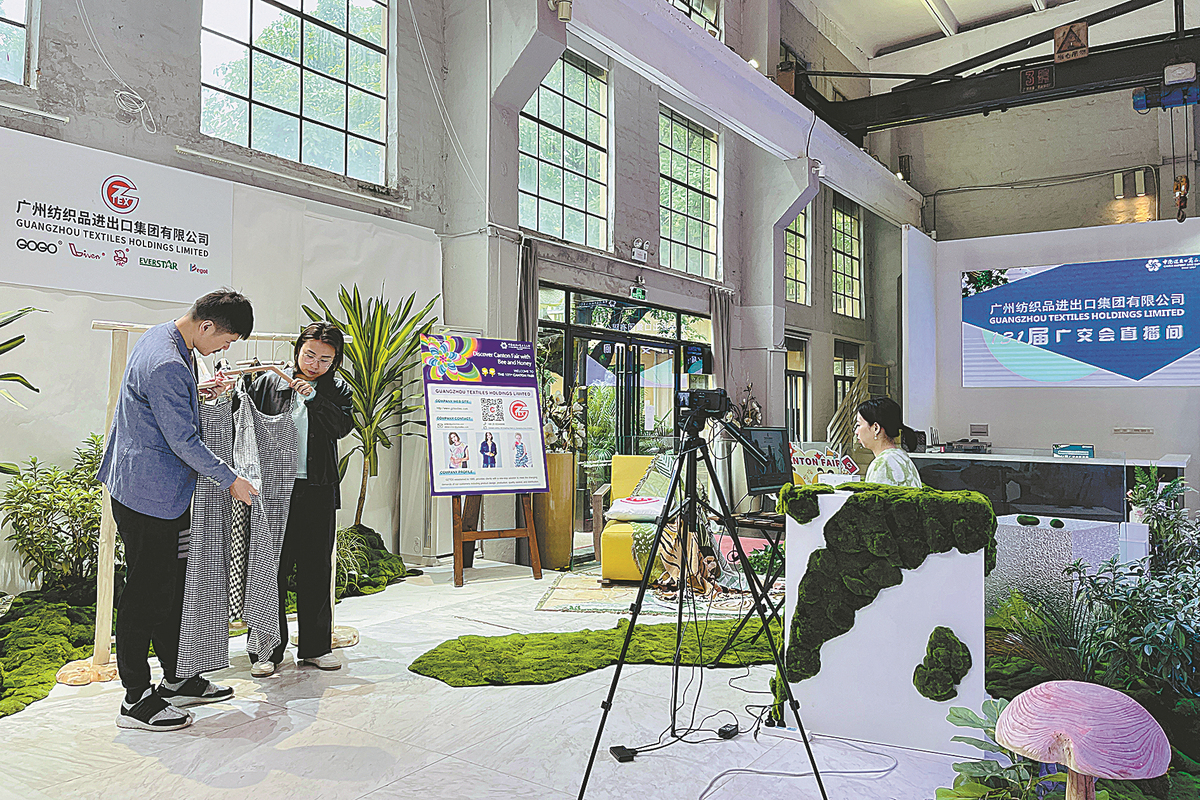 The China Import and Export Fair, the country's signature biannual trade show, will be an advanced platform to support trade between signatory countries of the Regional Comprehensive Economic Partnership agreement, and further enrich China's dual-circulation development paradigm in the coming years, said experts on Monday.
Despite offline activities being suspended due to the latest COVID-19 resurgence, the 10-day event, also known as the Canton Fair, concluded its 131st biannual session on Sunday in Guangzhou, capital of Guangdong province. The fair attracted a record 25,500-plus domestic and overseas exhibitors with over 3.05 million exhibits displayed online.
About 950,000 items from sectors such as food, medicine, healthcare, sports, tourism and leisure, toys and office products made their debuts during the fair this month, according to the event's organizing committee.
The Canton Fair highlights new opportunities for both domestic and overseas companies this month, with RCEP signatories taking center stage more than three months since the world's largest free-trade agreement came into effect, said Cheng Shi, chief economist at ICBC International.
A total of 536,000 overseas buyers from 228 countries and regions participated in the event, up 41.8 percent from the 130th session, setting another record for registered buyers. Among them, there were 150,800 buyers from RCEP members, accounting for 28.12 percent of the total.
The Canton Fair being held online for the fifth time demonstrates China's unswerving resolve to stabilize global industrial and supply chains as it further embraces the digital economy amid the protracted COVID-19 pandemic, said Zhang Yongjun, deputy chief economist at the China Center for International Economic Exchanges in Beijing.
"With tariff cut policies brought by the RCEP and domestic manufacturers' willingness to upgrade the technology content of their products, many Chinese companies will be in an advantageous position to further expand their market channels in the Asia-Pacific region. Guided by the dual-circulation development paradigm, it is also wise for them to accelerate the pace of seeking growth potential in the domestic market," Zhang said.
Apart from expanding the fair's email languages from three to six this time around and introducing new services such as the China-Europe freight train service, seaborne shipping and cross-border e-commerce, the China Foreign Trade Center-one of the fair's organizers-said there were 1.59 million exhibits available for sale to domestic buyers during the 131st Canton Fair.
It will help foreign trade companies better connect with domestic purchasers, tap huge potential in the domestic market, promote the integrated development of domestic and foreign trade, as well as support the establishment of a unified national market, said Ma Yu, a researcher at the Chinese Academy of International Trade and Economic Cooperation in Beijing.
The Canton Fair started in 1957. It is the country's largest and longest-running comprehensive trade fair, and has the largest number of overseas buyers and product categories, according to the Ministry of Commerce.