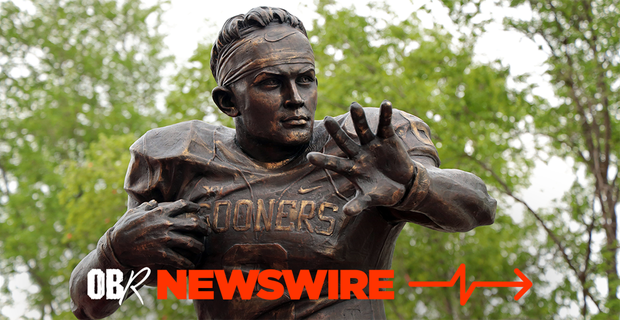 Good morning Cleveland Browns fans!
Today's key news – believe it or not – is about a bad statue of Baker Mayfield. The draft is rolling toward us, Jadeveon Clowney is nibbling at the bait, and the best I have is stories and photos of a statue that looks nothing like Baker Mayfield.
Something is wrong here. But I don't judge… I just link whatever stories show up from credentialed outlets in my feed. And then I judge. Generally badly.
Anyhow, I'm tut-tuting today because the Newswire isn't all it probably should be at this time of year, but, like the rest of the media, I myself enjoyed the good weather yesterday, producing little, and was t0o mesmerized by the giant forehead on the Baker Mayfield statue to accomplish much.
It was just this morning that I realized that the issue with Baker's head on the statue is that he is portraying wearing a giant Nike headband. Upon first glance, I thought it was some sort of previously-unreported premature hair loss or some tragic pituitary condition. But, nope, headband. It was probably the fourth photo I looked at which made me realize this.
Anyhow, headband or no, the statue looks nothing like Baker. At least I'm not the one getting fired this time, although, given my history, I'm likely to be blamed for it anyway.
That's all I got today. Enjoy the nice Cleveland weather, but don't get overconfident that it's here to stay. In Northeast Ohio, nothing is given, and all expectations have to be carefully managed.
Have a good one!