Editor's note: Seeking Alpha is proud to welcome Pearl Investing as a new contributor. It's easy to become a Seeking Alpha contributor and earn money for your best investment ideas. Active contributors also get free access to SA Premium. Click here to find out more »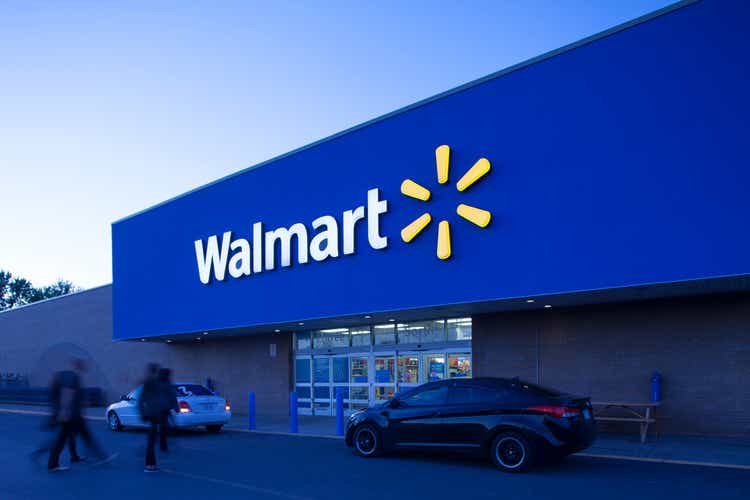 Overview/Investment Rationale
Walmart (WMT) ("Walmart" or "the Company") should continue to benefit from its solid store network, professional vendor relationships, and well-established brand as they act as significant competitive advantages. Walmart has served customers across economic cycles for more than 50 years. The COVID-19 outbreak has not negatively impacted Walmart's sales; the Company has, in fact, enjoyed higher sales growth during the pandemic as most countries asked it to open for uninterrupted distributions.
Walmart Inc. is a US-based company that engages in the operation of retail and wholesale businesses across the globe. The Company serves more than 230 million customers with 10,500 stores and various eCommerce websites under 46 banners in 24 countries each week. It operates in three reportable segments: Walmart U.S., Walmart International and Sam's Club. The United States contributed to about 82% of sales in fiscal 2022 (January 31, 2022). In the United States, approximately 56% of sales come from grocery, 31% from general merchandise, and 11% from health and wellness items. In addition to its eCommerce website, Walmart operates several e-commerce properties, including Flipkart and shoes.com. eCommerce contributed to about 13% of sales in fiscal 2022 with $73.2 billion in total revenues.
I initiate coverage on Walmart with a Buy rating and a $180 price target, as I believe there is excellent upside potential. A combination of improving margins and attractive acquisitions and developments can positively contribute to substantial earnings growth over the next three years. According to my valuation, Walmart's stock is trading at a 22.64% discount to the intrinsic value of $180 per share. Read more on my DCF analysis in the Valuation section.
Reported Strong Earnings in FQ4 2022; Provided Modest FY 2023 Outlook
Walmart beat earnings estimates by $0.03 and revenue estimates by $1.49 billion in FQ4 2022 (Jan 2022). The company reported non-GAAP EPS of $1.53 (+10.1% year-over-year) and revenues of $151.53 billion (+0.36% y-o-y). Comparable sales in the US increased significantly by 5.6% y-o-y. Sam's Club sales also rose 10.4% in comparable sales or 21.2% on a two-year stack. However, International net sales declined by 22.6% to $27 billion in FQ4 2022 due to about $10.1 billion in divestitures. At the same time, consolidated operating expenses as a percentage of sales remained flat (increased one basis point to 20.8%) as Walmart well-managed the supply chain and the COVID-19 costs. For FY 2022, the company generated revenues (constant currency) of $568.2 billion, up 1.4% y-o-y, adjusted operating income of $25.8 billion (+11.2% y-o-y) and free cash flow of $11.1 billion (lower $14.7 billion y-o-y due to higher inventories). Further, the Company provided relatively strong FY 2023 guidance. Walmart anticipates its FY 2023 revenues to increase about 3% in constant currency. The Company is also committed to repurchasing at least $10 billion in FY 2023. Comparable sales growth for Walmart US is expected to increase slightly over 3%. The adjusted EPS is expected to increase by 5% to 6% (excluding divestitures).
Innovative Products/Investments Should Support

Revenue Growth
Walmart launched 'Walmart InHome' services in 2019 and expanded it from six million homes to 30 million homes in the US. Walmart is committed to using/adding new electric delivery vans for this service. Walmart is also sincerely committed to addressing climate change and sets a target of zero emissions logistics fleet by 2040.
A Walmart-backed fintech startup company is expected to acquire ONE Finance Inc. and Even Responsible Finance Inc. Due to these acquisitions, the Walmart-backed fintech startup would create a 'super app' where Walmart can sell financial services.
As Walmart has continued to bring more customers, sellers, and suppliers to its system, Walmart's advertising business is growing incredibly recently. Walmart generates about $2.1 billion from its advertising business within few years at high margins. In addition, the Company's US eCommerce sales increased 1% y-o-y and were 70% higher than the same quarter two years ago. Further, the Company's PhonePe services in India are growing significantly.
Walmart should win against Amazon
Amazon (NASDAQ: AMZN) has been disrupting the retail industry with its expanding scope and distribution strength. The retail industry is also highly competitive. However, Walmart has kept its nerve with its EDLC (everyday low cost) strategy. Walmart+ membership program is also expected to continue to grow and benefit its top line. With its vast vendor network, Walmart could control procurement costs and optimize assortment across all channels. Top manufacturers still prefer Walmart in terms of dollar sales, offering a significant cost advantage. Although Amazon continues to build new distribution centers, Walmart has already built about 156 distribution centers in the US alone. The company has more than 30 dedicated fulfillment centers for eCommerce sales and plans to add more in the future. It also benefits from its well-established name with low-cost products to spur shopper traffic. Walmart has its stores within 10 miles of 90% of the US population, offering significant convenience to shoppers than other traditional retailers. Further, Walmart's expansion into grocery markets should also drive repeat shopper traffic as grocery customers regularly visit the store.
Strong and qualified management team
Walmart has a well-qualified and experienced management team with over 100 years of collective experience. Mr. Doug McMillon is the President and CEO of Walmart Inc, with more than 30 years of experience in retail and project management. He was appointed president and CEO in 2014. Under his leadership, Walmart has improved its balance sheet and managed its leverage well despite the current omnichannel transition. Walmart maintained an average net debt to adjusted EBITDA of less than two over the last five years. Walmart's near-term debt maturities have been well managed. Walmart has less than $4 billion due per annum over the next three years, against its cash balance of $15 billion (as of January 2022). Debt to capitalization stood at 34.0% in Q4 FY 2022, 370 basis points lower than a year ago. Under CEO Doug McMillon's leadership, Walmart has focused on growth markets and omnichannel transformation. Notably, Walmart acquired a 77% stake in Flipkart (India) in 2018 for about $16 billion and purchased Jet.com for about $3 billion in 2016 (though it was discontinued in 2020). McMillon has also invested in eCommerce through the Bonobos (e-commerce-driven apparel firm) and ModCloth (American online retailer of indie and vintage-inspired women's clothing. Walmart sold it in 2019) acquisitions. He also developed Store No. 8, a retail technology incubator. Mr. Brett Biggs is an Executive Vice President and Chief Financial Officer with more than 30 years of experience in finance and business restructuring and optimization. Mr. Suresh Kumar is an Executive Vice President, Global Chief Technology Officer and Chief Development Officer, of Walmart Inc., with over 25 years of technology leadership experience, most recently from Google (NASDAQ:GOOG).
Valuation
I arrive at an Intrinsic Value of $180 for WMT, which implies that the stock is currently trading at a discount of about 22.64%, based on my DCF model. I believe that the stock should trade around its current intrinsic value, attributable to its recent acquisitions, innovative services and investments in eCommerce. The upper range of my price target of $220 to $230 primarily reflects a favorable eCommerce penetration. Exhibit 1 below shows my DCF calculation assumptions.
Exhibit 1: Assumptions for DCF (as of March 03, 2022)
| | |
| --- | --- |
| Assumptions | |
| Risk free rate | 1.86% |
| beta | 0.53 |
| Market risk premium | 8% |
| Cost of Equity | 6.2% |
| Perpetual Growth Rate | 2% |
| Current Market Price | $ 139.29 |
| Shares Outstanding (million) | 2,782 |
| Tax Rate | 25% |
Source: Author's Analysis
Basis for assumptions
Walmart operates in the retail marketing business, which is a relatively mature and competitive industry. The Company's current market capitalization is $386 billion, which is somewhat higher than its peers in the industry. For instance, The Home Depot (NYSE: HD) has a market capitalization of $339 billion, Costco Wholesale Corporation (NASDAQ: COST) $236 billion, and Lowe's Companies (NYSE: LOW) $152 billion. Additionally, the Company's growth strategy depends on continuous investments in eCommerce and expansions and in controlling costs and pricing power of its products, which is inherently lower-risk. Therefore, I believe a cost of equity of 6%-6.5% is appropriate.
I have assumed a market risk premium at 8%, consistent with comparables, and have assumed the 10-year Treasury yield as the risk-free rate. The Company's stock has a higher trading volume than its peers, which does not raise concerns for those investors having a strong liquidity preference. Thus, I have assigned a nil liquidity premium to incorporate this risk. In particular, Walmart also has a lower beta to reflect its steady long-term volatility better. Finally, I have assumed a terminal growth rate of 2% due to the conservative growth that I anticipate in the retail industry and subsequent growth in free cash flow. Exhibits 2 and 3 below show my DCF sensitivity analysis and how I arrive at an equity per share estimate of $180.
Exhibit 2: Sensitivity Analysis

Exhibit 3: DCF Calculation

Walmart Inc. – Comparables
Walmart faces stiff competition from traditional retailers such as retail and wholesale grocers, drug, dollar, variety and specialty stores, supermarkets, hypermarkets and supercenter-type stores and the latest eCommerce companies. I have chosen Home Depot, Costco, Lowe's, Dollar General Corporation (DG), The Kroger Co. (KR), and BJ's Wholesale Club Holdings, Inc. (BJ) as Walmart's comparables as they also operate in the retail and wholesale business segments and are listed in the US.
As seen in Exhibit 4, Walmart is currently trading at a Forward P/E (FPE) of 20.7x compared to the peers' median FPE of 18.5x. The Company's P/S and P/CF are 0.7x and 16.2x compared to the peers' median of 1.2x and 16.2x.
Exhibit 4: Walmart comparables (as of March 03, 2022)

Walmart is currently trading at a historically higher P/E. However, Walmart's current FPE is relatively lower than the Sector and Industry P/E of 29.5x and 39.8x, respectively. As seen in Exhibit 5, the Company's minimum, median and maximum P/Es are 10.7x, 18.3x and 55.2x.
Exhibit 5: Historical statistics of Walmart

As seen in Exhibit 6, TTM (Trailing Twelve Month) gross margin and TTM operating margins for Walmart are 25% and 4.5%, respectively, compared to the peers' median of 27.05% and 6.7%. Further, the Company's TTM ROA (Return on Assets), TTM ROE (Return on Equity) and TTM ROIC (Return on Invested Capital) stand at 3.24%, 9.8% and 6.37% respectively.
Exhibit 6: Profitability and return metrics of Walmart and peers

As seen in Exhibit 7, Walmart's share prices did not provide a significant return compared to its peers recently. At the same time, Walmart's share prices pose a lower downside risk compared to its peers. Walmart has offered about 16.44% return for the last five years against 21.3% return of its peers. Walmart's share prices declined about 3.73% in YTD, while its peers' share prices decreased 12.15% YTD.
Exhibit 7: Walmart vs Peers return comparison (as of March 03, 2022)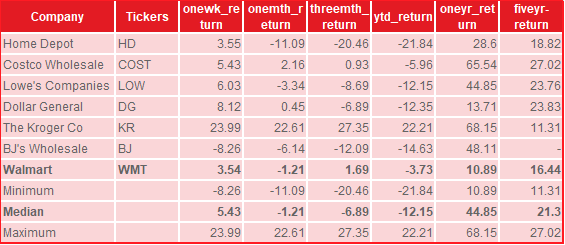 Strong Retail Market
Global retail sales are forecast to reach $26.69 trillion in 2022
The global retail industry has emerged as the most dynamic and fast-paced industries due to the entry of several new players. According to Statista, a Germany-based market and consumer data company, global retail sales are forecast to reach approximately $26.7 trillion by 2022, up from approximately $23.6 trillion in 2018. As seen in Exhibit 9, global retail sales declined by 5.7% to $23.36 trillion in 2020 from $24.78 trillion in 2019 due to the COVID-19 outbreak.
Exhibit 9: Global retail sales are expected to reach $26.69 trillion in 2022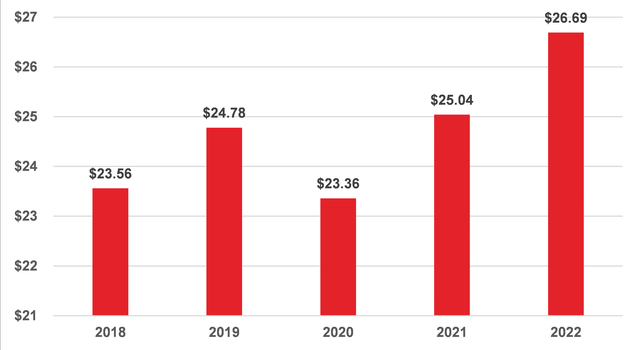 Physical store would act as complement to online business
According to CBRE Group, Inc. (CBRE), a US-based commercial real estate services and investment firm, South Korea holds the highest online penetration rate in the world, at 36% of total retail sales in 2020, as seen in Exhibit 10, followed by the UK (24%) and the US (20%). Further, CBRE estimates the online penetration rate in countries such as Indonesia and China will surpass the UK and the US by 2025.
Exhibit 10: South Korea holds the highest online penetration rate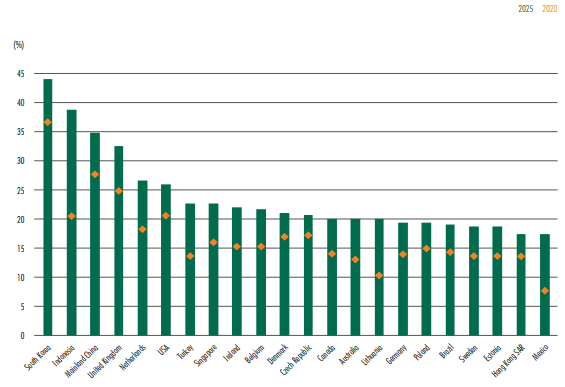 Risks
The pandemic has not significantly impacted Walmart's businesses and it indeed helped its growth. At the same time, increasing vaccinations should bring the pandemic to an end. Therefore, people may shift back toward sectors like travel and restaurants.
Consumer behavior: Consumers' behavior keeps on changing over the period. I believe consumers will demand products/services based on individual preferences in the future. So Walmart needs to adapt quickly and adjust inventories to meet that demand. These risks and their impacts are difficult to predict and could inversely affect Walmart's operations and financial performance.
Data theft: eCommerce crimes such as data breaches and digital theft are expected to rise. Therefore, Walmart must take necessary steps, such as investing in a cybersecurity system, which should result in increasing its operating costs.
Acquisitions going bad: To compete against eCommerce giants such as Amazon and Alibaba (NYSE: BABA), Walmart acquired companies, including ModCloth, Jet.com, and Bonobos. However, the acquisition of ModCloth did not benefit as Walmart expected, so it sold ModCloth in 2019. Such poor acquisitions may continue to impact Walmart's earnings negatively. Walmart's international business net sales declined by 16.8% in FY 2022 due to some significant divestment of $32.6 billion, including its business units in the UK, Japan, and Argentina – in February 2021.
Cannibalization: Although Walmart's online sales keep increasing, there remains the risk of the online business cannibalizing its store business.
Conclusion
I firmly believe Walmart's stock is relatively undervalued. Global retail sales are forecast to have strong growth potential in the years to come. Walmart should continue to benefit from its strong brand name, solid store network, and professional vendor relationships. The company also recorded better-than-expected FQ4 2022 earnings results and provided a modest FY 2023 outlook. Further, this legacy brick-and-mortar retailer has so far well managed the competition from online retailers such as Amazon and eBay (NASDAQ:EBAY). Therefore, I strongly recommend investors buy Walmart's shares at the current market price.