Are you daring or boring?
Before you answer, consider this: Daring is the name of a company producing a plant-based food that looks and tastes like chicken. The Boring Company is an Elon Musk enterprise that completed the Vegas Loop, a tunnel that shuttles conference goers in human-driven Teslas between the spaced-out halls of the Las Vegas Convention Center. 
"Chicken is broken," declares Daring. It cites problems associated with commercial poultry: the large carbon-footprint, groundwater pollution, unethical factories. Daring's product, on the other hand, is "braver, bolder, smarter, healthier and more sustainable. We're committed to bringing big ideas about what chicken can be and what it can inspire."
The Boring Company — the name is an ironic embrace of its basic function of digging tunnels — was launched with a tweet from Musk complaining about his commute. ("Traffic is driving me nuts. Am going to build a tunnel boring machine and just start digging.")
The two branding approaches appear to be at opposite ends of the marketing spectrum — one earnest, the other tongue in cheek. (There is, of course, a limit to corporate self-mockery. It's doubtful Boring would mimic the tagline, "We're Daring, and we think you are, too," by swapping out the transitive verb in its name. Though with Musk, you never know.)
Both, I believe, epitomize aspects of innovation and marketing that are unique to the 2020s and perhaps have some lessons for the travel industry as 2022 begins. Each employs 21st-century technology (battery-powered cars and molecular gastronomy) to solve 20th-century problems (traffic jams and mechanized poultry production).
More importantly, they address rising trends and sentiments: wellness, ethics, sustainability, convenience and addressing overcrowding/congestion.
I was in Las Vegas last week for the technology trade show CES and tried out Musk's Vegas Loop. It was convenient and, for now, novel, though I suspect that when the human drivers, necessary today, are replaced by autonomous vehicles, it will be no more novel than autonomous airport people movers and monorails that connect points above ground. (Boring has an additional contract approved with Clark County to build tunnels and stations that will add 27 more miles to the Vegas underground network and is bidding on projects in several other cities.)
I haven't tried the Daring mock chicken, but the food tech section of CES' lifestyle hall did feature plant-based and other healthy options, including Nature's Fynd, which sells foods based on a fungus discovered in the thermal pools of Yellowstone. And while I try to make healthy food choices, I confess I was drawn to air-fryer cinnamon rolls at the Cosori stand, which made up for its wellness shortcomings with ample taste and convenience.
Convenience was, in fact, the dominant pitch from food tech companies. One booth, Beyond Honeycomb, demonstrated how it uses artificial intelligence to re-create, as exactly as possible, dishes prepared by well-known South Korean chefs.
The themes of wellness, convenience and, to quote Daring's pitch, inspiration, permeated all the exhibit halls. But most of what I came across as innovations in the convention center that had potential interest to travelers were items that were simply lightweight and "travel size," e.g., a toothbrush from Global Ionics that claims to zap plaque as you brush and the Liddle Speaker, a small Bluetooth speaker with a big sound.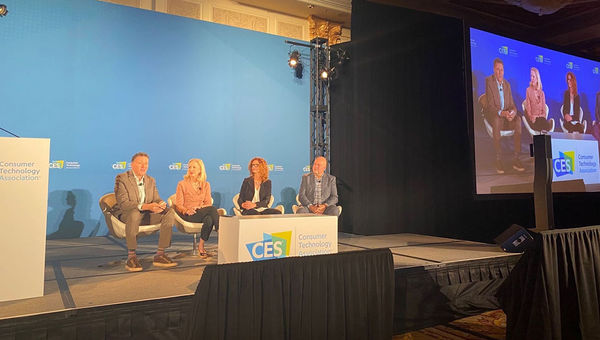 From left, Travel Weekly editor in chief Arnie Weissmann, Marriott International president Stephanie Linnartz, Space Perspective CEO Jane Poynter and Departure Lounge founder Keith Waldon. Photo Credit: Sarah Brown
On Day 2 of CES, I moderated a panel titled "Upgrading the Travel Experience," with panelists Stephanie Linnartz, president of Marriott International; Space Perspective CEO Jane Poynter; and Departure Lounge founder Keith Waldon. Introducing the panel, I noted how few exhibitors offered anything directly related to travel.
We focused our discussion on Marriott's new research lab, Space Perspective's space tourism alternative to rockets (luxury high-altitude balloon capsules) and how Waldon uses technology to better serve his customers. What each of those has in common that was often missing from CES exhibits was the integration of high-tech with high-touch. There's a big distinction between convenience and hospitality, and between artificial intelligence and caring.
That's not to say that the travel industry can't integrate more convenience, artificial intelligence or artificial anything, including chicken, into its workflows and offerings. These can, in the service of hospitality and caring, address travelers' evolving concerns and needs.
But getting back to the underlying promises of Daring and Boring that are particularly relevant to travel: each taps into broader, growing concerns. Concern may seem an odd angle to use to pitch leisure travel, but two marketing approaches that initially seem contradictory, fear and inspiration, actually work well in concert. There's legitimate worry about the fate of the planet and overcrowding and overtourism. As Daring's promotions show, it can be effective to highlight the problem ("Chicken is broken") and pitch the solution. Likewise, maneuvering to appointments in the three halls of the sprawling Las Vegas Convention Center is stressful, and Boring proposed an answer.
Rather than daring or boring, think "inspiring," keeping in mind that inspiration often works hand in hand with concerns.