As the trade show industry continues its return to in-person and exhibiting companies look forward to re-emerging at live events next year, some organizations may be taking a hard look at their exhibit properties and how they can make sure that all visitors remain safe and socially distanced. To understand how companies can design eye-catching exhibits that also adhere to the latest health and safety guidelines, TSNN consulted with the experts—in this case, Adam Deming, creative director of exhibit design at Skyline, to find out what exhibitors should be keeping in mind as they prepare to return to trade show floors in 2022. Hint: It all comes down to a well-thought-out strategy.
How would you define a "COVID-compliant" exhibit booth?
As a well-designed space that considers the requirements related to safety protocols of the COVID pandemic. Three main considerations should be addressed when developing a new exhibit within these parameters, or when making any necessary adjustments to your existing layout. In order of priority, they are:
Booth staff. Your first concern should be to ensure you are developing a well-defined operation in your booth space that will make your staff feel comfortable and safe as they interact with attendees. Having a clear understanding of what your interactions will be and the best way to accomplish them is key. Then plan around your staff needs in these instances. Does something need to be cleaned regularly because an attendee is able to get hands-on with the product or digital interaction? Should you strategically place a hand sanitizer station close by for after each interaction? 
The important thing to remember is that your staffers may have different comfort levels, and you need to account for everyone because they are an incredibly important piece of not only your trade show running smoothly, but also your company as a whole. If COVID is contracted or spread, you are compromising that daily operation. So first and foremost, consider the safety of your own internal team. 
Attendees. Ask yourself: How are they interacting with your experience? Are you giving them enough space to move around and providing touchless solutions for them if needed or able? How are your staff greeting them? For a long time, you would walk up, smile and introduce yourself with an outstretched hand. These days it's important to let the attendee lead that initial introduction so they don't feel forced into contact they are not comfortable with. Your staff interaction is key to making your guests feel comfortable. Assume all COVID safety measures and social behaviors until the attendee presents different behaviors. Then consider the first point again. If an attendee is interacting in ways that may make your team feel uncomfortable, practice prepared statements to redirect or alleviate those situations while gently setting expectations. 
Finally, abide by the show rules and guidelines specified by the show and local government, as they will vary.
What are some key design elements to keep in mind?
An easy place to start is allowing space for people to move. Most people are comfortable with around two feet of space between them and another person. Now that natural bubble needs to be six feet. Space allocation is important for the safety of guests and staff and could even be a requirement per guidelines provided by the show. 
Masks are currently being required at the majority of shows taking place, and this is an important step to follow through on. Though your staff will need to project louder for conversations and get more creative than just smiling at attendees to greet them, see it as an additional opportunity to communicate your brand by providing your staffers with branded masks that are cohesive with your overall brand/booth/message.
Sanitizer stations are another piece that should be planned into the space. This is not only a benefit to the attendee, but also your staff.
Digital interactions where attendees can connect their own devices, dive into an online environment or interact with an app that is a walkthrough of your story and/or products are all ways to extend the interaction and connect beyond the show. These types of touchless solutions are becoming more and more popular. Screen sharing and hybrid online interactions are great options for those who cannot physically attend and can also be utilized as a post-show interaction piece. 
There is also no better time than now to move away from printed brochure handouts. Start thinking from a digital perspective for the bulk of your information delivery and be intentional about anything you physically produce for people to take away at the show.
What about maintaining that wow factor? How do you design an eye-popping booth that also prioritizes health and safety?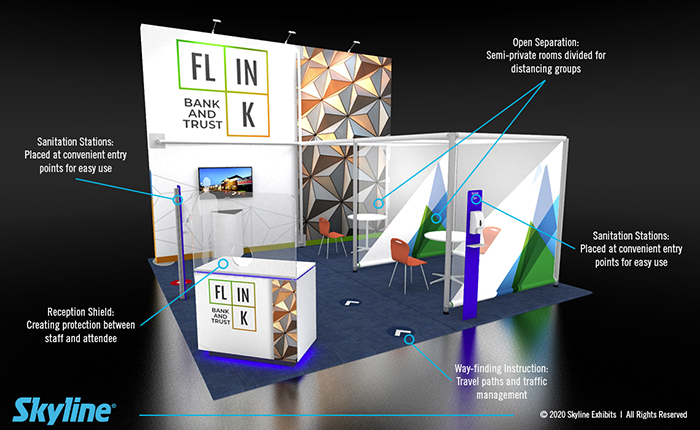 Regardless of the safety standards put in the booth, the goal is to make it about your brand and the interactions within. Tell your story. This is not a limitation—it is just another way to plan around your show presence and how you interact and deliver information. 
One quick and easy way to account for the additional space necessary is by extending your booth's footprint. This may not be a possibility for every case, but it is the obvious solution to allow for more space around your interaction points. If you've been on the fence about scaling up in footprint, now may be the time. 
Structure and design are what allow you to stand out at trade shows, and this can be done in any instance. Design is about solving problems, and the guidelines around COVID could actually prove to be a benefit to your operation after exploring your goals for the show and what strategy can be used to show successfully. Large branding, simple and clean messages and good interaction go a long way with the small amount of time you have to capture your guests' attention.
One more component to consider, which is a difficult one for many to attack, is how much product to bring into the exhibit. Focused product interactions around the most important and desired items should be at the forefront. If there are products that are not as heavily requested, leave them at home and work the information into a digital piece the client can access during and after the show. This doesn't have to be more complex than sending a PDF brochure that you would have normally printed and handed to them, but it frees up space and continues the interaction post-show. 
What additional health and safety considerations should be taken into account?
Food giveaways should be prepackaged if you are including them in your concept, and beverages should be sealed as well. Choose furniture that can be wiped down or easily cleaned, if that is a need.
Open or semi-private conference room solutions can be used, if possible, to keep from being a completely enclosed area for multiple people. If there is a need for a private room, having an open top will certainly help. [You could also] use air filter units in a conference room to cycle air. In this situation, you would most likely still be wearing masks if it were a show guideline, which would make the situation acceptable without taking extended measures such as adding air purifiers.
What are your top tips to help exhibitors maintain social distancing and avoid crowding in their trade show booths?
Design it into your floor plan. People naturally congregate. If you design gather areas that staff can funnel standing conversations to, you can help leave your floor plan open and accessible. 
Booth staff training is a big piece. Plan how to best handle situations of how to move people through the space appropriately to your interactions. If groups from within your company are crowding the space, discuss early how you want the floor to operate, what is acceptable or not and how staff can speak to it. Your interactions and clear communication of your plan will help keep the floor smooth and open for guests to safely travel per social distancing recommendations. 
What are some other ways that exhibitors can demonstrate their dedication to maintaining the health and safety of attendees?
Post clear signage of expectations (i.e., masks required in booth space), floor stickers for easy visual recognition of travel paths and make sure you spend time pre-show to train your staff to manage it. Your booth staffers have always been your brand ambassadors at trade shows, representing your company and message. They now have an additional important role in maintaining the cleanliness and safety within your exhibit space. 
You can also add this expectation into pre-show marketing with photos of a staffer in their planned booth staffing attire, wearing a branded mask, ready to meet with you at the show. This is a subtle way to communicate the show's safety guidelines and prep attendees on what to expect in your exhibit.
In the end, you cannot control anyone but your team and how you plan to interact with guests at the show. Having your booth staff experts trained and ready to speak to the guidelines and expectations gently while continuing the interaction in the space will give you the best chance of a successful show utilizing the stated guidelines. 
To learn more about this important topic, sign up for Skyline's webinar, "Exhibit Practices for Social Distancing & Sanitation" here.
Photo credit: Skyline Exhibits
Don't miss any event-related news: Sign up for our weekly e-newsletter HERE and engage with us on Twitter, Facebook, LinkedIn and Instagram