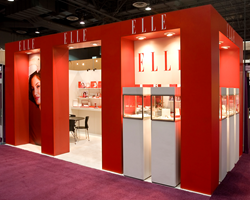 Our job is to make it look like the booth has always been there

Las Vegas, NV (PRWEB)
April 19, 2017
The JCK Las Vegas trade show event is just a few months away, and already some of the jewelry industry's top names are getting dressed to the nines in preparation. JCK attracts more than 2,300 exhibiting vendors and 23,000 attendees every year. Vendors and attending reps include retailers, designers, wholesalers and more.
To make a statement at this event, exhibitors have been engaging in an arms race of elegance to have the best trade show booth design. Just like 3D printing and lab technology has been transforming the fine jewelry industry from within, the latest booth design and build techniques take the capabilities exhibitors offer to the next level.
"You can't just show up and expect to get noticed anymore," said one attendee of last year's show. "Exhibits these days look more like a high-end jewelry store you would see in Soho than the average trade show booth."
Indeed, most exhibitions look like permanent retail stores rather than a temporary set-up. Trade show booths require increasingly complex lighting, materials, fixtures and furnishings in order to satisfy this high and rapidly climbing bar.
When assembling these booths gets this complex and requires compliance with the event space's many rules, exhibitors turn to Las Vegas trade show logistics companies like Xibit Solutions to ensure that everything can be set up and in place in time to look radiant on the trade show floor.
"Our job is to make it look like the booth has always been there," explains company owner and founder Richard Spinella. His company Xibit Solutions has been creating booths for the JCK Las Vegas show since 2001. They began with designing booths that were affordable but attractive, but increasingly expanded their services to include end-to-end fabrication, logistics, installation and dismantling.
"We try to make it as easy as possible for our clients to show up and focus on making an impact," describes Spinella. "The last thing they should be worried about is getting their lighting drops to work or avoiding a $300 fine for some minute thing they overlooked."
Over the years, the services offered by the Xibit team have expanded, as has their client list. They have helped over 20 separate clients exhibit at JCK over the past 16 years. Their involvement has ranged across everything from comprehensive custom exhibition designs to modular booth rentals to full-service installation and dismantling. Services like these are the real secret sauce to the most successful exhibitors.
"We couldn't imagine doing things without them!" said one enthusiastic past client. Companies that want to find out more or get a helping hand to prepare for JCK can contact Xibit Solutions today for information on their services.
About Xibit Solutions

Xibit Solutions was founded by trade show design and fabrication veteran Richard Spinella. They have helped disrupt the trade show exhibiting industry with modular designs, booth rental services, and innovative booth layouts. Their booths are regular fixtures at world-class trade shows like CES, Shot Show, The Great American Outdoors Show and more.
Share article on social media or email: