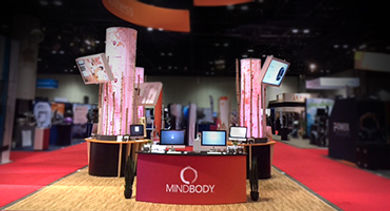 From peacocks with elaborate tail feathers and leopards with distinctive spots to zebras with perfect stripes and lions with majestic manes, the animal kingdom is plump with exhibitionists who know how to attract attention. Unfortunately, the same can't be said for exhibit halls, where most exhibitors disappear against a backdrop of monotonous trade show booths, each of which blends into the next like cookie-cutter houses in a convention cul-de-sac.
Indeed, as an exhibitor it's easy to get lost in the crowd. With a little creativity, effort, and planning, however, it also can be easy to stand out from it, according to Will Farmer, partner and COO at Creatacor, a Clifton Park, NY-based company that designs, fabricates, and manages custom displays for trade show exhibitors and event marketers. He recently spoke with Successful Meetings to share his tips for creating a successful trade-show display.
SM: We're taught to never judge a book by its cover. Yet, many of us can't help doing exactly that. How about trade show exhibits? Do trade show attendees judge exhibitors by their "cover"?
Farmer: While the advice to "never judge a book by its cover" is true in my eyes, the reality is that we are hit with so many marketing messages on a daily basis, we can't help but filter many out based on a quick initial assessment. Trade shows attract attendees with specific interests — many for your product or services — but the attendee only has so much time. Some do their research before arriving and map out their plans. Others will walk the floor and make decisions as they go. Either way, it's likely your competitors are all attending the same events you are, so you must create a reason for the prospect to consider your company as a solution.
SM: What role does one's booth play in creating that reason?
Farmer: Your display is just a tool to attract their attention, and you have only a few seconds to catch it. The display's design needs to establish your brand identity and a compelling reason for the attendee to stop and take notice. Once you have their attention, it's imperative you have well-trained staff to engage them, because that's where the real opportunity exists.
SM: What are some of the biggest challenges exhibitors face when creating a successful trade-show display?
Farmer: Two major factors to consider are booth size and location. Obviously, when on the show floor, the largest exhibits tend to attract the most people. Size gives you many advantages, including more opportunity to create a unique and comfortable environment; more flexibility with regard to show rules, including height variations as well as hanging signs and making the brand name more visible; and the ability to shelter attendees from outside distractions. That being said, the opportunity for success is still available for those unable to afford the larger space by choosing a strategic location. 
General rules to consider: The center of the hall will attract the most amount of traffic throughout the course of the event. Most people go to the right when entering a trade show hall, so picking a space on the right side of the hall may generate more traffic. It's also a good idea to find a space near an industry leader, as larger exhibitors may provide you an opportunity to "piggyback" off their success; some avoid these spots because they fear they'll get lost, but if your goal is to attract visitors, you know you will have the chance since traffic will automatically be high. Finally, avoid dead-end aisles and columns and look for features of the hall that may help generate traffic, like restaurants, restrooms, or the registration area.
SM: What are the "ingredients" in the recipe for a successful trade show display?
Farmer: This is a complicated question and the answer will vary based on your strategy and budget. The space is your own and the most common challenge is working within your predetermined budget. The options are comparable to building a home, as the cost will be dictated by the expense of the items you choose.
First up: Does the exhibit express your brand identity? The ancillary costs of trade shows (material handling, innovation and design labor, etc.) drive many exhibitors to use lightweight materials. They can create their image by using large fabric "walls" with core messaging. If you're a lighting company, on the other hand, highlighting your product may require more hard structures to properly demonstrate the unique aspects of the fixtures. You must identify the message you need to get across before you can determine the exhibit style.
Next up: Are you trying to attract a large volume of prospects? If so, you may need an environment capable of getting people in and out fairly quickly. Or, if the audience is more targeted, you might want to create comfortable meeting spaces so you can have in-depth conversations.
The "ingredients" will vary based on your specific needs and predetermining your strategy is key to getting it right.
SM: What are some secrets you can share for creating a best-in-class booth?
Farmer: The goal is to offer the attendee an inviting atmosphere that's true to your brand and quickly defines how your company can help them be successful. 
Here are some dos and don'ts for standing out:
• Make sure your brand name is prominent and easily identifiable.
• Clearly display your unique selling position for the market.
• Ensure staff is friendly, smiling, and eager to help customers.
• Promote your attendance in advance of the show.
• Design a space to meet your objectives, considering volume of people versus in-depth discussion.
• Don't clutter your space.
• Use bold, vibrant images to add visual interest.
SM: How do you recommend incorporating technology into a booth?
Farmer: There are a few things to keep in mind. Having a game as a centerpiece of your exhibit for the sake of attracting prospects is not really the best method. Remember, you don't want just anyone in your exhibit; you want the right people. Large screen monitors playing your latest video tend to be a waste of both space and money. Any interested party can view these on your website in the comfort of their office. Plus, you'll probably get a better response.
As a rule of thumb, you want technology that will inform your prospects and help your staff engage with them. Trade shows are a face-to-face medium, so take advantage. In order to facilitate that personal engagement between your staff and any prospects, you probably made a big investment. Games, presentations, and product demos should be fun and enticing, but your message must be incorporated into the activity. To be even more relevant and useful, games and demos should also lend insights about the prospect to your staff, so they can follow up immediately after the activity in a meaningful way. Like the exhibit, technology is another powerful marketing tool, and if you think of it as a tool, you can take better advantage of its potential.
SM: Are you seeing any notable trends in booth design?
Farmer: More and more, exhibitors are looking to use rental elements, either for the entire exhibit or in combination with custom elements. Rental exhibits are usually components that the designer can easily manipulate through the addition of large format graphics to give a custom feel. Rental elements also help alleviate some budgetary and time concerns because flexibility is inherent, and storage and disposal aren't an issue. They're also designed to be lightweight, as well as easy to install and dismantle, and range from a 10-foot-by-10-foot back wall all the way to double-deck exhibits.
SM: Creatacor has no doubt seen and designed some very unique trade show displays. Can you share a favorite?
Farmer: MindBody came to us this past fall looking for a design refresh for its booth. They were looking to gear themselves to a new market and our goal was simple: Design an exhibit that represents what our client encompasses: "an innovative and game-changing technology company that's warm, friendly, and inviting." The exhibit needed to showcase their product, which is software- and technology-oriented, so interactive and engaging demo stations were a must. But they also wanted to incorporate natural elements into the booth to give it a modern salon/spa feel.
With buzzwords like innovation, organic, forward-thinking, and energy, we moved forward conceptualizing and addressing all of their needs. We worked closely and collaboratively with their team and came up with something that was distinct and unexpected. It was a great partnership and something we're proud of, because it really stood out from the crowd. We used real birch branches to convey the concept of a "forest of technology," as well as curved seating and cylindrical structures with ambient, programmable lighting that helped create just the presence MindBody was looking for.
SM: Final thoughts?
Farmer: I was recently touring a college in Philadelphia with my son. When we had a break, we were looking for some lunch and went back to where we had noticed food trucks earlier. Looking at the plethora of choices, I couldn't help but think how similar it was to a trade show environment. Multiple options, all in one location, and I had a need to be fulfilled – hunger — although we had limited time. In this case, the trucks were of equal size but some were cleaner and better maintained than others. Some made it very easy to identify their offerings while it was hard to figure out what others had. Some had longer lines, so I wondered: Was that because they were more popular or slower in service? In the end, our choice was easy: We saw a picture of an awesome cheesesteak, noticed the truck was in excellent condition, and saw that people seemed to move through pretty quickly. The moral: Clear messaging, a quality appearance, and responsive staff are keys to attracting customers. A trade show is no different. And the cheesesteak was awesome, by the way.