Dec 16: After making a successful foray in the Chinese market by organizing WBWE Asia in Yantai China, the world renowned World Bulk Wine Exhibition holding such shows annually at RAI Amsterdam for 12 years, has decided to disembark in the US to set up a key trade fair for the global wine market, writes Subhash Arora who has been attending shows in Amsterdam and Yantai, and is confident that WBWE USA to be held in Santa Rosa California on 8-9 June will become an annual affair

Organizers of the leading bulk wine show World Bulk Wine Exhibition (WBWE) held in Amsterdam every year in November, Pomona Keepers and Vinexposium have announced that they will be taking the increasingly popular Show to Santa Rosa in Sonoma County, California.
The 2-day show will focus on business, private labels, creativity, e-commerce, wine shipments, packaging and many related topics. With increasing emphasis on bottling wine at destination due to lower carbon prints, WBWE is becoming more and more relevant to producers as well as buyers and those who are interested in this burgeoning industry that has 40% of the share in the world market.
With this new additional venue, WBWE has announced the plans for all three of the current markets. The main Show in Amsterdam which is usually held in November at RAI, will be held on November 21-22 in 2022 whereas the Asian version in Yantai China has been shifted to 2023.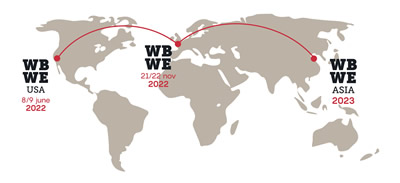 The Show is particularly attractive to those brokers or buyers from the USA or outside the USA, seeking wines and/or distillates from the US.  If you are from outside the US or own a winery in the USA, and want to complete your production with wines from the US, or different countries, you will find technical solutions for your requirements at this Show.
It will be interesting to find some wines from the Southern Hemisphere finding a place at the Show from their latest vintage 2022, before they are showcased in Amsterdam.
Pomona Keepers is the Spanish company that brought WBWE to Amsterdam. A few years ago, Vinexposium bought a reasonable portion of the company and now in collaboration with them are continuing to carry out the Show as before.
Vinexposium is the company that introduced Vinexpo India in Delhi On 9-11 December and announced at the Show that it would be present in Mumbai also beside SIAL India on May 10-12. Arora has been attending the WBWE in Amsterdam for almost a decade and is also a judge in the wine competition from the conception. He has also been to Yantai, China twice and is confident that WBWE will be a big hit and it will become an annual feature on the Bulk Wine Calendar.
Also Read:
WBWE 2021: The Bulk Wine Show back at Amsterdam Rai on 22-23 Nov
WBWE Asia: Virtual Wine Exhibition on 10-12 July in Yantai China
WBWE Asia: Yantai, the City of Wines
WBWE Asia: China looks more Red in Yantai
WBWE 2018: A Decade of Promoting Global Bulk Wine Successfully
WBWE 2013 : Big Leap for World Bulk Wine
Subhash Arora
If you Like this article please click on the Like button