You'll have several art shows to choose from if you're looking for creative fare in metro Phoenix on Friday night, from the opening of the new "Cadence" exhibit at Bentley Gallery to the final group show happening at The Lodge Art Studio, a longtime staple of the Phoenix arts scene that's getting ready to close its doors on Grand Avenue.
Here's a look at what to expect, including several exhibits and musical performances. Most events are free, and some have COVID-19 protocols in place. If you're still holiday shopping, check out gifts made by local artist while you're out and about.
Final Group Show
The Lodge Art Studio
The last group exhibition at The Lodge Art Studio is happening Friday night from 6 to 10 p.m. Look for artworks by current members Joe Brklacich, Lisa Jacobs Handler, Abbey Messmer, and Rafael Navarro. The exhibition will also feature art by Tato Caraveo, Tom Cooper, Bill Dambrova, Fausto Fernandez, Toni Gentilli, Rebecca Green. Special guests for the evening are Charmagne Vasquez and Steve Weiss.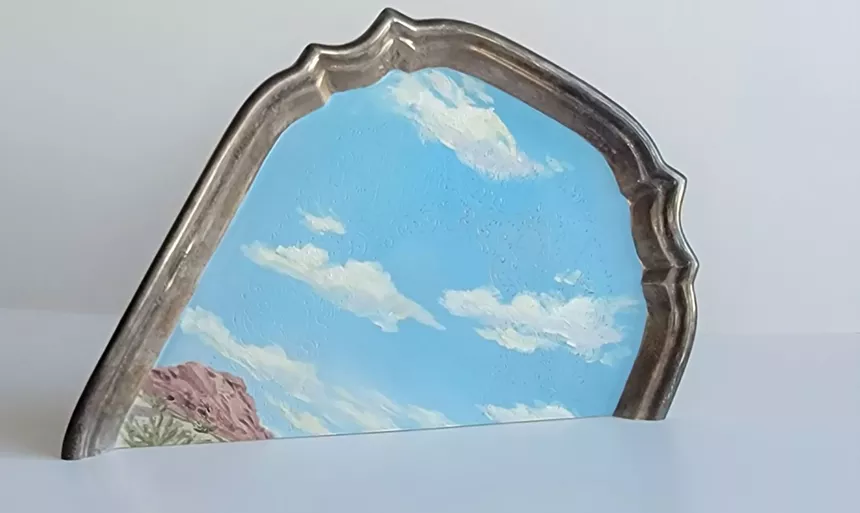 "Adrift"
Walter Art Gallery
Head into Scottsdale if you want to attend the closing reception for Laura Spalding Best's "Adrift" exhibition at Walter Art Gallery, which includes all new works that address human impacts on the environment within the context of the urban desert. Best used found objects such as vintage irons, teacups, and serving trays as the canvas for these oil paintings featuring several familiar Phoenix landscapes.
"A Boundless Spirit"
Eye Lounge
For his solo exhibition at Eye Lounge, Charles Kurre will be showing artworks reflecting the impact of the natural world on both his identity and his creative process. The artist describes himself as a backcountry adventurer, urban explorer, and avid gardener. Here, he's presenting "a narrative synthesis measured in time and memory." Third Friday hours are 6 to 9 p.m.
"Cadence"
Bentley Gallery
Bentley Gallery is holding the opening exhibition for two new exhibitions, including "Cadence," which explores various takes on pattern, rhythm, and repetition. Look for works by Michael Marlow, Mark Pomilio, Travis Rice, Jeremy Thomas, Denise Yaghmourian, and Eric Zammitt. Featured mediums include acrylic plastic, charcoal, fiber, steel, watercolor, and more. Third Friday hours are 6 to 8 p.m.
"Enjoy All The Little Things"
Sisao Gallery
More than two dozen artists are showing small pieces at Sisao Gallery. Every artwork measures 12-feet-by-12-feet or less, and will be on sale in case you want to give original artworks this holiday season. Participating artists include Amanda Adkins, Jason Hugger, Kyllan Maney, Daniel Shepherd, and Tara Sharpe. Third Friday hours are 6 to 9 p.m.
"Abstracted Realities"
First Studio
Explore works by Barbara Kemp Cowlin, Johnny Kerr, and Indigo at First Studio, where the art of Barbara Kemp Cowlin, Johnny Kerr, and Indigo will be on view from 6 to 9 p.m. on Third Friday. It's a chance to see how these artists use acrylics, oils, and spray paints to create vastly different abstractions.
"A Mad Girl's Love Song"
Five15 Arts at Chartreuse
See paintings by Allison Moyer,s a member of the Five15 Arts collective that exhibits work at Chartreuse, which is also home to the letterpress printing shop Hazel & Violet. Third Friday hours for the exhibit are 6 to 10 p.m.
Art Tour
FOUND:RE Phoenix
See works by a wide range of local artists during the FOUND:RE Contemporary art tour led by the venue's arts and culture curator Audrey Galat, which require advance registration online. Tour options on Third Friday are 6 to 7:30 p.m. and 7:30 to 9 p.m. Tickets are $15, which includes a welcome cocktail from MATCH Market and Bar.
Piano Happy Hour
Crescent Ballroom Patio
Artist Rick Naimark will be putting down his paintbrush from 5:30 to 7:30 p.m. on Third Friday so he can tickle the ivories in a free, all-ages performance on the Crescent Ballroom Patio. Expect popular songs from the 1950s through today, plus a selection of holiday tunes.
Wild Heart Disco
Walter Where?House
Fleetmac Wood is bringing fresh remixes, fashion flair, and performance inspired by Fleetwood Mac to Walter Where?House, where they're eager to see the chiffon flow and the mascara run. The show runs from 9 p.m. to 2 a.m. Tickets are $23 online or $18 at the door. You need to be at least 21 to attend, and follow the venue's Covid-19 protocols.