A sneak peek into the latest and greatest.
Before we get started, it's important that we clear something up first: trade shows are not antiquated. They are an integral part of what makes the business world go round, and they are still a very effective form of marketing for buyers and sellers.
Having the opportunity to be amongst the top companies in your industry while they unveil their latest innovations in an environment that is collaborative and engaging is a professional experience that you need to have at least once in your career.
Trade show definition:
A trade show is an exhibition event that brings companies together so they can demonstrate and show off their newest products and services to members of the trade and other businesses within the industry.
Trade shows are truly the viewing window to the next iteration, and those who are able to attend have an incredible leg up on their competition.
Trade associations of nearly every industry sponsor trade shows to build buzz and excitement while bringing key players within a given industry together to collaborate and learn, capture new customers, and view what's upcoming and trending.
A trade show is somewhat of an elusive event meaning that it's not typically open to the general public to attend. Those who are able to attend the event are members of the press, company representatives, and top professionals within the specific industry that the trade show is focused on.
Attendees are granted access to the latest technologies, newest features, special pricing, and valuable insights regarding the state of the industry. Companies, on the other hand, exhibit their new product or service, are given valuable time to build relationships, engage with the press, build their brand awareness, gain leads, and close deals.
TIP: Participating in trade shows is not an easy task. Check out the top event planning software to help you keep all the little details accounted for!
What are trade shows for?
Trade shows have a lot of commotion and chaos happening on the event floor, so it can be easy to feel confused and unsure of the activities that are going on around you.
To ensure you optimize your time in attendance and don't miss anything important, be sure to take notes of these trade show staples.
Every trade show typically follows the same type of event program, so you can guarantee that you'll find yourself participating in workshops, breakout sessions, speaker presentations, targeted exhibition events, press and media opportunities, networking events, and even award ceremonies.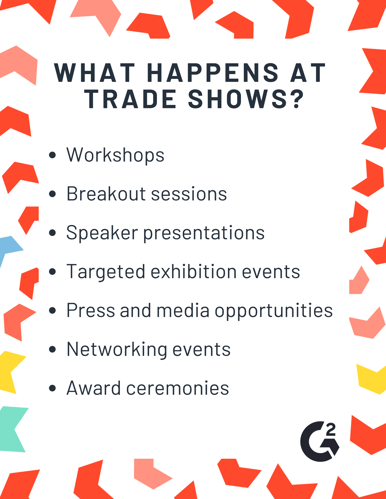 But let's not forget the main attraction: the exhibition floor!
The floor will be filled with people, products, and trade show booth displays. An experienced company will pour everything they have into designing their trade show booth, so you'll want to ensure that your company does the same to get the most out of your trade show experience. After all, if your booth isn't eye-catching, you won't have anyone engaging with your company and you'll be left standing there all alone.
TIP: Displays take a lot of practice to get right. Take note of these top trade show booth tips to help you succeed!
The 5 reasons why trade shows are so valuable
The value trade shows have to the marketing funnel has been in question for many years, even more so as the digital age has advanced. But the fact of the matter is that there is no beating face-to-face human interaction. No amount of webinars, video conferencing, and social media can replace the need for physical presence, especially when new products and services that need to be seen in action are involved.
There are many reasons why trade shows are here to stay. Let's go over the top five reasons they still bring value.
Build brand awareness
There is no question that trade shows are one of the best ways to get your brand's name out there to the masses, especially when the masses at trade shows are top industry professionals and press. Allowing key players to interact with your product or service while you share your initiatives and company vision with them is an unbeatable experience. On top of that, you will also have the chance to engage with current and potential customers, increasing your reach further than you have ever been able to before.
TIP: Looking for new and creative ways to build brand awareness? Check out these expert tips!
Gain targeted leads
As stated above, your experience on the trade show floor gives you the opportunity to engage and build relationships with people who have never seen or heard of your brand before. This is your chance to reel them in and sell them on your product or service and company. It's common knowledge that selling is done a lot easier when it's face to face rather than the typical impersonal emails and phone calls. By building a personal relationship with these people, you will increase your chances of them following up to do business once the trade show is over.
Close deals
Remember that trade shows are typically invite-only, which means that the list of attendees will be extremely targeted and more than likely the companies and people that are already on your short list. Make the most of this opportunity by knowing exactly who your sales team should be speaking with beforehand to make the closing process as simple as possible.
Learn industry insight
There is no better way to take a pulse on your industry than at a trade show. Being surrounded by your fiercest competitors while simultaneously learning from the brightest minds in the industry at speaker sessions and workshops puts you in a very valuable position. Take a walk around the floor and see what your competition is doing right and wrong. You can even act as a customer to source information like pricing and new features. After a few hours of doing so, you will have a great foundation of competitor strategies and tactics that will help your company succeed.
Networking
A no-brainer. Networking is at the heart of every trade show. Make sure you save time during the day to do so as well as attend the evening events to take advantage of the chance you'll have to mingle with the key players in your industry. You can even use social media before the event to reach out to the connections you've been wanting to meet so you know where to find each other.
Showcase your best
Trade shows are an incredibly valuable element of every company's marketing mix, and that won't change any time soon due to the fact that trade shows provide benefits that the typically favored digital marketing solutions never could. Now that you understand the five reasons why these events are worth your attendance, it's time to get searching for the top trade shows within your industry and register. Trust me, you'll be glad you did.
If you're ready to exhibit your company's newest product or service at the next trade show, then you're going to need the help from an event app to help with your participation. Take a look at these 10+ event app benefits to ensure you're getting the most out of your user experience!