You have poured your heart and soul into organizing your trade show booth display.
Now it's time to think about attracting and engaging visitors. You don't want to be alone there, do you? 
In a sea of trade show booths, you must draw visitors away from others and toward your business. You can do this in a multitude of ways, and imagination is vital. Illusions, brand boxes, giveaways, original swag, social media contests – you name it! 
You might be wondering what the purpose of a trade show is. Trade shows are essential for growing your business and increasing awareness of your product or service. Apart from acquiring new customers and collaborators, you can also have a good look at the competition and how they're meeting, beating, or exceeding your efforts.
Therefore, it is of utmost importance that your business shines. To achieve success, you should tailor your presence at the show and on social media to gather the most exposure.
8 trade show booth tips 
Use your mailing list to reach out to existing connections
Get in touch with bloggers, trade publications, and influencers before the event
Schedule social media posts and mention your trade show booth location
Use a mascot to attract visitors at your trade show booth
Set up a fun photo booth
Add a social media wall display
Organize contests and giveaways
Keep your trade show booth accessible, informative, and relaxing
It can be hard to stand out at such events, especially if you can't afford to pour thousands into your trade show booth. Fortunately, there are plenty of things you can do that don't cost a lot of money, but can still help make your trade show booth special.
Here are some actionable tips on how to attract and engage visitors with your trade show booth. These guidelines will help you make your trade show booth a success.
1. Use your mailing list to reach out to existing connections
Trade shows are an excellent opportunity to interact with your current contacts. Send them an email telling them where to find your trade show booth in the exhibition hall in case they are attending the same event. 
Apart from the valuable feedback you get from your customers, there's even more value in reaching out to them. Have in mind that many professionals attend trade shows in groups – often with colleagues or friends that could turn into valuable prospects for your business. 
2. Get in touch with bloggers, trade publications, and influencers before the event
Do you have some exciting news to share before the trade show? Are you launching a new product, starting a new campaign, or collecting feedback from your target market for a new idea you have? Make sure you create a memorable PR campaign!
Reach out to bloggers, influencers in your industry, and trade publications before the event. It's a great way to promote your business, especially before the trade show.
Don't be afraid to invest in advertising, as even a small mention could lead to you closing a great deal. Take your time to write a meaningful press release for your event, and you will reap the benefits.
3. Schedule social media posts and mention your trade show booth location
Setting up social media posts to go out during the trade show will take the pressure off of you during the event itself. You should still make time to write live posts during the show, but there's plenty of stuff you can schedule in advance to make your life easier.
Use social media management software tools to set up and schedule posts in advance. Good candidates for scheduled posts are reminders for presentations, demos, or contests taking place during the show. Building up excitement before the event will make people interested in your booth and make them much more likely to stop by during the trade show.
Remind attendees that you are there, and tell them where they can find your trade show booth. Chances are that your customers or followers are there, and it's an excellent way for you to meet and get valuable feedback from them. 
4. Use a mascot to attract visitors at your trade show booth
Not every brand has a mascot, of course. But if you do, why not use it during trade shows to attract people to your booth?
People love having their photo taken with a mascot. Not to mention, the more people take selfies with your mascot and post the pictures to social media, the better for you and your brand. 
#SPI is around the corner! Our team has great fun meeting the mascots on site. #solarenergy #SOLAR #tradeshow #tradeshowbooth #exhibithouse #exhibiting #tradeshowlife #marketing #branding #BrandAmbassadors #display #booth #exhibit #energyefficient #designer #fabrication pic.twitter.com/gOe42hLPJt

— Absolute Exhibits (@absolutexhibits) August 21, 2019
5. Set up a fun photo booth
A photo booth motivates people to take lots of pictures. Why? Because it's so much fun! 
It also combines well with the social media wall mentioned above. Many photo booths allow you to set them up so that photos automatically get published to Twitter or Instagram with a hashtag. You can also give users the option to post the hashtagged pictures to social media with their accounts. Thanks to the hashtag, the posts will then pretty much immediately show up on the social wall.
Setting up a photo booth as part of your trade show space is a great way to attract attendees and get them to talk to you. While anyone can snap a photo on their camera phone, photo booths are designed for people to get physically closer.
Attendees will have fun and share their fun moments at your photo booth with their followers on social media.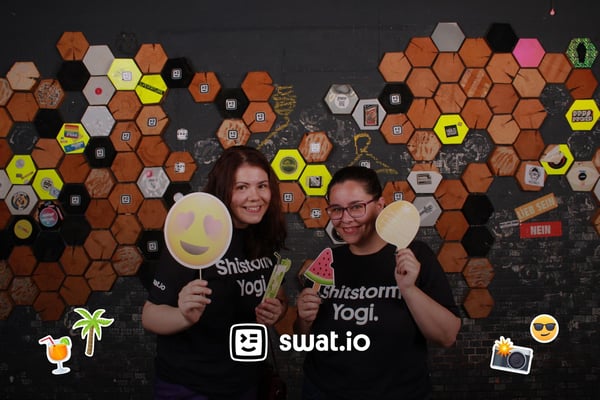 No event photo booth is complete without props. They make posing fun and take away some of the fear people have about posing for a photo because they're distracted by the accessories. 
It's a good idea to have someone from your team nearby encouraging people to dress up, have fun, and take photos. They should also ask them to share those photos on social media, tagging your company and using the event's hashtag.
You can give your visitors an instant hard copy of their funny photos. These can often have some branding added to them. Branded pictures shared on social media will get your brand seen by a wider audience and attract even more attendees to your trade show booth. There are a lot of event photo booth ideas that you can try when setting up your next trade show booth. 
6. Add a social media wall display 
The best way to get attendees to share their experience at your trade show booth and interact with your brand on social media is to make it fun!
Consider adding a social media wall display for your event trade show booth. Visitors will enjoy trying to get their name on the board, and your brand will get free social media marketing. It's a win for everyone. 
Come up with a right hashtag that represents your company and perhaps also the event you're taking part in. Then, create a social media wall. It's easy to set up and style your wall with your brand's logo and colors. 
Show your social media wall on a display at your booth. You can use a projector, a TV screen, or any internet-ready device, from a laptop to an iPad.
A social media wall display is always an interactive thing at events. It brings people together and helps start conversations.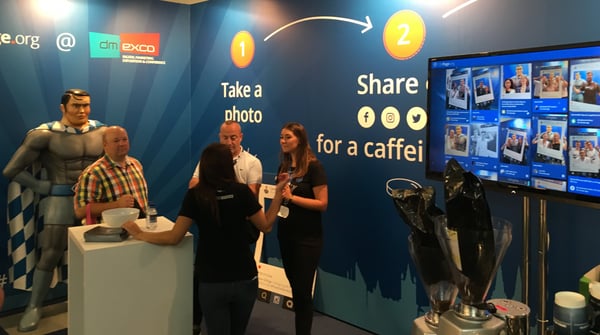 7. Organize contests and giveaways
We all love playing, don't we? That's why having contests and giveaways going on at your trade show booth makes a lot of sense.
If you have a physical product, a trade show is a perfect opportunity to create some buzz around it by giving a few pieces away. Set up a raffle and make a big show of drawing the winner at a particular time during the event.
The great benefit of contests and raffles is that they provide an opportunity to collect contact details. Ask people to throw their business card into the hat or ask them to fill out a piece of paper with their names and email addresses, consenting to receive your newsletters. 
You can even create an Instagram giveaway before the event and announce the winner at your trade show booth during one of the event breaks. You will get to meet the participants and connect with them. 
TIP: Read our essential guide on Instagram giveaways to learn how to organize the perfect social media giveaway today! 
8. Keep your trade show booth accessible, informative, and relaxing
Your booth at the trade show should be all about maximizing accessibility. Busy furniture and layout can leave potential business partners or clients out of reach.
Utilize space effectively and enable free and easy access to your staff, product, and promotional material.
Your staff are the most crucial aspect of your on-site package. Engaging and informative staff are the best way of selling your business to others. There is no better way to engage your target audience than with direct product engagement. Let the product do the talking and impress your visitors.
Trade shows can be busy, exhausting environments. Offering free tea, coffee, or electronic charging with sofas can be a simple way of growing the number of people at your booth. When people pass by for a coffee, you have a great chance to gather testimonials about your product and use these to promote your brand after the event.
Conclusion
Every marketer out there loves measuring things. That's why trade show booths are all about results. The higher the number of attendees you can attract to your exhibition stand, the more leads you'll gather, and the more deals the sales team close. 
Need a little help along the way? Discover event planning software on G2 and see which one's right for you!