Packing for a trade show is usually a laborious task for anyone, but especially so for Candy Adams. In addition to her suitcase for clothing, shoes and all her personal items, every trip she takes, she packs a separate hard case Samsonite. It holds 40 dozen cookies and usually weighs around 43 pounds — and though it sounds like a lot, she's got it down to a science, after doing this for more than 25 years.
It all started back in 1993 when she was working for a company that made wide-format printers, and the CEO was making a tiny printer for the first Macintosh computer called the Sweet Pea. Adams ended up being their "Booth Mom," as one of the sales team members named her, because she worked so hard to make the people working the booths feel appreciated.
"I found out after my first trade show, which was a total disaster, that those little Hershey bars didn't cut it," says Adams. That's when she started baking cookies — something she's loved to do since she was a seventh-grade student in 4H Club. She started taking cookies to shows she was working. "I call them my 'friend makers,'" she says. "I'd make up excuses to call people and ask them questions I already knew the answer to, just to squeeze in, 'By the way, what's your favorite cookie?'"
Adams recently wrapped the 491st show of her career, and there's only been one to which she didn't take cookies. She bakes nearly 500 of them for each one, revving up her oven at 6:30 a.m. and tucking the final box of cookies into her suitcase by 8 p.m. the day before she leaves for a trip. Some of her recipes are ones she's had since her teenage years that's she's tweaked along the way, while others are new ones that people have asked her to try (though a recent variety tried with candy corn was a total flop, she admits).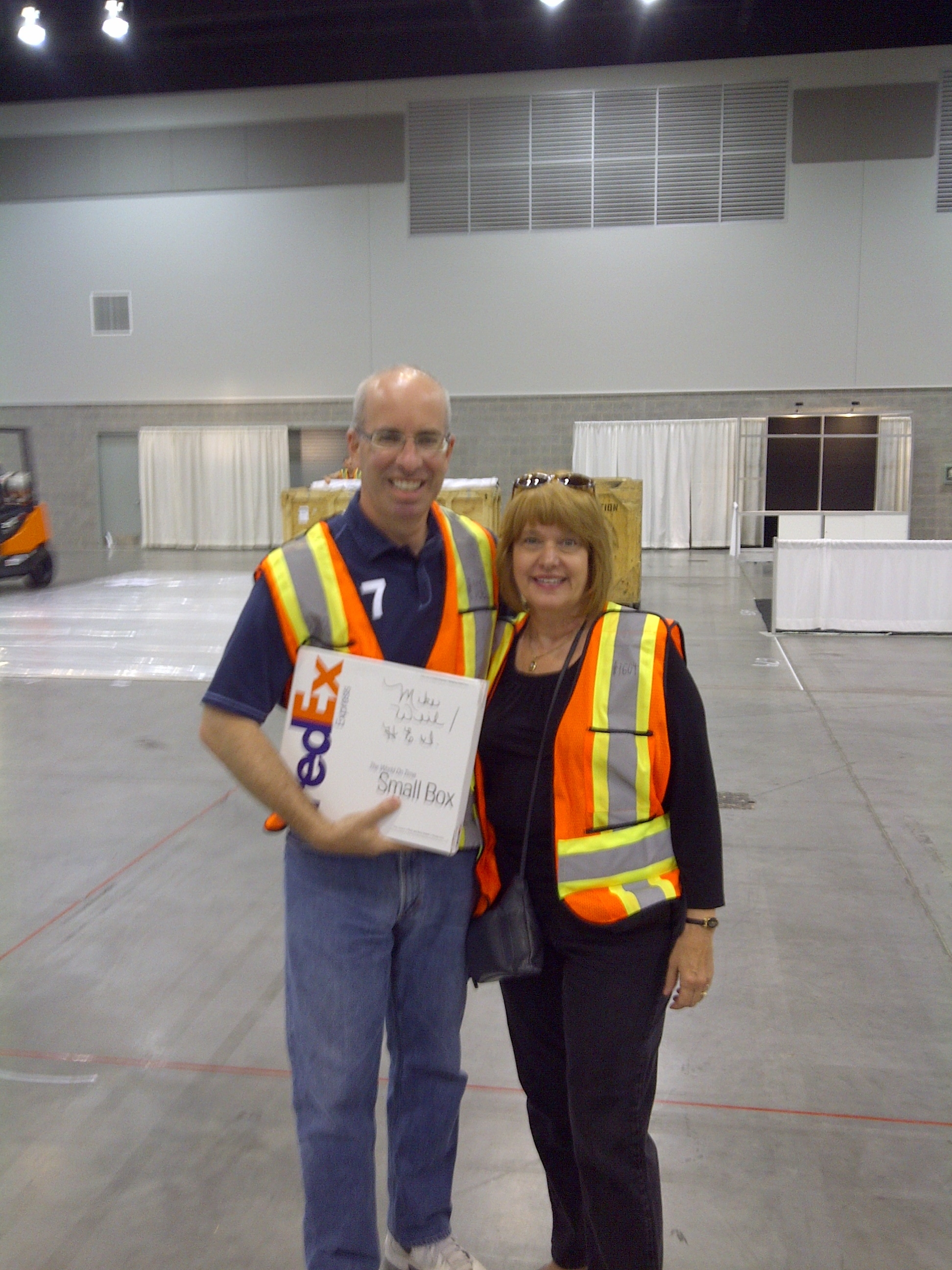 Snickerdoodles and her famous buttermilk sugar cookies, as well as oatmeal raisin walnut cookies and a few kinds of brownies — from salted caramel to chocolate fudge and turtle — are always in the rotation. The location of a show dictates what kind she makes sometimes, too: For example, if she's heading to New Orleans in the summer, she takes white chocolate chip macadamia cookies instead of chocolate chip because they have a higher melting point. 
The many people she's met and worked with over the years look forward to receiving Adams' special treats, which she packages in twos or threes in individual bags. She usually spends about a half day on-site delivering cookies and remaking her relationships with all of them. "I've never charged a client a penny for [any cookies]… it's how I make my relationships that make things go easy at a show," she says.
Once at a show in Las Vegas, she was written up by the fire marshal for having too many people lined up in a no-freight aisle (they were waiting for her cookies). Adams tracked him down and knew his writeup was tongue-in-cheek — it was written on the back of the note stuck to the cookies that read "Help yourself," after all.
With her last show for the year complete, Adams is now in holiday baking mode, sending out a few batches of cookies to clients this week. Her latest hits are cookies made with Andes Creme De Menthe baking chips, which can be hard to find, so she's been ordering them off Amazon. It's clear to see that Adams, everyone's favorite "Booth Mom," is dedicated to her craft. For her, however, every cookie baked with love is about nurturing a relationship. "It's just fun for me to make friends this way," she says.
Adams graciously shared her famous sugar cookie recipe with TSNN for the holidays. Let us know if you whip up a batch by sharing a photo with us (and Candy) on Twitter!
Soft Buttermilk Sugar Cookies
1/2 cup vegetable shortening
1 cup sugar
1 egg
3/4 cup buttermilk
1 tsp. vanilla
2 cups sifted flour
1/2 tsp. baking soda
1/2 tsp. salt
Cream shortening, sugar and egg. Stir in buttermlik and vanilla. Mix together flour, soda and salt; add to batter. Drop by teaspoonfuls onto ungreased cookie sheet. Bake at 400 degrees for 8-10 minutes. Frost if desired (Adams recommends cream cheese frosting.)