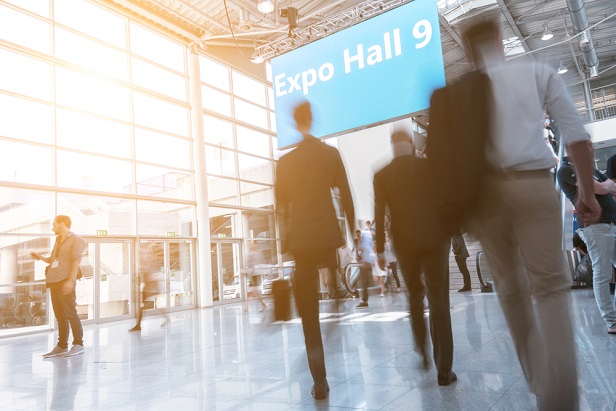 You might have developed a niche where word of mouth within an industry gets you clients. Maybe your firm specializes. You find yourself attending the industry conference on the state or national level. How do you make the best use of your time?
14 ideas for working a trade show
You've attended trade shows before, so you may find some of these ideas are familiar. Others are new. Some might be "That worked before. I should try it again." Since it's an industry conference for your niche, you are surrounded by potential prospects, not people doing the same job as you.
1. Get the firm name on a banner. This means sponsorship. It might be expensive, but your firm name is also on the industry group's website and event promotional materials. Attendees know you and your firm are "players."
2. Take a booth. You can't meet and greet thousands. They will need to come to you. Where will people find you if you tell them weeks in advance "see you at the conference."
3. Have a drawing. You want business cards to follow up as leads. The business card jar with hourly drawings is a strategy that's been around forever.
4. Get material into the welcome kit. You want a decent chance at getting everyone to read or hear about you and your firm. Getting an insert into everyone's welcome bag is a good start.
5. Offer a decent giveaway. The promotional item industry is built on this need. Find something conference attendees don't already have by the dozen. I've been impressed by the rubberized collapsible water bottle. It packs almost flat. Ideal for runners. In the post pandemic recovery, logoed face masks will likely be popular.
6. Talk to the press. Industry publications send reports. They look for people to interview for "during the conference" articles and to find resources for future articles. In a trade publication aligned to your niche, this can be an ideal way to get visibility, assuming your Compliance area agrees.
7. Host a workshop. The conference needs programming. Multiple workshops happen at once. They want variety and volume to be a draw for registration. What can you address?
8. Attend other workshops. You will meet people entering an leaving. At an industry conference, almost everyone is a prospect or can connect you with the right person.
9. Walk the floor. Check out the competition. These are tables staffed by people just like you. They are in sales. Meet the hard workers who are good at their jobs. Six months down the line your manager may say: "We want to hire more people." You can say: "I met this woman…"
10. Sit at different tables for lunch, dinner and cocktail receptions. You are networking with business owners and executives at potential client firms.
11. Take an ad in the event program. People flip through the program, especially to see the layout map for the trade show booth area. They bring the booklet home with them.
12. Host a cocktail reception. It's expensive, but free food and drink is a powerful draw. Be sure to collect business cards.
13. Sponsor a main platform speaker. It's another expense, but you've got everyone in one room.
14. Reconnect afterwards with people you met. Call when you are fresh in their mind. Talk about the conference. This should lead into: "Here's what I do…"
Conferences are expensive to attend. Establishing a presence increases these costs. But you can make the best use of your time on the floor.

Bryce Sanders is president of Perceptive Business Solutions Inc. He provides HNW client acquisition training for the financial services industry. His book, "Captivating the Wealthy Investor" can be found on Amazon.
READ MORE: