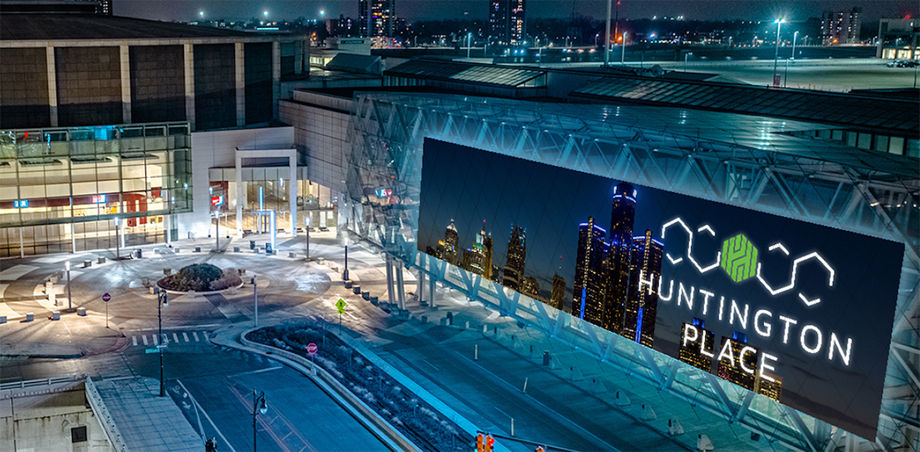 TCF Center, the downtown Detroit convention center that opened for business in 1960, has a new name. As of Dec. 9, the facility, which had just been renamed in 2019, is now known as Huntington Place.
The convention center has a 22-year naming-rights deal with TCF Bank, which merged with Huntington Bank in June 2021. The naming deal was a longtime goal of the Detroit Regional Convention Facility Authority, in part to keep the facility financially viable.
"Our naming rights agreement began with TCF Bank and continues with Huntington Bank in strengthening the center's financial future," said Lisa Canada, chair of the DRCFA. "We are dedicated not only to being a contributor to our region's economic vitality, but also to creating jobs and enhancing the attraction of our destination to visitors."
Just one week after the merger with TCF Bank, Huntington Bank unveiled a $40 billion strategic plan to improve financial opportunities for the communities it serves. The company plans to offer the facility's clients access to leaders in Fortune 100 companies for education sessions. Michigan nonprofits also are being given opportunities to create CSR initiatives for events hosts, as well as to bring in local organizations to host pop-ups such as job fairs and mini fitness events.
"As we continue to elevate this Detroit convention center as an industry gold standard, the creative, hardworking team at Huntington Place continues to make diversity a strength as it focuses on the success of every event," said Karen Totaro, general manager of ASM Global, which has been running the day-to-day operations of the convention center since 2010.
The venue now has reopened for events, after serving as a food-distribution center, a headquarters for homeless services and the city's largest vaccination site during the pandemic. Several large trade shows are coming to Huntington Place in 2022, such as the Silicone Expo and Connect Marketplace. The convention center brought nearly 1.5 million visitors a year to the city prior to 2020.
"This venerable facility is part of the fabric of our community and Huntington is fortunate to now be a part of it," said Huntington Bank chairman Gary Torgow.