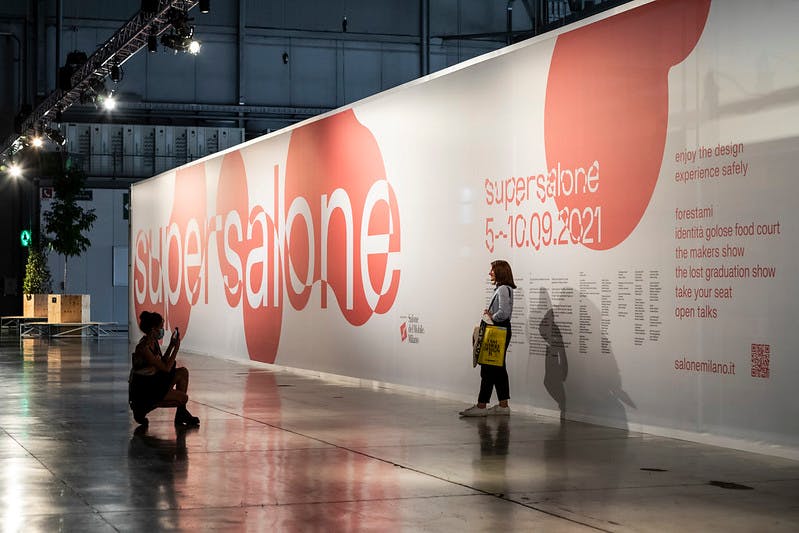 A special scaled-down edition of Salone del Mobile, called Supersalone, took place Sept. 5-10 at Milan's Rho Fairgrounds.Photo: Courtesy of Salone del MobileMILAN, ITALY—It had been two and a half years since crowds gathered in Milan's exhibition halls for Salone del Mobile (also known as the Milan Furniture Fair), a trade show that's held every year in April and showcases Italian furnishings and accessories. With 423 exhibitors, about a quarter of the usual number, a special scaled-down edition of the annual event, called Supersalone, took place Sept. 5-10 at the city's Rho Fairgrounds.
Taking into consideration pandemic constraints, organizers rejiggered their old methods, designing a trade show model for the post-COVID world. The curatorial team, led by architect Stefano Boeri, "took a very different approach to Supersalone from our typical annual show," said Marco Sabetta, general manager of Salone del Mobile.Milano.
"First, rather than segmenting the various sectors out into their own pavilions, all types of brands were mixed together to create a dynamic experience for the visitor. Rather than booths you walk into, exhibitors presented gallery style in long rows." He added that the new layout helped promote the flow of visitor traffic and encouraged social distancing.
Exhibitor booths also used less support structures and were replaced with display walls that were hung with products, allowing for air circulation. (The structures were dismantled and recycled or composted after the fair.) This design decision also spoke to the event's focus on sustainability and its emphasis on reuse, recycling and circularity.
More than 60,000 people attended the five-day event, 30% of whom were from outside Italy, visiting from 113 countries. It was also open to the public for the first time, with many of the goods available for purchase, another first. In light of the ongoing pandemic and fluctuating restrictions, the event's global draw proved to be one of its biggest challenges. "Salone del Mobile is known for being an international hub for global design innovation and thinking," Sabetta said. "It was challenging to consider the shifts in travel precautions and rules, both for our various guests and exhibitors, as they made their plans to attend."
As for health and safety measures, attendees were required to scan their "green passes" (Italy's version of a digital health pass) or the EU Digital COVID Certificate that showed either a complete vaccination series or a negative COVID-19 test result completed in the last 48 hours. For international visitors, substitutions like the CDC white card that's used in the U.S. were accepted. If an attendee was unable to produce a green pass or equivalent, testing hubs were set up outside; Sabetta noted that all of the tests done at the fairgrounds were negative. Once on site, masks were required in all indoor spaces; staff was on hand to enforce this rule.
Event programming included conversations with designers, architects, artists, scholars and managers, covering topics ranging from design, art, architecture, education, the circular economy, environmental impact and more, as well as film screenings that were shown in partnership with the Milano Design Film Festival. The Lost Graduation Show featured 170 projects by students who graduated from design schools around the world and The Makers Show, which is a space devoted to self-producing designers, highlighted work from ateliers, studios, laboratories and start-ups.
Of course, the updated fair was also designed for both in-person and virtual attendees, thanks to the new Salone del Mobile.Milano digital platform. It enabled in-person attendees to view products online by scanning QR codes displayed at the fair, while online users could explore the exhibitions virtually, as well as watch livestreams of the event programming.
"Our digital platform was created to make people feel as close to the live Supersalone as possible," Sabetta said, adding that 1.5 million web pages were viewed by an average of 90,000 users a day. The new Salone del Mobile.Milano TikTok account had more than 630,000 views in total, while Instagram, Facebook, Linkedin and Twitter registered 15 million impressions, 25,000 interactions and 50,000 video viewings.
The 60th edition of Salone del Mobile is slated to take place April 5-10, 2022, with plans to keep some of the new "super" improvements.
"We're excited to return to our large format while still examining ways to incorporate the dynamism of the Supersalone in a large scale," Sabetta said. "One thing that we will be focusing on in all shows moving forward is incorporating more sustainable practices, just as we did at Supersalone. With Salone as a true industry leader, we hope to set an example for our partners and attendees to support the earth through our own practices."
See more from inside the Supersalone event.