LAS VEGAS—"This feels like a family reunion" was a commonly overheard phrase at the 10th edition of IMEX America, taking place at the Mandalay Bay Convention Center in Las Vegas from Nov. 9-11. And that's essentially what it was for the show that bills itself as the "heartbeat of the global business events community."
The international trade show, IMEX Group's first in-person event in over two years, drew over 8,500 attendees, including 3,420 buyers and 2,200 exhibitors from more than 200 countries. In total, 50,000 appointments were held across the 400,000-square-foot trade show floor during the event, which marked the first international event to take place after the U.S. lifted its travel ban on Nov. 8.
The BizBash team was on the ground during the show, getting a feel for what attendees were discussing and what they care about now. Here are some key takeaways and observations.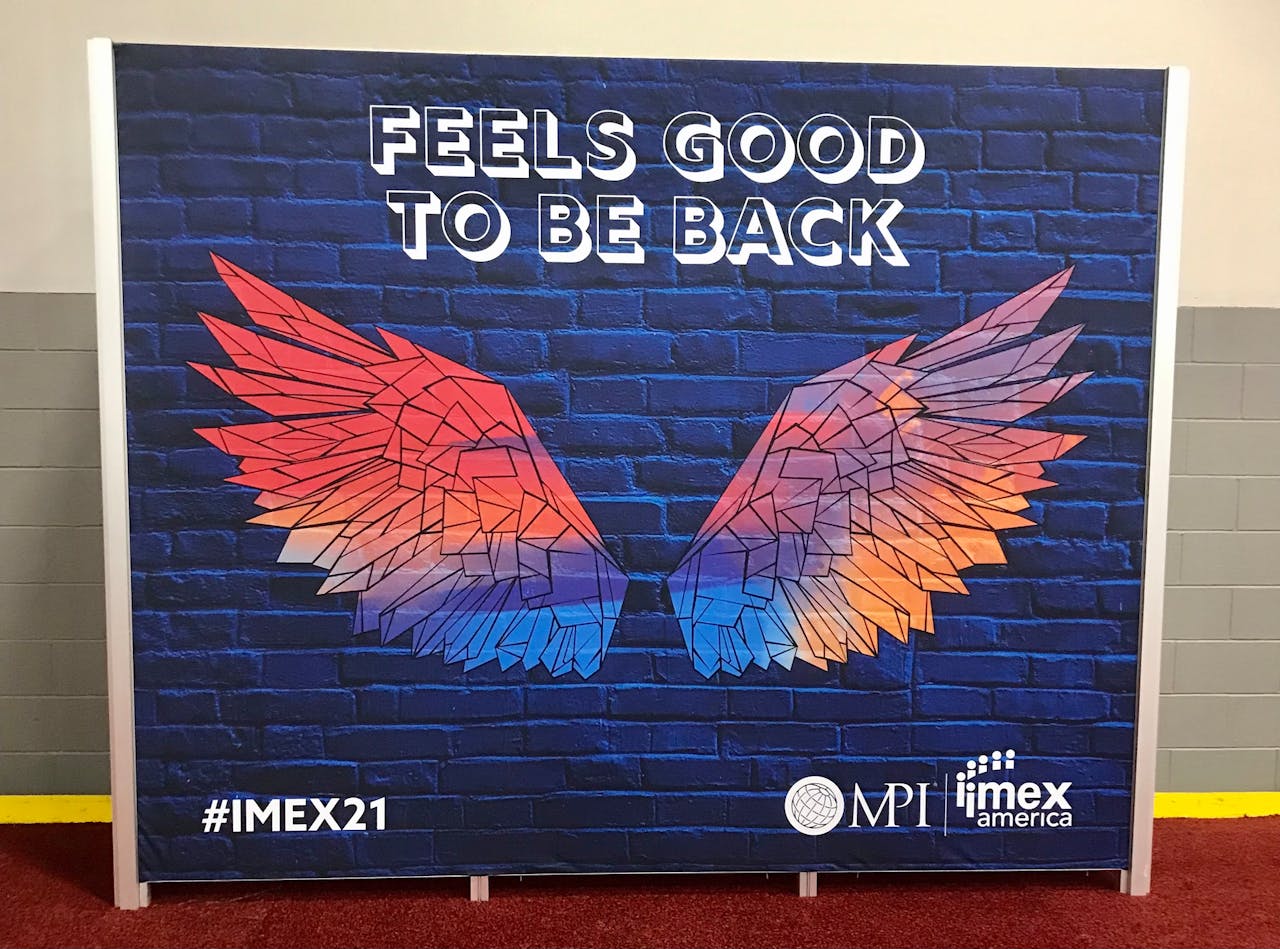 Various signage throughout the space, including a photo op at the entrance (pictured), acknowledged that it was IMEX's first in-person event in over two years.Photo: Claire Hoffman/BizBash
1. People are ready to get back to business.
"We're still standing, we're still here and we are back to business," said IMEX Group CEO Carina Bauer during an on-site interview with BizBash, where she discussed the logistics of producing the event. Of the show's scheduled appointments, organizers note that two-thirds of them were made to discuss a specific event—making it clear that attendees are gearing up to kickstart business in a big way in 2022. 
"There were around 50,000 appointments, and feedback shows they produced strong business for exhibitors," said IMEX chairman Ray Bloom during the closing press conference on Nov. 11. "Also notable was the quality of business and RFPs coming from walk-up appointments by attendee buyers." He added that 16% of IMEX exhibitors invested in a larger presence at this year's trade show.
What's more, American Express Global Business Travel used the event to present details from its recent 2022 Global Meetings and Events Forecast, which says that 67% of its survey respondents believe in-person meeting levels will return to pre-pandemic numbers within one to two years, and that 81% of events in 2022 are expected to have an in-person element.
But that doesn't mean hybrid events—meaning those with a virtual component—are going anywhere soon. This year's IMEX boasted its largest tech area ever, with virtual event platforms like Hopin, Swapcard and MeetingPlay showcasing large booths and busy appointment schedules. IMEX also debuted IMEX BuzzHub Live, its first-ever broadcast studio, which featured four hours of free content per day, accessible from home.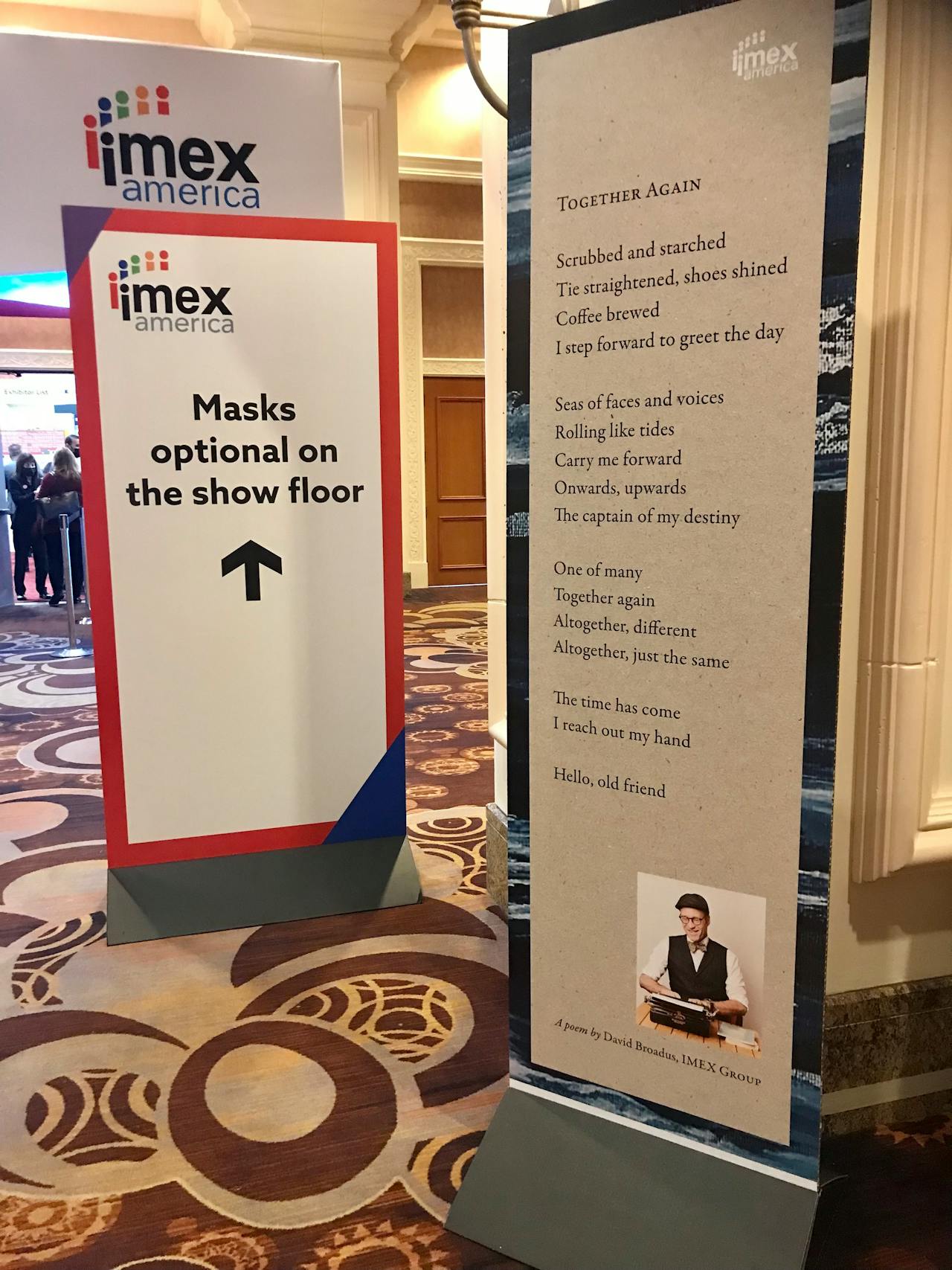 Attendees—all of whom were fully vaccinated—were asked to wear masks while walking to and from the show floor, but were able to remove their masks while inside the main show.Photo: Claire Hoffman/BizBash
2. Health and safety still need to be a priority.
Unsurprisingly, health and safety measures were never far from attendees' and exhibitors' minds. At the show itself, all attendees were required to show proof of COVID-19 vaccination; there was also on-site testing available, as well as daily cleanliness inspections and other safety procedures from Mandalay Bay, which has achieved Global Biorisk Advisory Council (GBAC) STAR accreditation. 
Bauer told BizBash that the show floor itself was also organized with distancing in mind. Due to the shift to a larger venue, the team was able to expand the aisles and add large seating areas throughout the space. In addition to making it easier to navigate, it "gives people space if they didn't [want] to be in a crowd—we have lots of areas that they can go and just spread out and feel comfortable," she said. 
In another sign of the times, LA Tourism's media breakfast included speakers from ID verification company CLEAR (which was also tapped by IMEX Group to handle vaccine verification for all attendees) as well as PPE and COVID-19 testing company Co.Protect. LA Tourism's chief sales officer, Darren Green, argued that it's crucial for event organizers to spend money on health protocols right now, such as making it easy for attendees—particularly international ones—to access test kits, or offering test kits or branded masks as swag.
"Health as an insight isn't going anywhere," said Jerome Pickett, SVP and general manager of sports and entertainment for CLEAR, during the gathering, adding that while it may not always mean mandatory masks, health and safety will always be something attendees care about from now on.
On a positive note: During a presentation from Caesars Entertainment, the hospitality brand cited August 2021 data from Freeman and Epistemix that showed that events are not typically major drivers of COVID-19 cases, largely due to the fact that in-person event attendees and exhibitors tend to have higher vaccination rates—roughly 80%—than the overall population. 
3. Inclusivity, corporate social responsibility and sustainability go hand-in-hand.
In the last couple of years, the event and meeting industry has increased its focusing on diversity, inclusivity, sustainability and social impact—and for good reason. Acknowledging this, IMEX Group launched its new People and Planet Village at this year's event. The designated section of the show floor included a number of different organizations, including Tourism Diversity Matters, the SEARCH Foundation, LGBT Meeting Professionals Association and Clean the World, among others. Highlights of the area included a "misfit" vegetable bar, where imperfect product was turned into smoothies, and the Clubhouse Build, a partnership with show attendees were invited to grab a hammer and help build a play house for Luna, a local child fighting pediatric cancer.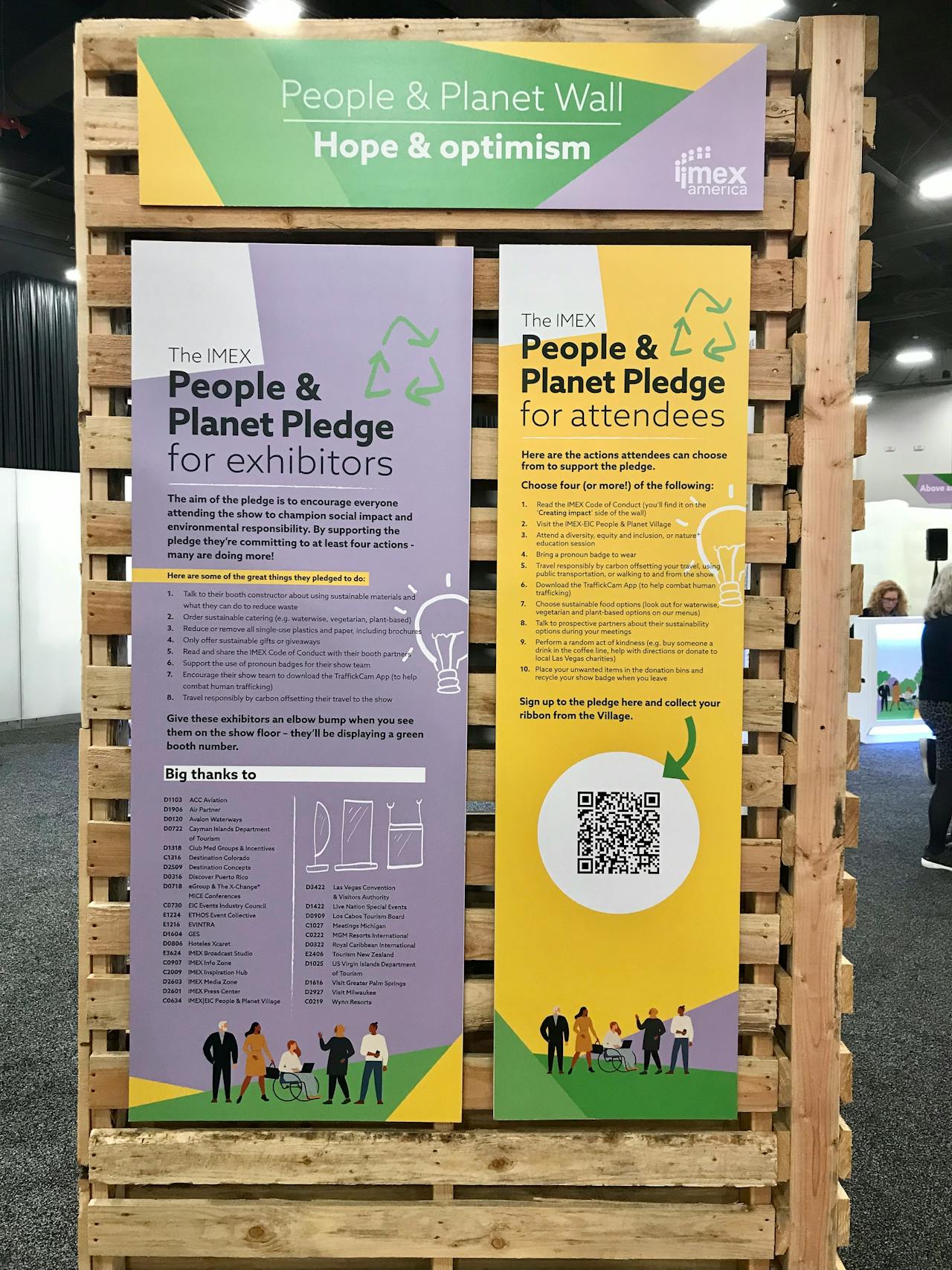 In IMEX's new People & Planet Village, exhibitors and attendees were invited to sign a pledge championing social impact and environmental responsibility.Photo: Claire Hoffman/BizBashWhat's more, host venue MGM Resorts hosted a behind-the-scenes tour of Mandalay Bay's sustainability efforts, where a group of 25 attendees explored the country's largest contiguous rooftop solar array, as well as other planet-friendly measures including 11 recycling docks and 1.4 million energy-efficient LED lightbulbs across the resort. And some of the week's 200 education sessions centered on the hottest food trends for sustainable and inclusive meetings, an introduction to regenerative destination management, conversations on diversity and gender equality, and more.
And it wasn't just IMEX Group themselves paying close attention to sustainability. The Joint Meetings Industry Council, for example, used the show to promote its Net Zero Carbon Events initiative, which aims to connect the event industry globally to the rapidly growing movement toward net-zero by 2050. On the hospitality side, Marriott International used part of its IMEX press roundtable to discuss its sustainability initiatives, including the fact that the brand recently joined Race to Zero, also in an effort to reach net-zero greenhouse gas emissions by 2050. Tammy Routh, Marriott's senior vice president of global sales, noted that sustainability is always one of the top three things customers ask her about.
"People have a renewed passion for a healthy planet," added Frank Passanante, SVP of Hilton Worldwide Sales Americas, during a Hilton-hosted media event, where he discussed how the brand is reimagining its Meet With a Purpose program—finding ways to source locally, incorporate more social impact, reduce its properties' carbon footprint and more—as well as its corporate responsibility management program LightStay.
4. Today's attendees care more about their own well-being.
One silver lining from the pandemic is the renewed focus on both physical and mental health, and that extends to event attendees. On the physical side, IMEX hosted its annual 5K run on Nov. 10, which drew 250 races from 27 countries. 
Meanwhile, Smart Monday—a day of free education powered by MPI that typically proceeds IMEX's official kick-off—featured a keynote from Dr. Shimi Kang, a neuroscience expert who discussed the fundamental link between face-to-face experiences and mental health. "You are all mental health professionals—you know that we need meetings, we need conferences, we need information. It's important to have this as part of our human experience—conferences and events are curators of human well-being," she said.
The week also included a keynote from Radha Agrawal, co-founder and CEO of dance and wellness movement Daybreaker, who discussed how events can create communities, build memories and boost well-being. "Connectedness is our key to happiness, fulfillment and success," said Agrawal.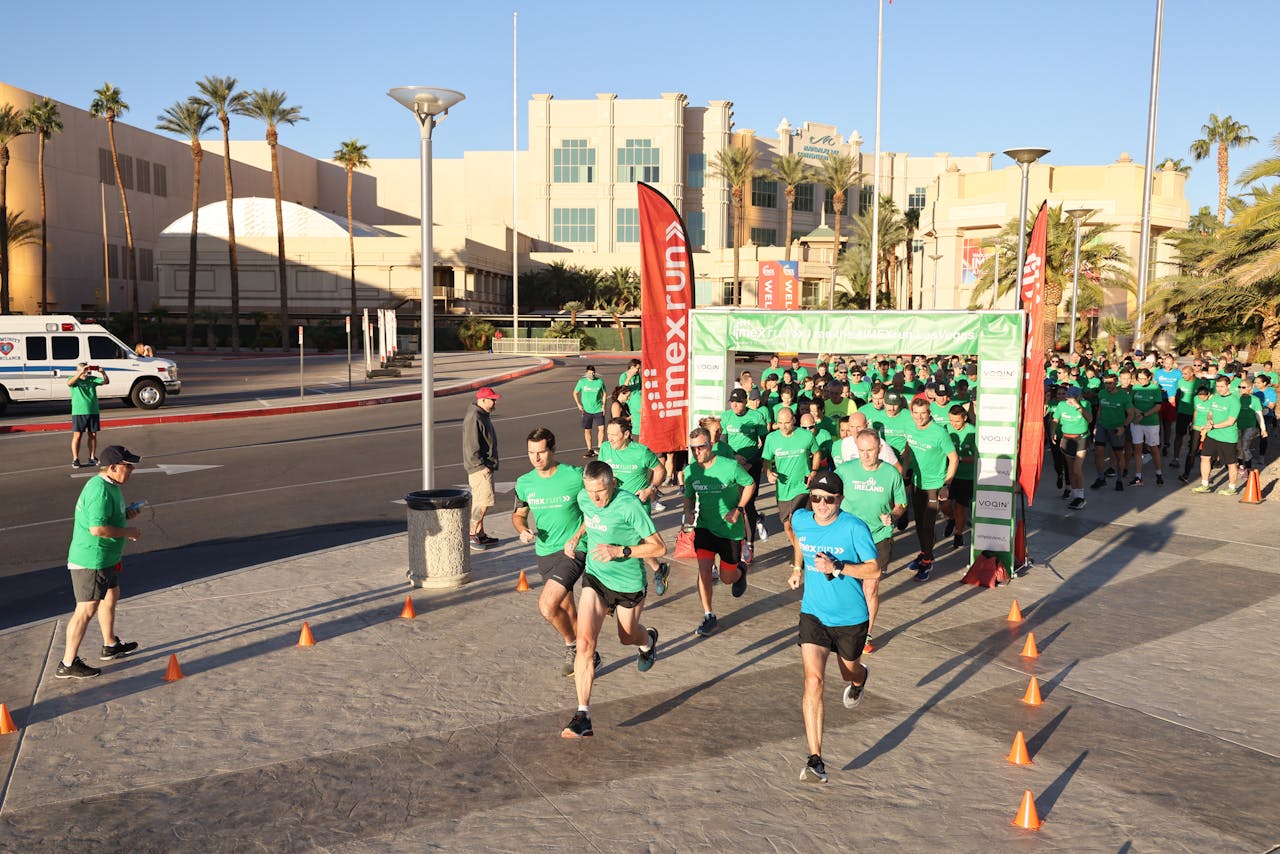 IMEX's annual 5K run drew 250 racers from 27 countries.Photo: Courtesy of IMEX Group
5. Competitor collaboration—and a healthy dose of empathy—is the new normal.
The pandemic has created a new sense of community and collaboration in the global event industry, with competitors leaning on each other and sharing resources in an overall effort to keep the industry afloat. And that sense of collaboration was certainly in the air at IMEX. During a panel organized by Destinations International, for example, Destination DC's vice president of convention sales and services Melissa Riley discussed the idea of "coo-petition"—a mix of cooperation and competition—to explain why she's been working with other tourism boards to help establish stronger booking guidelines.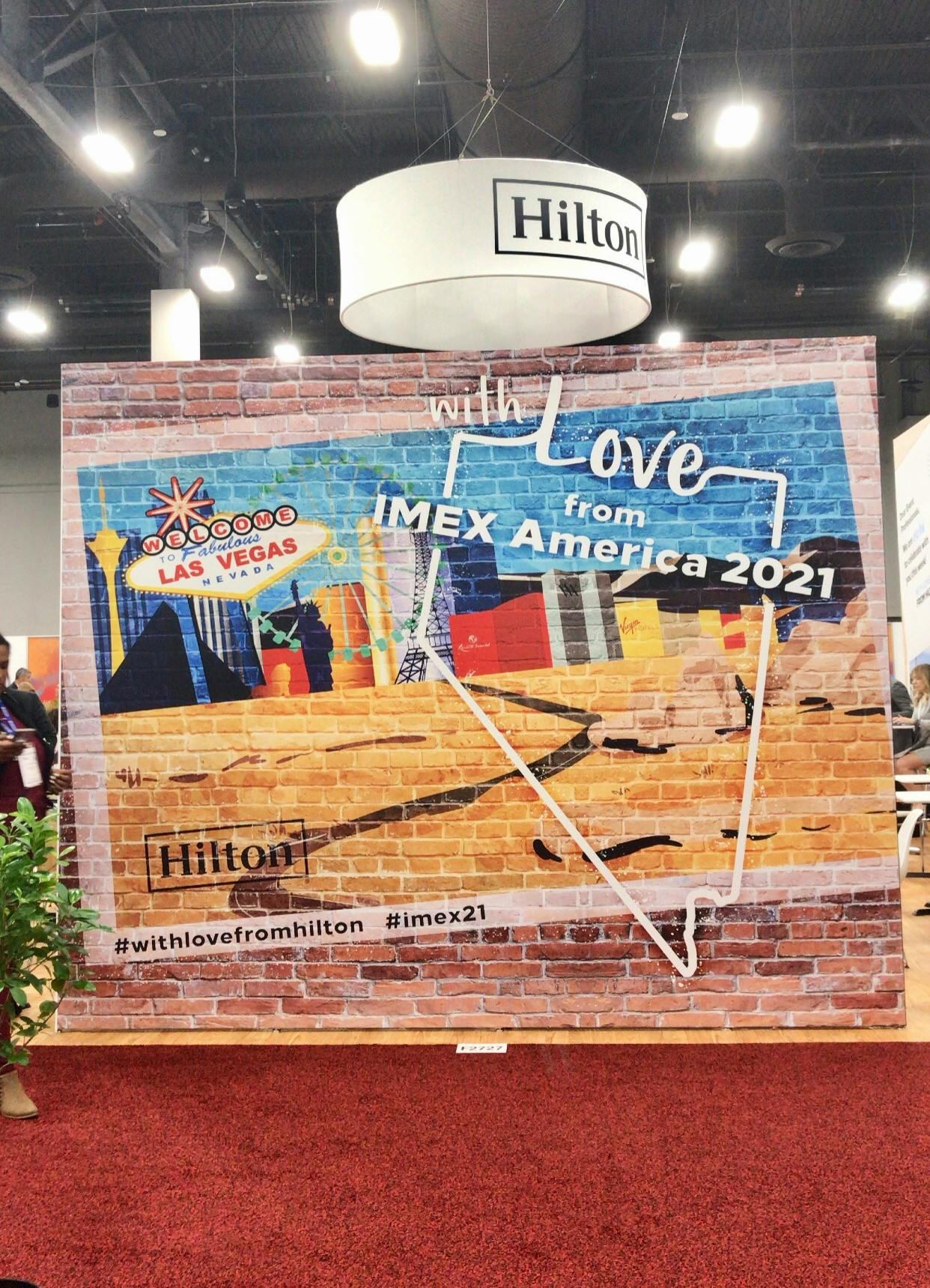 At Hilton's IMEX booth, the hospitality brand invited attendees to send postcards to event-industry friends to acknowledge the difficult times they've been experiencing.Photo: Claire Hoffman/BizBashThe state of California is also leaning into the collaboration mindset with a first-of-its-kind campaign that's promoting meetings and events throughout the entire state. The $4.5 million Meet What's Possible campaign will promote 12 major tourism regions of the state, including Los Angeles, San Diego, Anaheim and San Francisco, with various CVBs banding together rather than competing for business.
And with that sense of collaboration and mutual support also comes a sense of empathy—another ongoing theme of the week. In one session, experts from TLC Lions led a discussion on exploring human nature and the powerful impact of storytelling to excite and engage. "Storytelling doesn't make us less professional, it makes us more human. If we can invoke empathy as a critical skill, the more we can create an inclusive place to work," said TLC Lions founder and CEO Gian Power.
6. Flexibility has become a nonnegotiable skill.
If there's one main skill that event professionals have learned over the course of the pandemic, it's flexibility. Bauer, for example, noted that the IMEX floor plan was redrawn about five times, particularly as international attendees weren't sure when borders would open. "We gave them flexibility to push their decisions as late as they could, but they also were flexible with us. So it was a real partnership," she said. 
The topic was also covered during a keynote from author and motivational speaker Erik Qualman, who described flexibility as one of "the new superpowers." "Be firm in your destination, but flexible in your path," he advised. Another smart word of advice from Qualman? "Start with a smile. Think about what will produce a smile for your client, and work your way back from there."
Scroll down for more highlights from the show floor.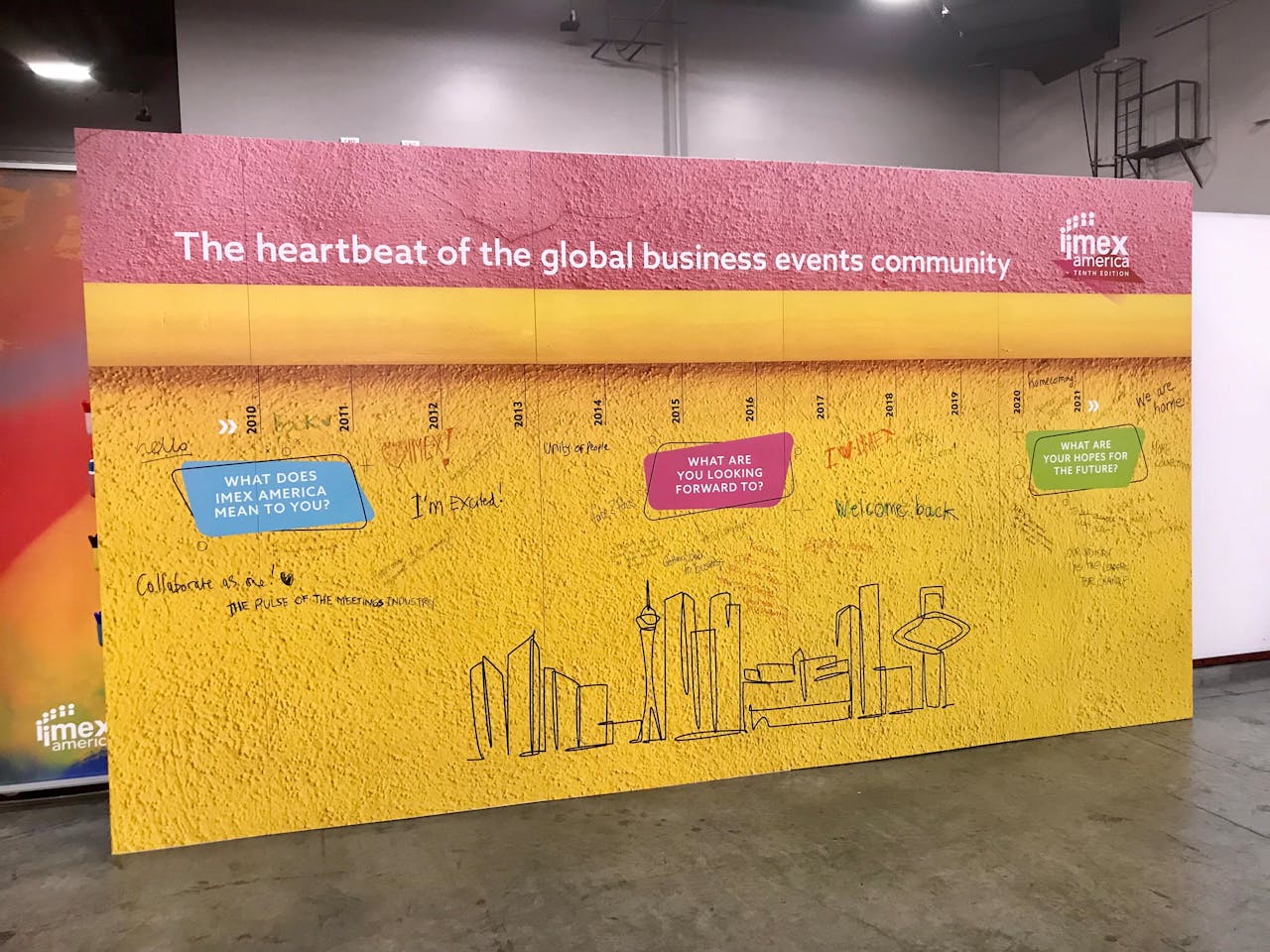 One area of the show featured a wall where attendees could write down what IMEX America means to them and what their hopes are for the future.Photo: Claire Hoffman/BizBash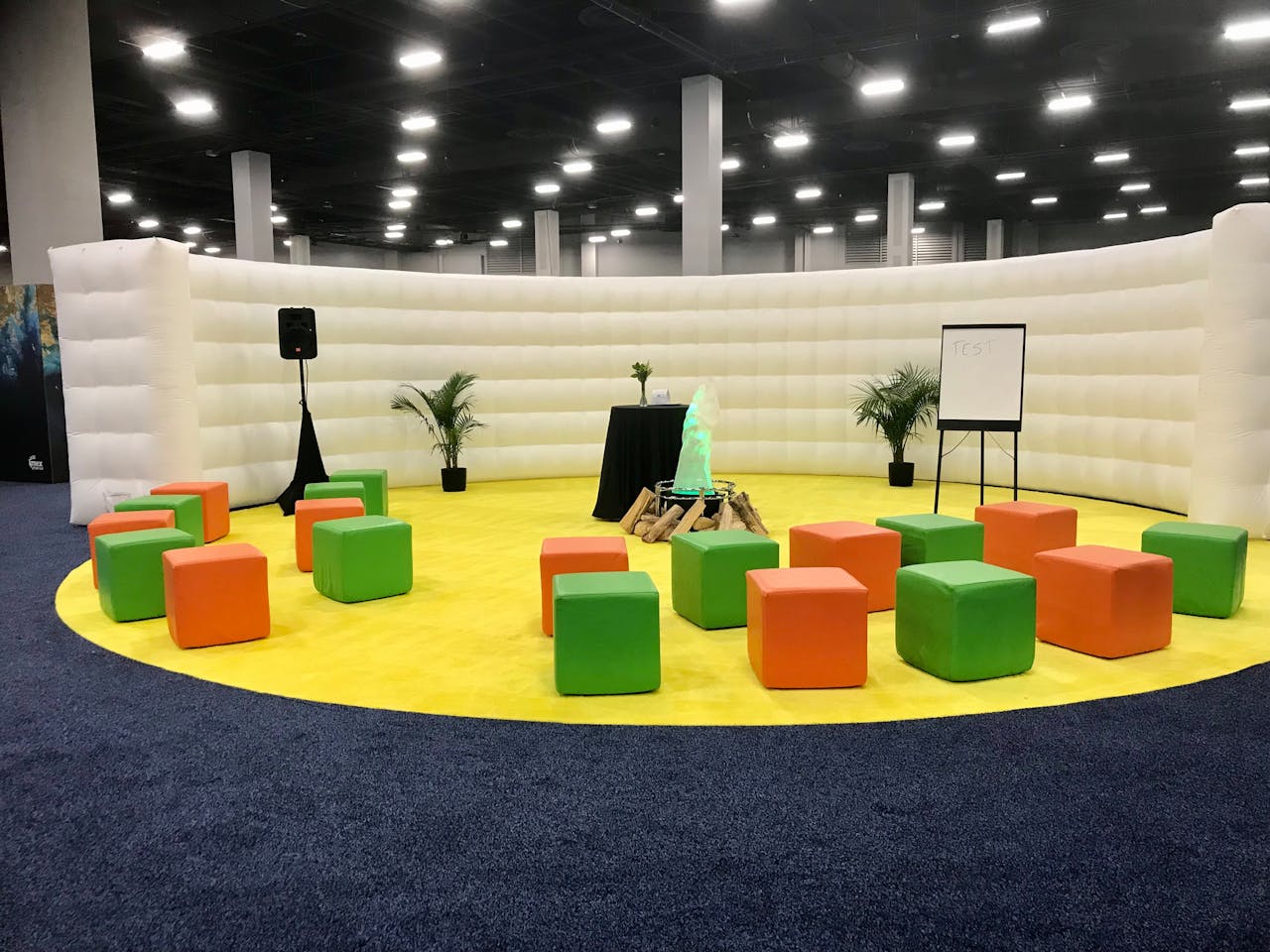 Education areas used a variety of different seating layouts, including a campfire-style format intended to spark creativity.Photo: Claire Hoffman/BizBash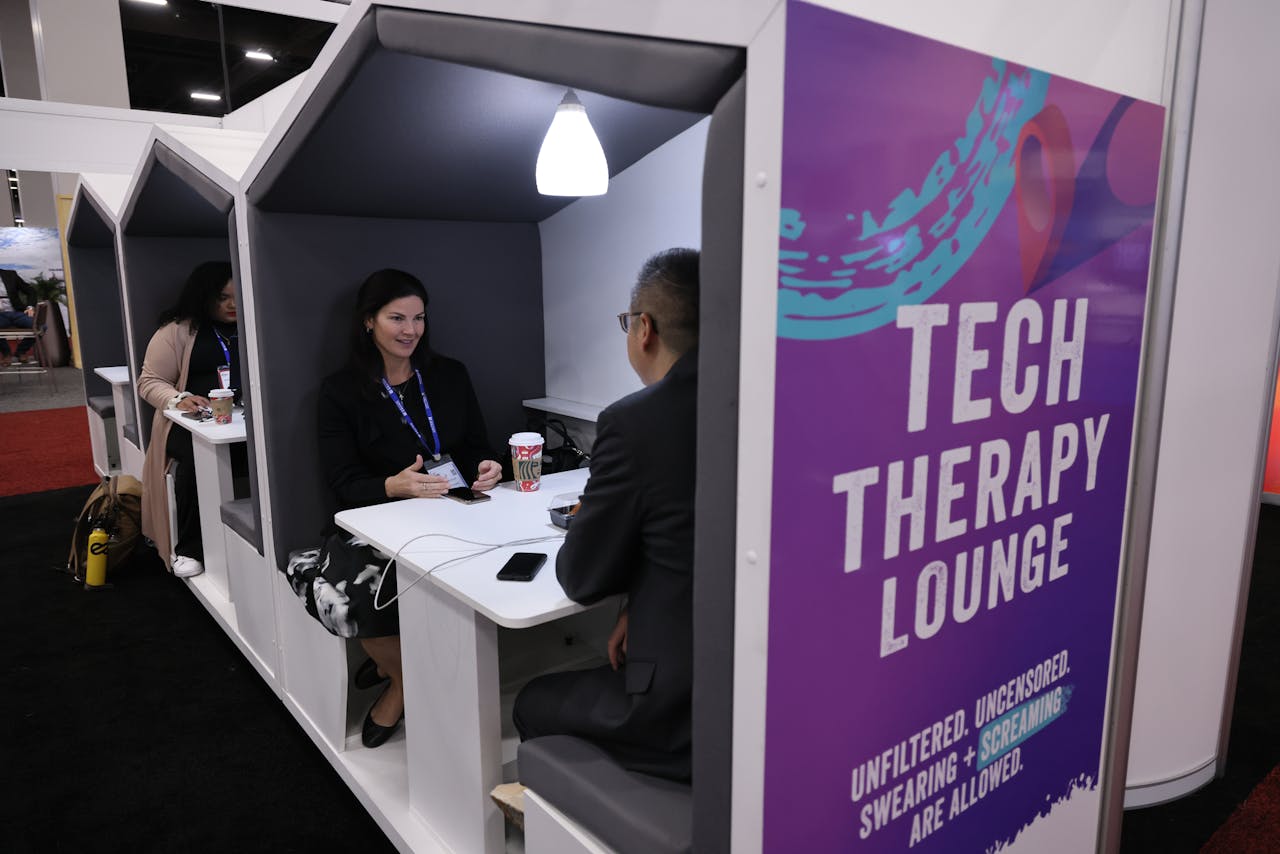 The tech area of the show floor, IMEX America's largest in history, included pods for individual appointments.Photo: Courtesy of IMEX Group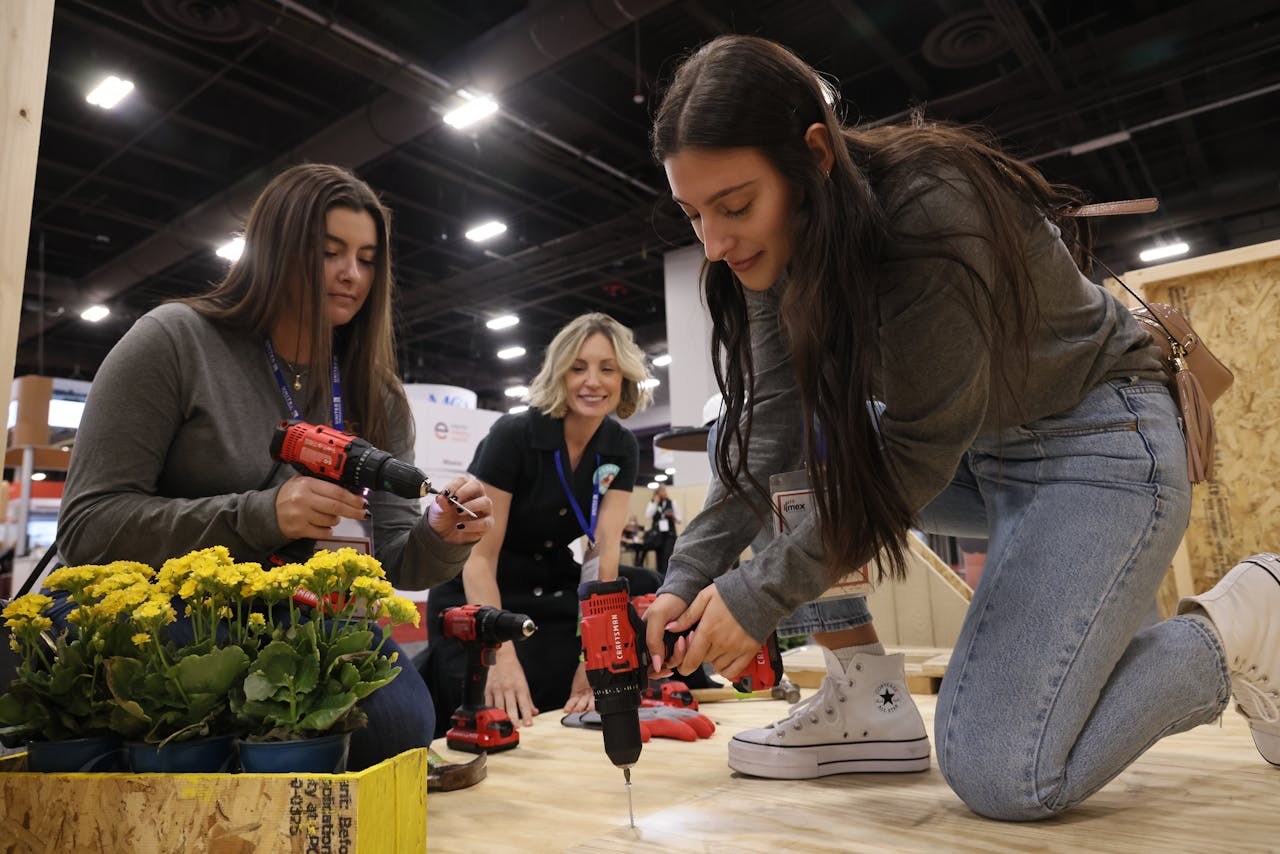 During the IMEX America, the KLH Group invited attendees to a Clubhouse Build, creating a play space for Luna, a local Vegas child with pediatric cancer. Over 100 attendees assisted with the building effort, and the completed Clubhouse was unveiled in a ribbon-cutting ceremony (which Luna herself joined via video call). The Clubhouse will now live at Luna's kindergarten.Photo: Courtesy of IMEX Group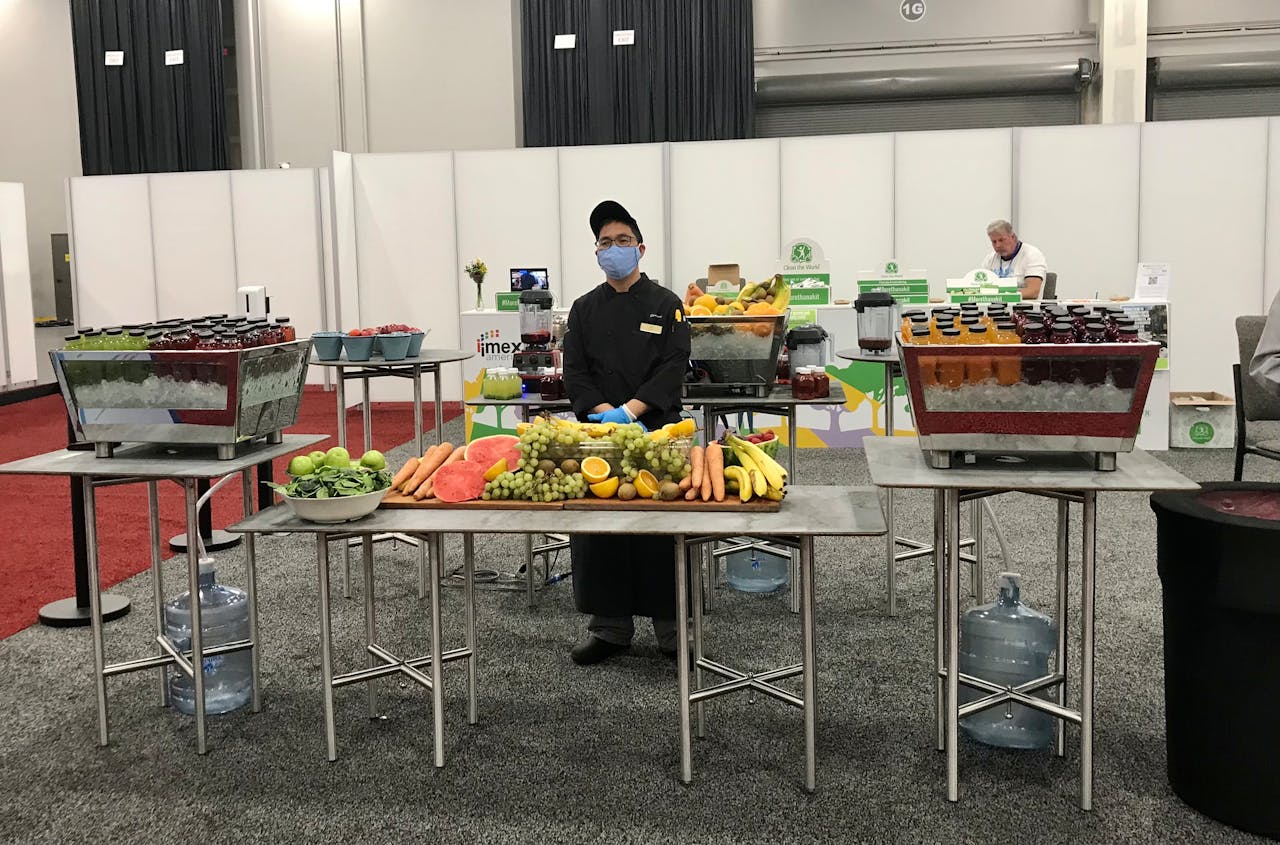 In another sustainability measure, the show's on-site Misfit Market offered smoothies made from imperfect produce that would have otherwise been discarded.Photo: Claire Hoffman/BizBash